"Orange Is The New Black" star Dashca Polanco isn't shy about sharing the body-related insecurities she had growing up. Now, the star delves into her personal struggles and how she hopes to inspire others.
This weekend Polanco, 33, will join "The Real" host Adrienne Bailon, plus-sized model Denise Bidot, Roc Nation executive Lenny Santiago and personal trainer Massiel "MankoFit" Arias to discuss beauty and body image within the Latino community. The panel is part of Latina magazine's first Latina Beauty, Hair & Wellness Expo, which will be held at New Jersey's Meadowlands Expo Center Saturday and Sunday.
Ahead of the panel, the actress spoke to The Huffington Post about her own experiences with body image in Hollywood, as well as the specific struggles Latinas in the United States often face.
Why did you decide it was important to be a part of this panel addressing body image?
It's been something that I have struggled with throughout my life and I think that as I'm becoming older and I became a woman and I've gone through the phases, I'm learning how to love myself more. I think it's very important [to talk about it] when you're in a position of where you are looked upon or onto as a role model or inspiration. Young girls and women, we all need that sense of security and that empowerment, so it's very important for me to display that.
How were you able to overcome the body image issues you struggled with growing up?
Well, I don't think I overcame them. I think that I'm learning how to not make the insecurities a reason for me to not achieve my goals or go for my dreams, aspire to bigger things. I think that I still have those qualities but I am embracing them more and I'm learning to make those differences unique qualities as opposed to negative obstacles or thoughts.
Weight has been an issue in my life. My siblings were way thinner and I was always bigger. Growing up the girls around me were thinner and I felt like I always had issues with image and stuff like that.
You're going to be on a panel with a lot of Latinas talking about body image and trying to inspire women to love themselves. But who were your body image role models when you were younger?
Growing up I looked up to [Puerto Rican artist] Iris Chacón, who was a performer and a singer who had curves and thighs and was curvaceous. My body goals are like when I see Serena Williams, that beauty. It's different, it's muscular, it's not a size zero but she looks amazing. I think I pick and choose from every single person out there.
And how could I forget, it just hit me who I admired: Selena Quintanilla. I think Selena was the only person that I actually was able to connect and relate to growing up.
I think there are many Selena fans out there who could say the same, which begs the question: What kind of body issues specifically affect Latinas in the United States?
I think volume, the curves, definitely. Also culturally we're looked at as sexual and sensual and our curves can be a little bit exaggerated. I think that growing up in the United States where everybody is the generic size zero, I think that's something that we all struggle with.
Specifically when you work in entertainment it's an issue, the moment you're not a sample size, whatever that means. I keep on telling people that sample size for me is when you give me a sample and you let me try like a piece of cake. You know what I mean? That's a sample. You can't say a sample size and not have a sample of each size. I think that when I go into the store and they say 'Oh I have a sample' and I go 'Oh OK so that means you have a sample 10, so I'm going to be able to fit into a sample 10.' Don't tell me you have a sample and the sample is a zero because that's not what the norm for me is.
There was a Vogue article last year that said "We're officially in the Era of the Big Booty." Regardless of the validity of that article, it does further the notion that curvy women are more accepted in the United States now. What do you think about that?
I think that everything comes in waves. I think there was a wave where everybody was getting silicone breast implants and it was all about the breast. If you were flat-chested it wasn't cool. Then it came down to like being anorexic, so you had to not wear anything and not have an ass and not have titties and just have to starve yourself because you had to fit into something. And now we have a new wave where everything is you have to get some butt [injection] shots, and whether it kills me I'm going to have a big ass.
For me it was like wow, that whole time when I was hiding my butt and my uniform didn't fit me right and I was being made fun of because my butt was huge and now people want to have my butt. So I feel like everything comes in waves and at the end of the day what it has taught me is that it really doesn't matter. The most important thing is how you embrace those differences and how you love yourself to the point where you're comfortable in your own skin and enhance the qualities that make you. Because there's so many people that have these beautiful bodies and then you meet them and it's ugh. You know?
Do you feel like your body-related insecurities growing up ever stopped you from doing anything?
My whole life I've tried not stopping myself from pursuing acting because I felt like "I'm too fat, who is going to want me for that?" Or not going for the cute guy in school because I'm not like a cheerleader girl, I'm more like the football girl and eating hamburgers. Then later finding out that I could've been with the football player because he had a crush on me and he was too shy and I was so insecure and I'm like dammit! I missed out on so many opportunities.
Now is the time for women to support one another, to show love for one another whether you get stuff done or you don't, the most important thing is to support one another and first and foremost love yourself.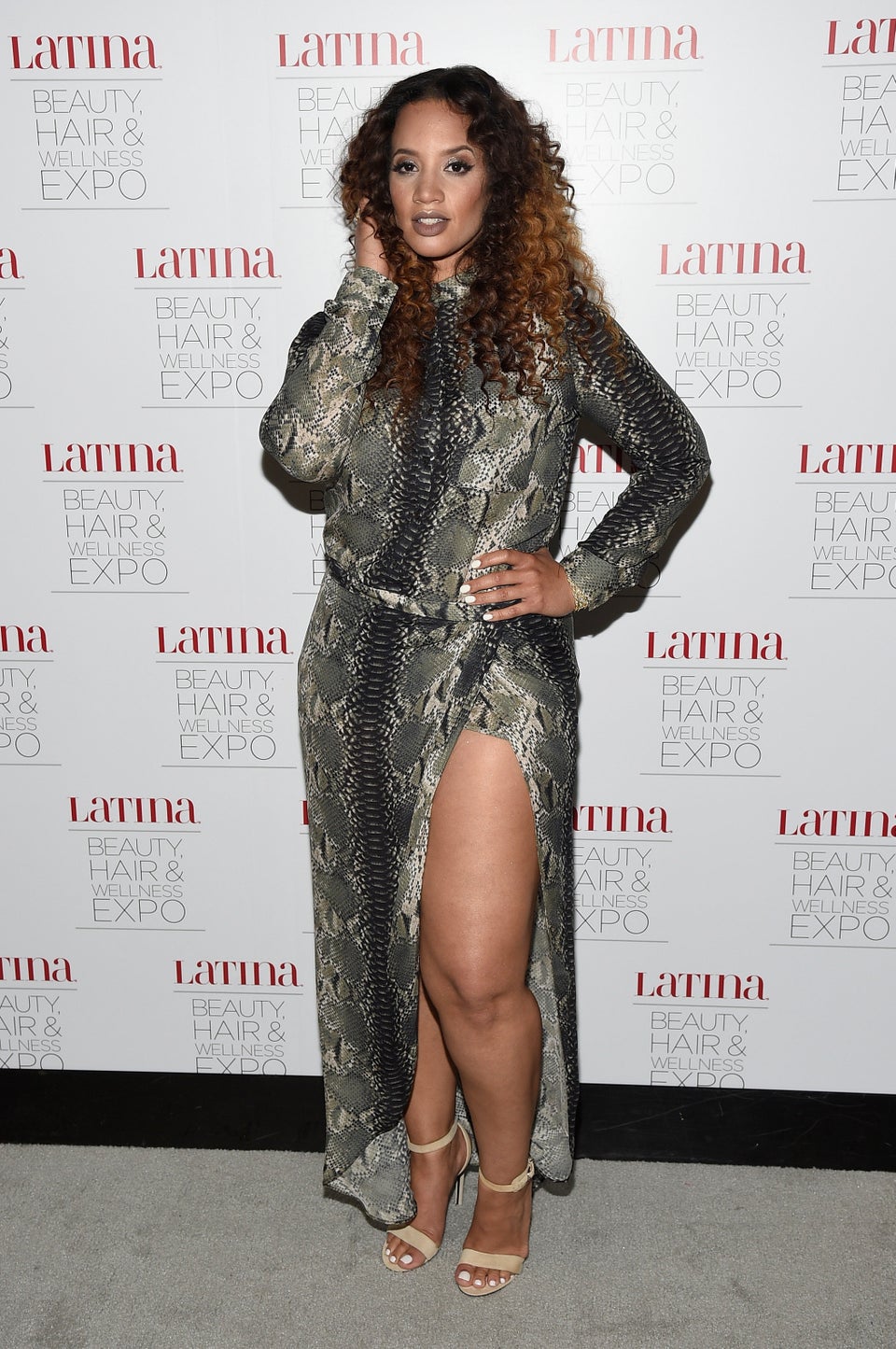 Dascha Polanco
Popular in the Community