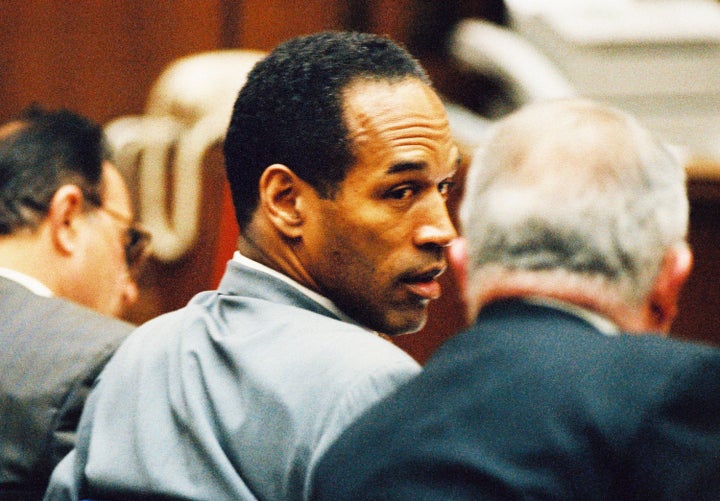 In leading expert Dr. Bennet Omalu's mind, there is little doubt that disgraced football star O.J. Simpson is suffering from chronic traumatic encephalopathy (CTE), the degenerative brain disease linked to repetitive head trauma, such as that incurred by football players over a career on the gridiron.
Omalu, who first discovered CTE in the brain of NFL player Mike Webster after his 2002 death, recently told People Magazine that he would "bet [his] medical license [on] that" diagnosis, based both on Simpson's "profile" and the size of his head.
"[And] if you have a bigger head, that means your head is heavier," Omalu reasoned. "That means the momentum of your impact would be bigger. It's basic physics." 
While Simpson was acquitted of the two murders back in the mid-1990s, he was arrested again in 2007 for armed robbery and kidnapping. Just over 12 months later, he was found guilty of the charges and sentenced to 33 years in prison. Then, in an attempt "to get a new trial" in 2012, Simpson and his legal team began playing up the possibility that the ex-NFLer had brain damage resulting from his time on the field.
"I was knocked out of games for such head blows repeatedly in the 1970s and other times I continued playing despite hard blows to my head during football games," Simpson stated at the time. 
As CTE is only diagnosable in the dead, no one will know whether Omalu's "bet" is correct for the foreseeable future. But, for those who watched firsthand as Simpson unraveled over the years, Omalu's words certainly ring true.
"Everybody who knows him knows there's a problem there," Norman Pardo, Simpson's former business manager, told People. "There's something wrong with his head and there has been for a long time." 
PHOTO GALLERY
O.J. Simpson Timeline
Calling all HuffPost superfans!
Sign up for membership to become a founding member and help shape HuffPost's next chapter