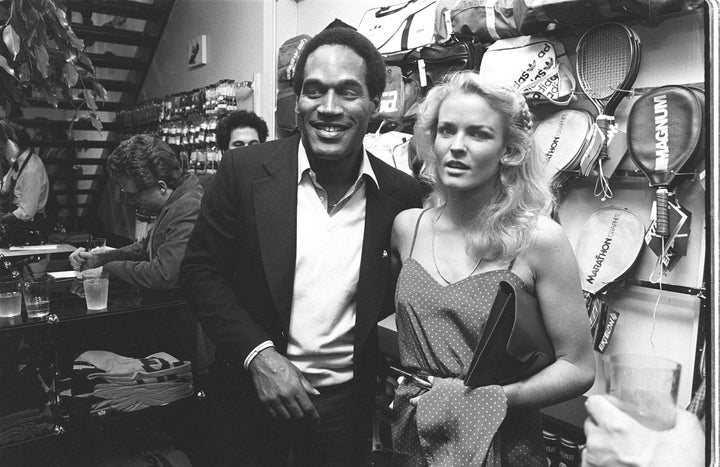 WARNING: This post includes spoilers throughout. If you want to keep the show a surprise, wait until its premiere June 11 on ABC.
Rumblings about ESPN's "O.J.: Made in America" series have been growing louder in recent months. And now, we can confirm that the five-episode documentary series, which premieres on ABC June 11 before moving over to ESPN for the following episodes, is a tour de force.
For the project, director Ezra Edelman pored over vast amounts of archival footage, performed exhaustive research and interviewed 72 different people. The result is a nuanced and deeply interconnected 464-minute portrait of the film's two main characters: O.J. Simpson and the city of Los Angeles.
While the critically acclaimed recent FX drama, "American Crime Story: The People v. O.J. Simpson," focused almost exclusively on the trial over the deaths of Nicole Brown Simpson and Ronald Lyle Goldman, "Made in America" tackles O.J.'s full-life story in the larger context of the city he loved, touching on issues of race, gender and celebrity throughout. Younger viewers will leave "Made in America" with an understanding of just how beloved O.J. was before the murders, and viewers of all ages will come away with a better understanding of the racial context in which the trial took place in Los Angeles, as well as what became of O.J. after the trial ended and he was left to find his way.
The Huffington Post was able to view the series in its entirety as part of the Tribeca Film Festival. No single post could explain what made "Made in America" so entirely engrossing, but there were a few moments about O.J. in particular that caught our attention. Here they are.
1. O.J. was elated in 1969 when he heard a white woman say, "There's O.J. sitting with all those n***ers."
O.J.'s desire to consider himself beyond race is a prevalent theme throughout the documentary, but never more so than in an anecdote provided by Robert Lipsyte, a prominent sports journalist and a former ESPN ombudsman. Lipsyte recalled going to Joe Namath's bar, Bachelors III, with O.J. and Howard Cosell in June 1969. There, O.J. told him about a wedding he attended in which he sat at a table of mostly black attendees.
"He overheard a white woman at the next table saying, 'Look, there's O.J. sitting with all those n***ers,'" Lipsyte said. "I remember in my naiveté, saying to O.J., 'Gee, wow, that must have been terrible for you.' And he said, 'No. it was great don't you understand? She knew that I wasn't black. She saw me as O.J."
"At that moment, I thought he was fucked," Lipsyte added.
2. Mark Fuhrman checked in on O.J. and Nicole in 1985. When Nicole decided not to file a report, he told her, "It's your life."
Former LAPD Detective Mark Fuhrman, who would gain infamy during the trial for his history of racist views, recalled responding to a call regarding O.J. and Nicole's Brentwood home in 1985. When Fuhrman arrived, he said he saw O.J. standing on the left side of the driveway holding a baseball bat and Nicole sitting on the front part of a 450SL Mercedes -- its windshield bashed in. She was "bawling," Fuhrman said -- "heaving almost uncontrollably."
Fuhrman recalled O.J. having "this look, this rage" and twice telling him to "put the bat down" before he pulled out his baton and told him again. "And then, all of a sudden, there was this calm that came over his face, he dropped it and he goes, 'Sorry, officer.'"
Fuhrman said Nicole declined to make a report, much to his displeasure. "I remember saying this because I think I was expressing my displeasure that she was allowing herself to be treated like this. I said, 'It's your life.'"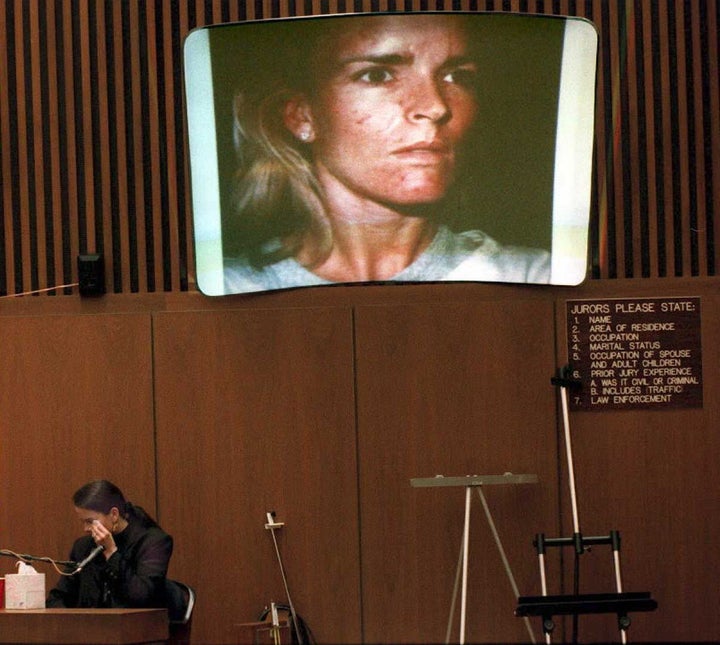 3. O.J. refused to take a lie detector test after Nicole's murder because he "had dreams of killing her," he told a friend.
Ron Shipp, an LAPD police officer and one-time friend of O.J.'s who would later go on to testify against him during his trial, told the filmmakers that he heard O.J. tell three different stories about how he injured his finger soon after Nicole's death. Once, he told Shipp he had cut his finger on a glass in Chicago. Then, he told someone nearby he hurt it "chipping golf balls," Then, he told a third person he injured his finger getting a cell phone out of his Bronco. Shipp was stunned, but then it got worse.
"I tried to leave there and O.J. goes, 'Shipp, hold on,'" Shipp told the filmmakers. "He says, 'They asked me to take a lie detector test -- I told them no.' I said, 'What do you mean you told them no?' And he says jokingly, 'Well, to be truthful Shipp, I have had dreams of killing her.'"
4. After his famous police chase on June 17, 1994, O.J. was openly confused as to why there were so many black people in Brentwood.
O.J.'s famous chase in the white Ford Bronco ended right at his home in Brentwood. But after the situation had calmed down somewhat, O.J. had to turn himself over to police to get booked. He was escorted to a car by SWAT officer Pete Weireter, the man who spoke with him while he was in the car with a gun.
"As we take off, Simpson is amazed at the crowds," Weireter said. "He just couldn't believe there were this many people there. And he said, 'What are all these n***ers doing in Brentwood?"
5. The O.J. trial was the first time the city of Los Angeles ever tested blood at two different labs.
While there's no shortage of DNA evidence that implicated O.J., the handling of that evidence appeared questionable at times during the trial. However, that did not appear to be for lack of trying on the part of the prosecution.
"The best thing about scientific evidence is that it's objective. It doesn't have biases or prejudices. That's why we concentrated so much on DNA. We went to two labs -- first time ever that's been done," then-Los Angeles District Attorney Gil Garcetti explained in a 1995 TV interview. "We gave them sample after sample. We gave the opportunity to prove that it wasn't O.J. Simpson. I could have been the biggest hero perhaps in Los Angeles, if not the country, if I could have walked into court a week after he'd been arrested and said, 'Guess what! It's not O.J. Simpson.' But all the DNA evidence points to Mr. Simpson as being the person who committed those horrible crimes."
6. O.J. stopped taking his arthritis medicine for as many as two weeks so his hands would swell before he put on "the gloves."
Prosecutor Chris Darden's decision to ask O.J. to try on the gloves would prove to be one of the prosecution's biggest mistakes during the trial, perhaps only eclipsed by their decisions to have racist LAPD officer Mark Fuhrman testify. But OJ's agent, Mike Gilbert, said that O.J. was nervous about putting the gloves on at the time, so Gilbert suggested he stop taking his arthritis medicine.
"He said, 'Mike, my hands would hurt like hell,' and I said, 'Why would they hurt like hell?' And he -- and you could just see the light click," Gilbert said.
Gilbert was confident that going off the medication for "two weeks" caused O.J.'s hands to swell, his knuckles to stiffen and those gloves to fit a little less comfortably.
"Do you think that made a difference?" the interviewer asked Gilbert. "Well, he couldn't bend his hands," Gilbert responded, "You tell me."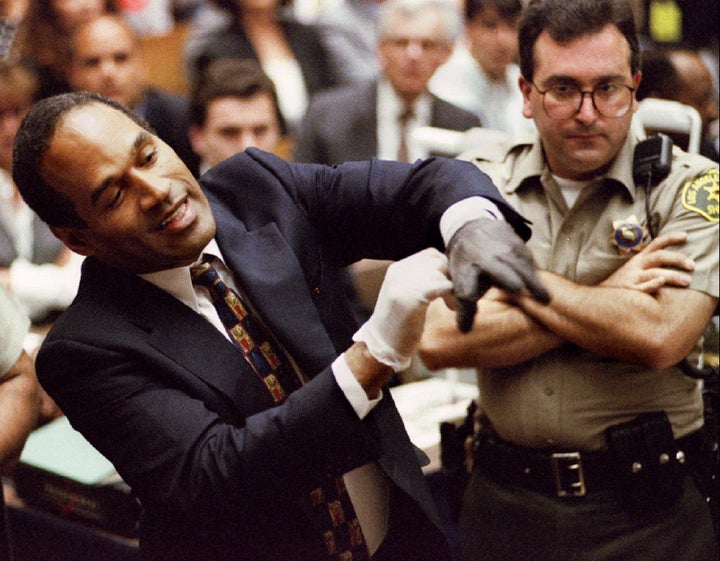 7. O.J. sold about $3 million worth of autographs while in jail during the trial.
O.J. was arrested on June 17, 1994 and wasn't acquitted until October 3, 1995. In the interim, he autographed a lot of football paraphernalia.
"Because O.J. was not convicted of any crime and autographs was his normal business, he was allowed to still sign autographs in jail," memorabilia dealer Bruce Fromong explained. "I'm not sure what drove the market, but it was driven."
"We did $3 million in autographs. It just went and went and went. There was no end," Fromong said.
8. Once he was acquitted, O.J. started going to Roscoe's House of Chicken and Waffles in his quest for adoration.
It was clear to O.J. after the trial that many people in his predominately white neighborhood of Brentwood now loathed him. Seeking the adoration he so strongly desired, O.J. started mingling in the black community, attending black religious services and even dressing in traditional African garb at times.
"We'd go to Roscoe's too -- go down and eat chicken and waffles -- and I remember telling him, 'Man, when in the hell did you ever eat chicken and waffles before?'" Gilbert said. "But that's where black America went, and you would hear people -- 'Oh, so now you're black. Now you're black?'"
"He said he was trying to thank the people that stuck behind him, but that wasn't OJ. To me, it didn't ring true."
9. On the night of his arrest in Las Vegas, O.J. predicted "Keeping Up with the Kardashians" wouldn't "last two weeks."
Thomas Riccio -- the man who helped O.J. orchestrate the mission to recover his stolen memorabilia in Las Vegas -- claimed that before the robbery on Sept 13, 2007, he and O.J. were watching television in O.J.'s hotel room when they turned on the "Tyra Banks Show" and saw Kim Kardashian announce her family's new reality show, "Keeping Up with the Kardashians."
"That's my goddaughter, her name is Kim," Riccio remembered O.J. saying. "That show ain't going to last two weeks," he added.
10. TMZ bought the audio tape from the Vegas robbery for $150,000.
Riccio not only plotted the robbery with O.J., but he audio recorded it and then sold it to TMZ for $150,000, too. Four days after the robbery, TMZ ran the audio tape on their website with the headline, "O.J.'s Alleged Robbery Caught On Tape."
In his book, Busted: The Inside Story of the World of Sport Memorabilia, OJ. Simpson, and the Vegas Arrests, Riccio wrote that his initial asking price for the tape was $2 million, but TMZ boss Harvey Levin understandably balked at the number. "Harvey made us a counter offer that was as ridiculously low as mine was high. We went back and forth. They made a 'last few offers,' and we threatened to leave and take the recording elsewhere. Every classic dealing tactic was used by both sides," he wrote.
After selling the tape to TMZ, Riccio contacted the Las Vegas Police Department. In exchange for handing over the original recordings in their entirety and his testimony in court, he was given immunity. Ricco wrote he wasn't permitted to disclose how much he was paid for the tapes as part of the deal with TMZ, but he ended up "reluctantly testifying" that he was paid $150,000.
11. Marcia Clark was a reporter during O.J.'s Las Vegas trial.
Prosecutor Marcia Clark became famous for preparing and trying the O.J. Simpson murder case, during which time she was repeatedly dragged through the mud by the press.
But strangely enough, she found herself at an O.J. trial 12 years later, as well, this time as a correspondent for "Entertainment Tonight" and "The Insider" covering his Las Vegas robbery case. While it was fair to call Clark an O.J. expert, she wasn't exactly worried about any notions of journalistic objectivity.
"He skated on two murder charges, and he managed to get out of other charges of much lesser gravity since then. How did he manage to get himself back in trouble again?" she said." "How stupid do you have to be?"
In the film, Clark recounts a brief encounter between herself and O.J. during the case's preliminary hearing all those years later. "At lunch break, we were in the cafeteria and he showed up there. It's O.J. and I walked by ..."
"Mr. Simpson," she said. "Ms. Clark," he replied.
"It was -- weird," Clark added.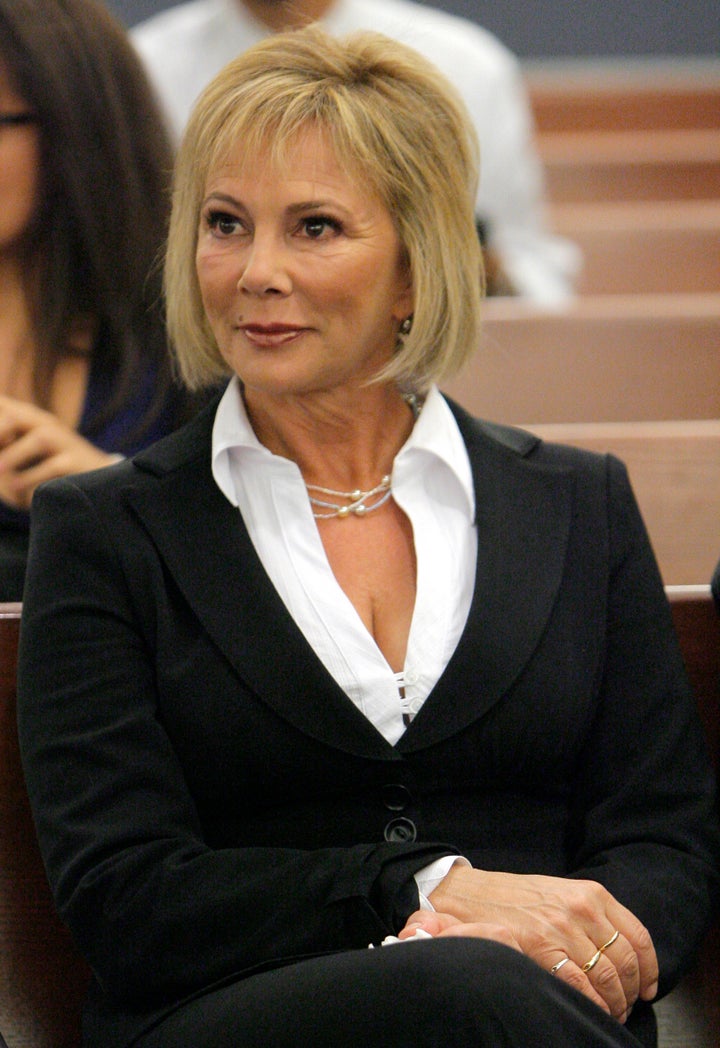 12. O.J. basically told his agent he committed the murders, albeit in a sort of convoluted way.
Awhile after the the trial ended, but before he lost his Rockingham estate, O.J. and his agent were sitting at the house. "We're drinking Rolling Rock beer outside and he was smoking pot," Gilbert remembered. "He was looking around the backyard, reliving all the different events that had happened there. And I just ask him, 'What happened June 12?' And he asked me what I thought happened and I said, 'I have always thought you probably did it.'"
Gilbert told O.J. that he knew what he had told his friend AC Cowlings: that he went over to Nicole's without a knife, "just went to see what was going on."
"He said yeah, and he said that if she wouldn't have opened the door with a knife, she'd still be alive," Gilbert said. For a long time, Gilbert believed O.J. when he said he didn't go over to the house to kill her.
Eventually, that changed.
Before You Go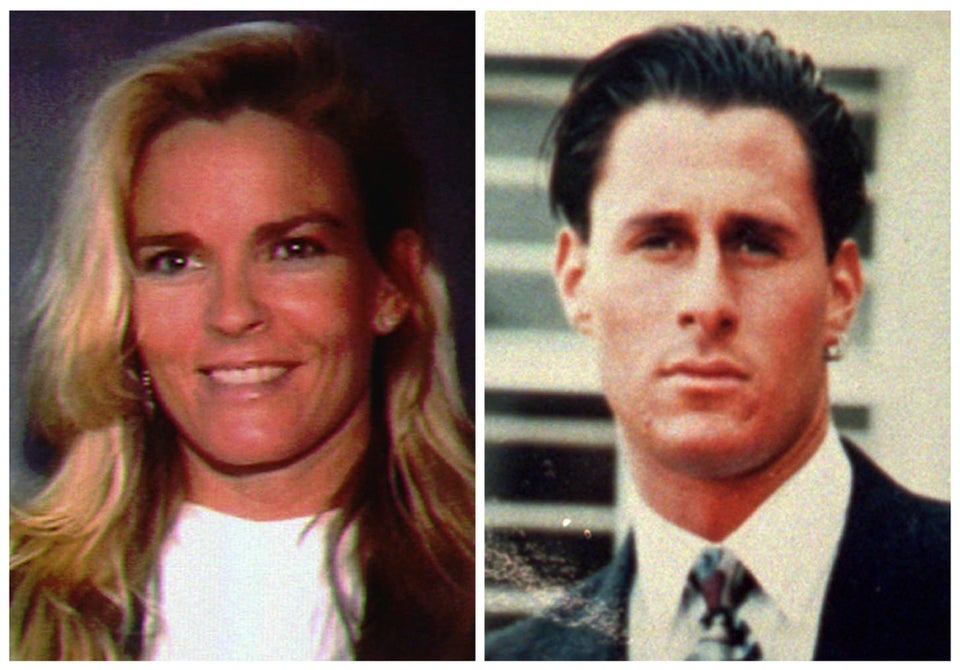 O.J. Simpson Timeline
Popular in the Community