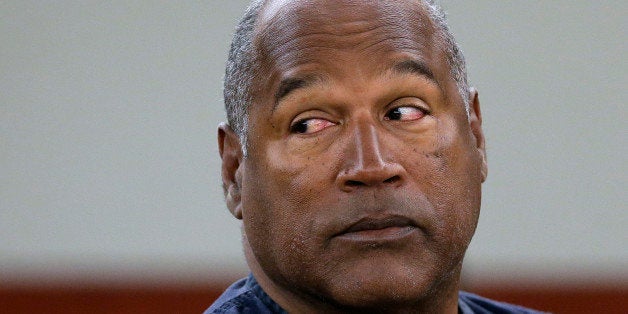 O.J. Simpson is in desperate need of medical attention and he fears he won't get it before he dies, according to his former manager.
Norman Prado told Radar Online that Simpson has gained weight behind bars, which has exacerbated long-time problems with his knees.
Simpson underwent two knee replacement surgeries before he went into jail, "but the procedure was complicated by a bone infection," says Pardo, adding that he "was on massive antibiotics to get rid of it" but "it didn't want to heal."

"If his knee is giving him problems now it's probably a knee infection that is setting in from when the doctor operated on him… it was a hell of a mess," Pardo tells Radar. "His knee swelled up like a balloon… I'd be more worried about him having his legs cut off due to the infections."
If he can't convince prison officials at Lovelock Correctional Center in Nevada to let him have knee surgery, Pardo said Simpson is scared he won't leave prison "until he's dead."
"I think he's more worried about leaving in a box — not a wheelchair," Pardo said.
Simpson is currently serving a 9 to 33 year sentence on robbery and kidnapping charges.
The former NFL running back was found not guilty of murdering his ex-wife Nicole Brown Simpson and her friend Ronald Goldman on October 3, 1995.
Simpson's purported predicament is emblematic of larger problems in America's prison health care system.
Specifically, groups like the American Civil Liberties Union have documented instances in which private, for-profit companies are awarded contracts to care for a state's prison population.
That creates an incentive for companies to provide inadequate care so that the company can maintain a profit, according to David Fathi, Director of the ACLU's National Prison Project.
"Prisoners are a uniquely powerless, politically unpopular and literally captive market so with private prisons or private prison health care providers the usual rules of market discipline, the idea that bad businesses that injure or kill people will eventually go out of business, doesn't apply," Fathi previously told The Huffington Post. "if [prisoners] are injured, their ability to recover compensation has been dramatically restricted by federal legislation."
REAL LIFE. REAL NEWS. REAL VOICES.
Help us tell more of the stories that matter from voices that too often remain unheard.
BEFORE YOU GO
PHOTO GALLERY
O. J. Simpson From College To Conviction