When Frank Capra was looking for a location to double for the paradise of Shangri-La for his 1937 film, "Lost Horizon," it was the Ojai Valley he chose.
A mere 65 miles northwest of L.A., Ojai is known for the "Pink Moment," when the sun sets and everyone stops, faces east and silently takes in the awe-inspiring pink hue on the Topatopa Bluffs, towering more than 5,000 feet above the valley floor. The east-west valley is responsible for extended sunlight, beloved by farmers and artists, alike.
The Topatopas as seen from the Beatrice Wood Museum. (Photo by Scott Bridges)
The city of about 8,000 is also said to hold invisible forces that some people describe as spiritual, and which others attribute to powerful electromagnetic fields. It's a place of natural beauty where Angelenos come to escape the rigors of urban life.
"Time slows down," actress Reese Witherspoon told Elle Décor magazine about the city, where she has a home. "It's like having a little bit of Tennessee in California."
This is a community that celebrates the physical arts. Nationally celebrated artists and aspiring artists are showcased on the walls and shelves of locally owned galleries. The motifs of the Chumash Indians feature prominently in the local art.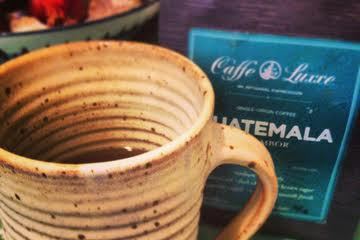 A mug hand-crafted by potter Larry Carnes at his Ojai studio. (Photo by Scott Bridges)
A museum devoted to Ojai's most famous resident, artist Beatrice Wood, resides at her preserved home/studio in a place called "Happy Valley," beneath the Topatopas. Wood is credited with helping bring art to the world of craft. She died at 105, attributing her longevity to "art books, chocolate and young men."
To celebrate the city's debut art festival, Greg Prinz of the local bike store, The Mob Shop, constructed a politically minded sculpture titled "Ojai's Garbage Tower." The statue, composed of 2,700 pounds of concrete, contains discarded sports and recreational items to represent the distraction that sport plays in American life.
The Oaks at Ojai is a great place to discover the art of local artisans and craftsmen. The spa features a rotating art exhibit on the grounds. This year, The Oaks selected Sandy Wolk as its initial artist-in-residence. She says art is a "language that speaks to the soul." Six of her sculptures are displayed on-site.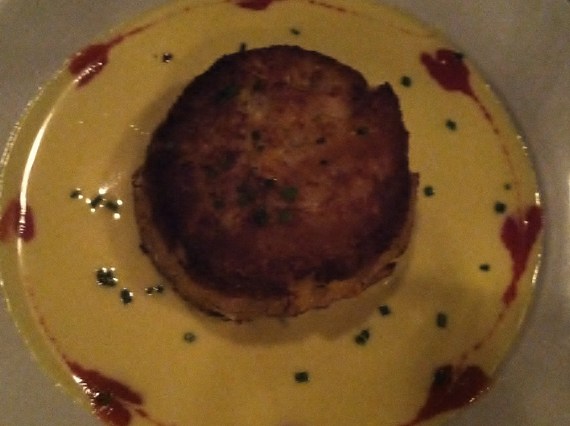 Crab cake at Suzanne's Cuisine. (Photo by Scott Bridges)
Home to several art galleries, the Tartaglia Gallery represents a good example of Ojai's most distinctive locally owned variety of shop. Danna Tartaglia, who left the corporate world to pursue her passion as an artist, combines her business savvy with her love of art. Her own equine-themed paintings and the works of a well-curated list of local artists, adorn the walls of the downtown gallery.
Ojai differs from other art meccas (like Sedona, for example) because of its harmonious synergy with an agricultural community of farmers and ranchers. The coexistence is evident at places like family-owned Omaggio Farm, home of Regalo Olive Oil. The farm, nestled in the middle of the valley, contains equal shares of Spanish and Italian olive trees, hand-picked to prevent bruising. Meanwhile, shoppers come to find unique furniture and furnishings in the on-site tasting room.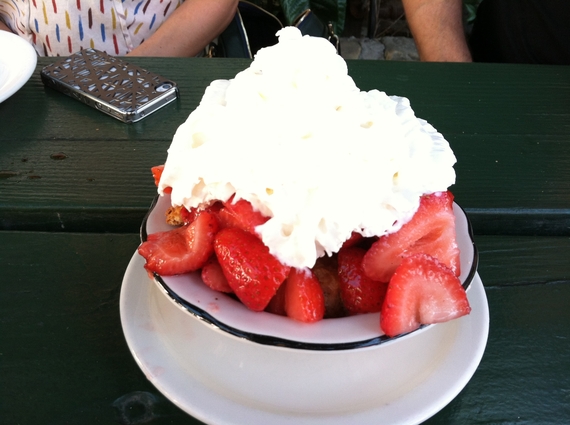 Strawberry shortcake at Boccali's Pizza and Pasta. (Photo by Scott Bridges)
The best way to enjoy these sights is with Cloud Climbers Jeep and Wine Tours. Knowledgeable guides provide insight into the history of the valley, and reveal an undiscovered side of Ojai. Dave and Sybil DeMauro started with one vehicle, but now operate 14, and run wine country tours in Santa Barbara and Paso Robles.
For lunch, take a drive into the valley, where orchards of olive and citrus trees abound, to Boccali's Pizza and Pasta, a roadside family-run diner. They prepare hearty Italian food from scratch, like spaghetti and meatballs and lasagna, and they are renowned for strawberry shortcake and fresh tomato salads.
Another dining destination is Spanish-inspired Mediterranean tapas restaurant, Azu. Chef Laurel Moore sources the freshest ingredients from the restaurant's garden, as well as local farms and ranches. Try their version of limoncello - Ojaicello - made with local grapefruit, lemons and the Ojai Valley's famed Pixie tangerines.
"The Ojai palate is defined by the ingredients available - the walnuts, the citrus, the pomegranates, the wine," says Karen Evenden, author of "Ojai's Table."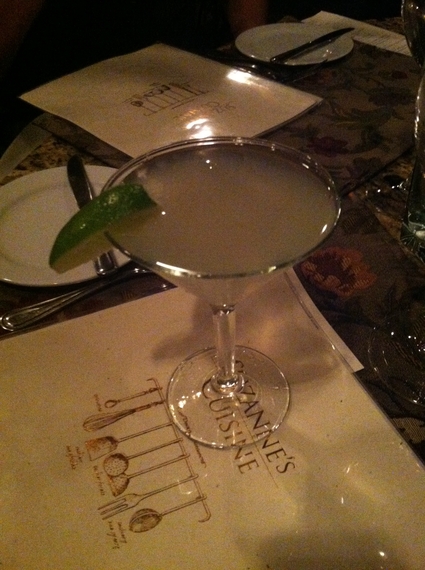 Mixology, with its fresh ingredients, is alive and well in Ojai. (Photo by Scott Bridges)
To get a sense of the Ojai flavors, don't leave without dining at mother-daughter run Suzanne's Cuisine, described as "the food of love" by Gourmet magazine. Suzanne Moore, who began as an amateur chef, works without recipes. She sources locally and seasonally to prepare homemade dishes unrivaled in Ventura County.
You'll want to spend at least a couple of days unwinding, so check out The Emerald Iguana, just blocks from downtown. The boutique hotel designed by Marc and Julia Whitman, is a lush garden property and oasis, featuring Marc's Craftsman-meets-Balinese style architecture. The husband-and-wife team accents the rooms with pieces they bring back from their adventures in Bali.
Another option is The Lavender Inn, a rustic bed-and-breakfast in a preserved historic home built in 1874. The inn is alive with hospitality, and provides peace and quiet, while offering the modern amenities. The former wayward girls home has eight unique rooms decorated with local furnishings and a patio and shaded lawn, where weddings are held.
Your Ojai getaway is just an hour and a half out of L.A. What are you waiting for?
Calling all HuffPost superfans!
Sign up for membership to become a founding member and help shape HuffPost's next chapter