For singletons of the fairer sex, sometimes online dating can closely resemble a hellish merry-go-round where one sifts through batches of duds disguised as studs and armed with equally bad grammar and breath.
The ups; the downs. The fleeting moments of connection with a prospective suitor; the avoidance of that awkward kiss goodbye. Then for a moment, it becomes apparent that flying solo can be fabulous -- until it's not.
At that point, there's no other choice but return to the inevitable: The profile gets reactivated, most flattering pictures posted next to a witty self-description and yes, the cycle begins, again.
If you're not nodding in agreement, it's because you're attached and have no single friends forced down into society's deep dark bowels of what is called online dating. But if you are nodding, read on.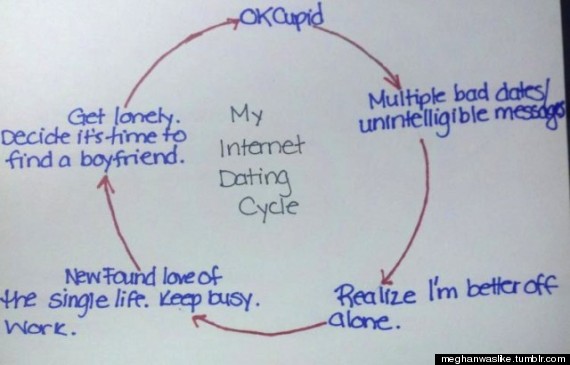 ... I was feeling good and made a little illustration about my internet dating cycle. Notice that at no point does it say "Relationship!" or "successfully land a boyfriend." Obviously I haven't figured out how to do that.
What do you think, ladies? Is this graphic an accurate depiction of Internet dating? Or did you meet your partner in a way that not even a hit romantic-comedy could compete with?
Related
Popular in the Community