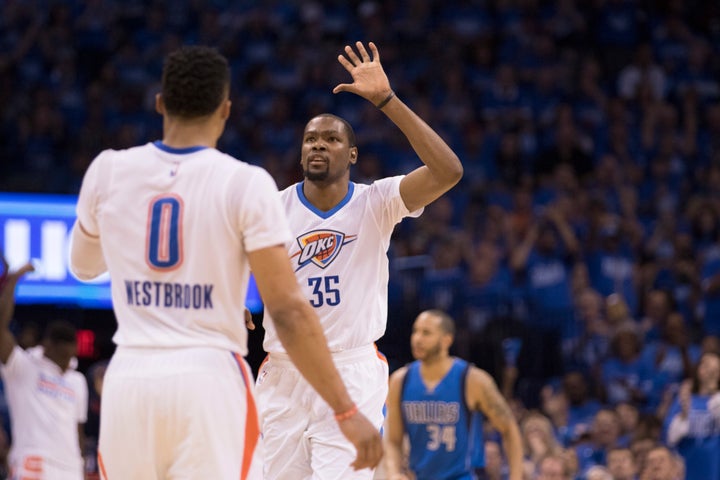 And then there is Oklahoma City, which remains the ultimate wild card -- a team featuring two top five players and a highly respectable supporting cast of ancillary talent. And a team, perhaps, with its final opportunity to capture a championship before small forward Kevin Durant explores free agency this summer and the Thunder's roster is finally overhauled.
Of course, the debate with OKC isn't really about talent -- it never is. Instead, it revolves around Durant and point guard Russell Westbrook. The same questions as always persist: Who should be the focal point late in games? How does this team balance such elite players? And when does the Thunder look elsewhere for scoring?
When we further examine the numbers, we learn that Durant is superior to Westbrook with the game hanging in the balance.
According to 82games.com, Durant ranks fourth in the NBA in "clutch time" offense, a metric that measures scoring in the 4th quarter or overtime, with less than five minutes left and neither team ahead by more than 5 points. To put that number in perspective, Durant's 49.2 points per 48 minutes lands him in between immortals Stephen Curry and Dwyane Wade, and ahead of LeBron James. Westbrook, meanwhile, averages 39.3 points per 48 minutes -- certainly a respectable clip, but nowhere near as efficient as Durant.
Nor is scoring the only distinguishing factor between the two teammates. More important is Westbrook's robust turnover clip -- which nearly triples Durant's in clutch moments -- and his isolationist tendencies. While 42 percent of Durant's possessions lead to an assist, merely 7 percent of Westbrook's have the same result. We tend to think that Durant and Westbrook are six of one and half a dozen of the other, but it's simply not true, at least in terms of winning basketball.
Former Thunder head coach Scott Brooks was well-liked, but his inability to deviate away from his two megastars down the stretch of games led to OKC's postseason woes against quality competition. It also, ultimately, brought about his demise. We're seeing the same thing happen again with first-year coach Billy Donovan.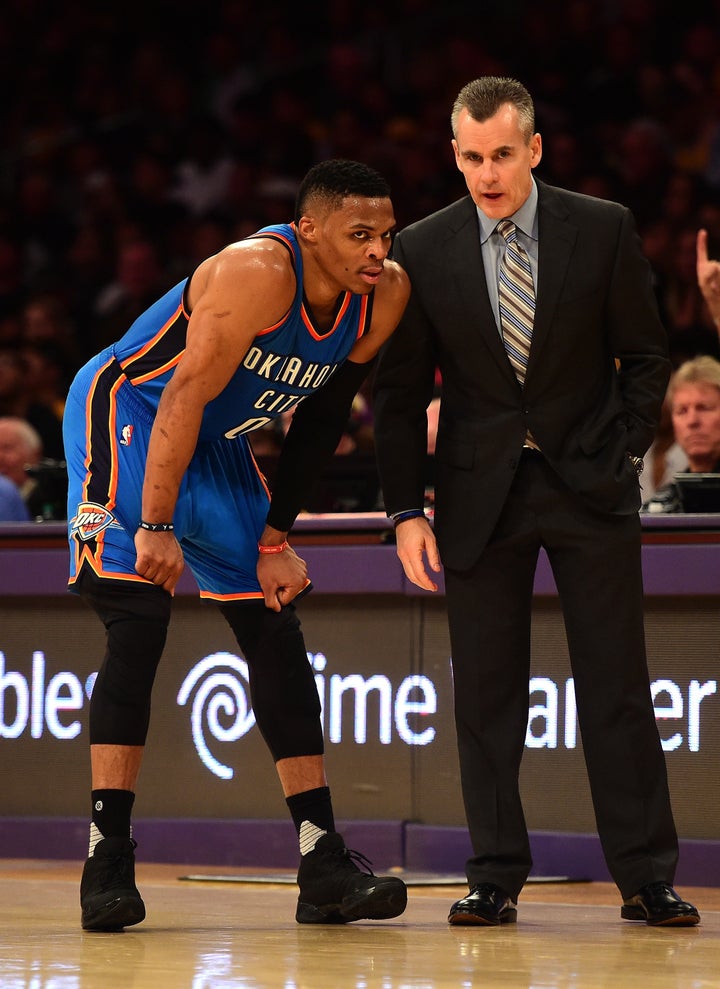 Late in games, Donovan's conundrum intensifies and he allows his two stars immense freedom to essentially rotate playing isolation-oriented basketball. As great as Durant and Westbrook undoubtedly are, NBA defenses -- specifically the Warriors and Spurs -- are far too proficient at adjusting to bad offense.
The defense, in turn, no longer has to shift or worry nearly as much about closing out other shooters, because only two guys are actually shooting the basketball. If it's not a pure isolation play, it's a default high pick-and-roll, an equally ineffective option without the threat of the drive-and-kick.
As the ball suddenly stops moving from one side of the floor to the other, capable scorers like power forward Serge Ibaka (25-for-39 FGs and 8-13 3s against Dallas in the first round), shooting guard Dion Waiters and center Enes Kanter (15 points and 7.0 rebounds in 20 minutes per game versus Dallas) quickly become afterthoughts.
The result is rather simple: OKC lost 14 games this year that they'd led at the start of the fourth quarter, more than any team in the league. More alarming is the total point differential through the first three quarters (+588) and the fourth quarter (+1), according to Fansided.
Also worth nothing is OKC's lack of success when its point guard delivers explosive scoring outbursts. Over the past two seasons, when Westbrook has scored 40 or more points, the Thunder has won fewer than a third of its games. That number skyrockets, however, when Durant scores 40-plus.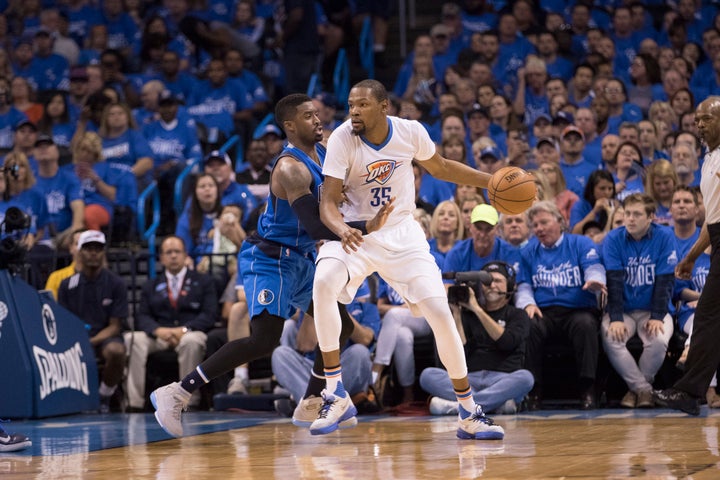 And yet, Donovan's dilemma remains abundantly challenging.
It's not as simple as merely handing over the late-game keys to the former league MVP. Westbrook has to understand the massively different levels of success OKC has when Durant's usage rate increases late in games. Because unlike Westbrook, Durant's clutch possessions are creating offense for others.
And as with the Warriors, ball movement and floor spacing are crucial to any hopes of a championship run for the Thunder. To be sure, the teams are built very differently, but if OKC wants to legitimately contend for a title, its two stars -- along with Donovan -- must incorporate the other components of the offense down the stretch of games, while leaning heavily on Durant.
Simply put, if hero basketball doesn't work for Golden State or San Antonio, it certainly cannot work for Oklahoma City either.
Calling all HuffPost superfans!
Sign up for membership to become a founding member and help shape HuffPost's next chapter