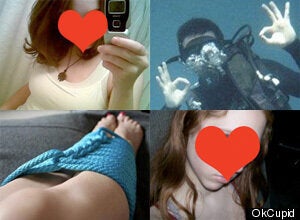 The dating site OKCupid will begin hiding the hotties from the less-attractive users looking for love online.
The beautiful folks who fall into the top half of the site's most attractive users--as ranked by OKCupid click data and algorithms--will see more good-looking people in their searches than before. The move will help match members with other users whose attractiveness is similarly rated.
The Consumerist reproduced the email OKCupid sent to its better-looking members:
We are very pleased to report that you are in the top half of OkCupid's most attractive users. The scales recently tipped in your favor, and we thought you'd like to know...

Your new elite status comes with one important privilege:

You will now see more attractive people in your match results.

This new status won't affect your actual match percentages, which are still based purely on your answers and desired match's answers. But the people we recommend will be more attractive. Also! You'll be shown to more attractive people in their match results.
The "cerebral" OKCupid is notorious for how carefully it monitors data and stats on its site. The dating site regularly posts its finding to its blog, OkTrends. Previous posts have examined how race affects the messages members receive, how older women fare on the site, and more.
Mashable explains the metrics that were used to rate the hotter OKCupid users:
The e-mail (which was sent by the "OkCupid Summer Interns") specified that the determinations were made through analysis of clicks on users' photos and reactions in the Quiver and QuickMatch features. Those two tools ask users to quickly respond positively or negatively to photos accompanied by segments of profile text.
If you're looking for love online (and concerned about being listed with the less attractive users), check out these surprising tips for better online dating profile pictures.
Tell us what you think of OKCupid's move in the comments section below. Is this helpful or hurtful?
Popular in the Community