The full top 20 ranking of colleges by sex drive, according to OkCupid: 
Yale

Brown

Duke

University of Chicago

Columbia

Stanford

Princeton

Washington University of St. Louis

CalTech

Cornell

UC-Berkeley

Vanderbilt

MIT

Harvard

Rice University

Johns Hopkins

Northwestern

UPenn

Dartmouth

University of Notre Dame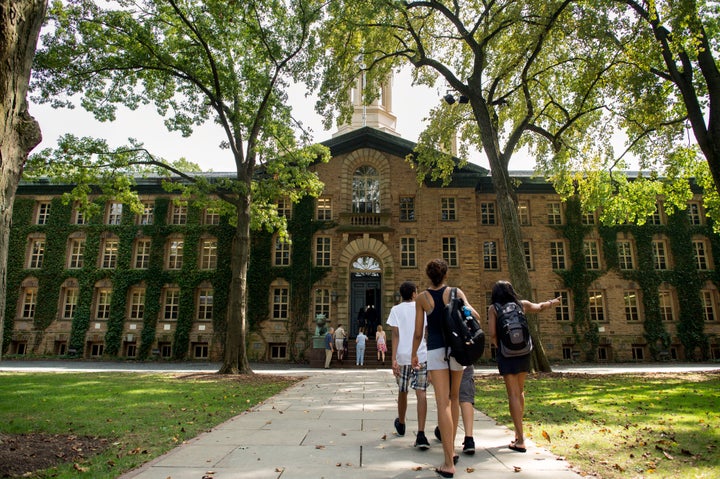 OkCupid's analysis focused on users ages 18 to 24 who were active during the 2014-15 academic year and had email addresses registered to the schools on the list.
The sex drive ranking is based on data "retrieved from OkCupid questions within the subject matter of sexual activity," the website said. "Higher ranks mean more sexual desire and claimed activity." Attractiveness was determined by "the number of 'likes' and 'passes' a user receives in OkCupid's Quickmatch," and the partying rank is culled from responses to personality quiz questions about social activities, alcohol and drug use.
OkCupid found some other interesting items about the students at these schools: 72 percent of Brown students would have sex on the first date, compared to 64 percent of University of Chicago who would be willing to do the same. 
Further insights on Brown found they are the most liberal -- with four-out-of-five students identifying as left-wing for their politics -- and they had some of the "highest quality messages" with an average of 236 words written at a 7th grade reading level, OkCupid said. 

Meanwhile, 51.2 percent of of Dukies would prefer having sex with their their partners every single day. And more than two-thirds of Washington University of St. Louis students have higher than average self-confidence.
Two percent of Cornell University students think the Earth is bigger than the sun, John Hopkins students admitted masturbating more than the national average while Dartmouth students masturbate less.
Calling all HuffPost superfans!
Sign up for membership to become a founding member and help shape HuffPost's next chapter