Growing evidence indicates that during the U.S. occupation of Okinawa from 1945 to 1972, the U.S. violated a treaty to not store herbicides within Japan's political boundaries. Accusations that the defoliant Agent Orange was present in Japan in the late 60s, is gaining ground as the latest reports point to a massive stockpile apparently disposed on the grounds at Futenma air station in Okinawa after the end of the Vietnam War. Former Lt. Col. Kris Roberts said he unearthed hundreds of rusty barrels leaking the defoliant in 1981.
However, despite repeated allegations that the U.S. military stored, transported and even buried hundreds of barrels of Agent Orange in Okinawa, the Pentagon continues to deny the accusations.
Ex-U.S. serviceman Larry Carlson says he saw it sprayed as a weed killer at Kadena Air Force Base in Naha and was later granted benefits from the U.S. government due to the resulting illnesses derived from the exposure. Carlson says the toxic defoliant was stored on Okinawa and then loaded onto merchant ships such as the USS Comet and the SS Transglobe, headed to Vietnam. But Carlson remains the only ex-service man in Okinawa to receive health care benefits from the U.S. government.
Ex-serviceman Michael Jones and longshoreman James Spencer both confirmed that Naha's port was used to transport thousands of barrels of herbicide, including Agent Orange.
Joe Sipala, a former U.S. Air Force mechanic who runs a Facebook Page, Agent Orange Okinawa, says he sprayed the defoliant regularly as a weed-killer at the Awase Transmitter Site in Okinawa and that he now suffers from multiple diseases as a result.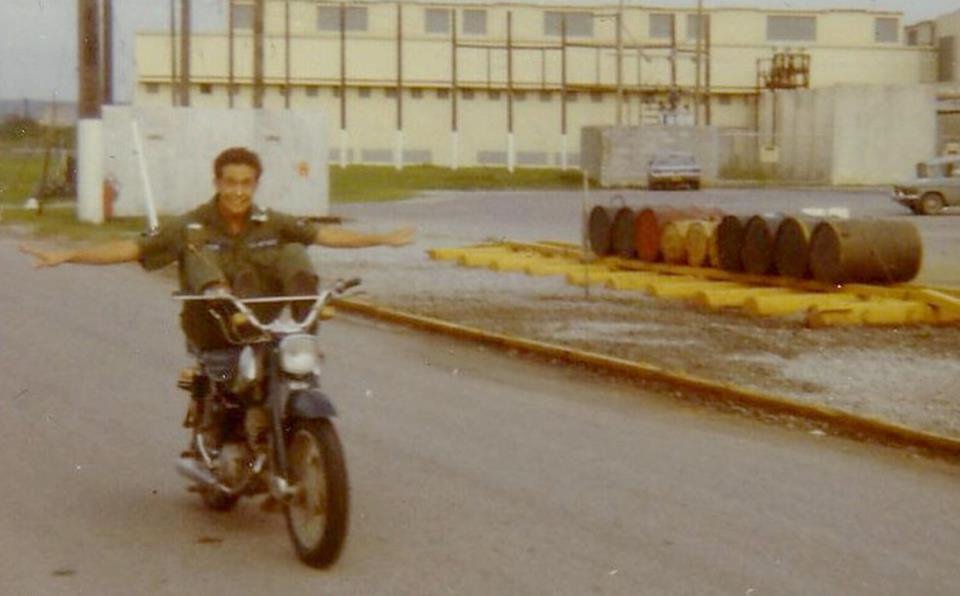 Joe Sipala rides his motorcycle next to a barrel of Agent Orange (third from left) on Okinawa in 1970. PHOTO COURTESY OF JOE SIPALA
Former marine Scott Parton alleges that he saw barrels of Agent Orange on the Camp Schwab base in 1971.
Another vet, who prefers to remain anonymous, said that in the late 1960s, the U.S. military buried barrels of Agent Orange in an area around Chatan. As a forklift driver at a U.S. Army supply depot at that time, he said he helped load Agent Orange onto trucks to transport it to a port in Naha, from which they would be loaded onto ships headed to Vietnam. Yet another vet says that in 1969 he saw barrels of agent orange buried in a 45-meter-long trench at Hamby Air Field.
Most affected vets have not been able to receive health benefits, in large part due to the government's refusal to admit the defoliant was ever present on Okinawa. In July of 2004, chairman of the Joint Chiefs of Staff, General Richard Myers, declared that government "records contain no information linking use or storage of Agent Orange or other herbicides in Okinawa."
However, a history of misconduct suggests otherwise. In the 60s, when suspicions were aroused among Okinawan residents that the U.S. military was storing biochemical munitions, the authorities denied the claims. However, they were forced to take action when a leak of nerve gas sickened 23 U.S. soldiers in 1969. As a part of Operation Red Hat, 12,000 tons of chemical munitions was removed from Okinawa and transferred to Johnston Atoll in the middle of the Pacific Ocean.
The denial of the Department of Defense that Agent Orange was ever on Okinawa means the affected servicemen cannot receive benefits despite their apparent exposure. "I will continue the fight to get both the Japan and American governments to recognize Agent Orange was used on Okinawa," Sipala told me in an interview.
Jon Mitchell, a British journalist who has worked diligently to uncover evidence and expose veterans' stories, hopes his efforts will affect a change. "All of us are seeking justice for the thousands of veterans potentially exposed and the Okinawan civilians poisoned by these chemicals. This is not a political issue -- it's a human rights issue and an environmental tragedy. Time is running out for these service men and women -- and the U.S. government needs to come clean and help them before it's too late," Mitchell said via email. He hopes more men and women exposed to the defoliant on Okinawa will come forward.
Amy Chavez is author of 'Japan, Funny Side Up' and the forthcoming 'Running the Shikoku Pilgrimage: 900 Miles to Enlightenment' (summer 2012)
Support HuffPost
The Stakes Have Never Been Higher
Related
Popular in the Community