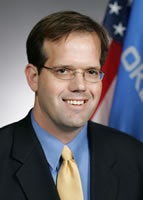 A Republican state senator in Oklahoma has introduced legislation seeking to block the implementation of United Nations Agenda 21, the international organization's non-binding sustainability program.
State Sen. Patrick Anderson (R-Enid) is introducing legislation for next year that would block local Oklahoma governments from entering into agreements with the International Council for Local Environmental Initiatives, a European sustainability group, Tulsa World reports. Anderson's legislation comes after Tulsa officials held a two-year membership in ICLEI in order to use the group's energy software.
As a farmer, Anderson said he is concerned about the federal government -- pushed by the U.N.'s agenda of sustainability -- forcing rules on a wide variety of things, including the creation of dust and how land can be used.

"There's a place for all that, but we also need to make sure we're not infringing on the property owners' rights to use their own land," Anderson said.

The first and best steward of how land should be used is the private owner, he said.
Anderson is the latest Republican state lawmaker to introduce anti-Agenda 21 legislation, which has become a favorite issue for the Tea Party. Agenda 21 was created during a 1991 U.N. environmental summit in Brazil and signed by President George H.W. Bush. Presidents Bill Clinton, George W. Bush and Barack Obama have all endorsed the compact, which does not hold the force of law in the United States. Among the issues promoted by Agenda 21 are walkable communities and land use planning.
Agenda 21 opponents have said that the program would seize private land and force Americans to live in cities. New Hampshire state Rep. Lenette Peterson (R-Merrimack) told HuffPost that Agenda 21 was "dangerous" and that "citizens would lose their rights." Peterson is promoting a similar Agenda 21 ban in her state next year. Peterson said that while Agenda 21 is not law in the United States, research from the John Birch Society, a conservative political action society, shows it is being implemented in the U.S.
In October, former Georgia state Senate Majority Leader Chip Rogers (R-Woodstock) hosted a four-hour lecture for Georgia Republican senators on Agenda 21. Rogers unsuccessfully tried to ban Agenda 21 in the state. During the lecture, Field Searcy, a birther activist expelled by the Tea Party, told senators that Obama and the U.N. are using "mind control" to implement Agenda 21 and said the alleged plot was similar to genocide programs promoted by Soviet leader Joseph Stalin and Chinese leader Mao Zedong. Rogers, who distanced himself from the lecture, later resigned from the Senate to accept a job with Georgia Public Broadcasting.
Alabama lawmakers adopted a ban on Agenda 21 earlier this year, while Kansas legislators adopted a resolution opposing the issue.
Democratic lawmakers nationally have condemned the anti-Agenda 21 crowd, with former New Hampshire state Rep. Christopher Serlin (D-Portsmouth) calling the issue "real tin-foil hat material." Kansas state Rep. Mike Slattery (D-Mission) denounced his colleagues' discussion on the issue as "stupid is as stupid does" during his state's debate on Agenda 21.
Calling all HuffPost superfans!
Sign up for membership to become a founding member and help shape HuffPost's next chapter
BEFORE YOU GO
PHOTO GALLERY
U.S. State Capitol Buildings