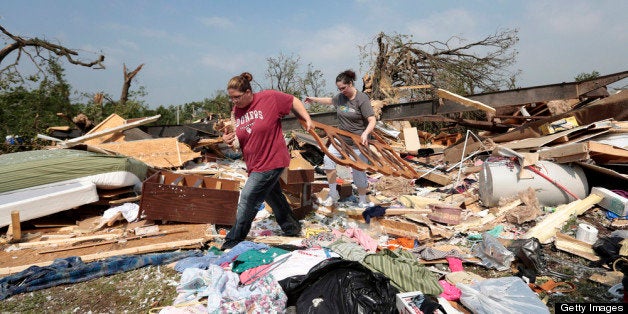 Hundreds of residents around Oklahoma City and its suburbs struggled to communicate Tuesday after a huge tornado tore through the area and caused widespread disruptions of cellphone and Internet service.
Wireless providers urged residents to communicate via text message to save bandwidth that was overwhelmed by a spike in call volume after the storm, which destroyed schools, a hospital and entire neighborhoods, especially in the hard-hit suburb of Moore.
Sprint customers are experiencing blocked phones calls after the tornado damaged three cell sites, according to Sprint spokeswoman Crystal Davis, and are being encouraged to rely on text messaging.
"Customers in the area might have to make a second or third attempt to complete a call, and we're asking them to use text messaging versus voice as the recovery and response efforts continue," Davis told The Huffington Post.
Wireless providers declined to estimate how many customers have been affected by the outages or how long it would take to restore service. Sprint, Verizon and AT&T said they are deploying temporary cell towers to expand wireless capacity in the area and setting up stations to charge cellphones.
Sprint and AT&T also said they are waiving voice, data and text overage charges through June 30 for customers in the affected areas.
A T-Mobile spokeswoman said the company's wireless network is "more than 97 percent operational" in the affected area. "We are making steady improvements with a small cluster of cell sites that was damaged more than others," she added.
Cox, the major cable provider in and around Oklahoma City, said that "thousands" of customers are without phone and Internet service. The outages are due partly to tornado damage at the company's cable plant and due to the fact that so many homes and businesses lost power completely, said Todd Smith, a spokesman for Cox Communications.
"We're bringing in additional resources to help repair the damaged plant as quickly as possible, but again, access to severely damaged areas is the biggest challenge right now," Smith said.
For Oklahoma residents with Internet service, Twitter became a popular medium for sharing stories of devastation and expressing frustration over the inability to communicate with family and friends.
"It's such chaos right now," one person tweeted Monday night. "I'm in OKC and we still can't get cell calls through to friends in Moore."
"Just heard from my mom, who drove several miles to get cell service," another person tweeted. "She lost a rental house, sobbing over schools 'The kids, the kids.'"
Wireless providers have faced criticism after service has been repeatedly unavailable or jammed during and after major storms. For example, cell service was unavailable for several days in the aftermath of Hurricane Sandy last year, when the storm knocked out power in several cities.
Critics have said wireless providers should be required to have backup power at cell towers in the event of sustained power outages. But industry representatives have resisted such rules. They say their networks are resilient, but are not equipped to handle long power outages or massive spikes in call volume that occur during emergencies.
Related
Popular in the Community