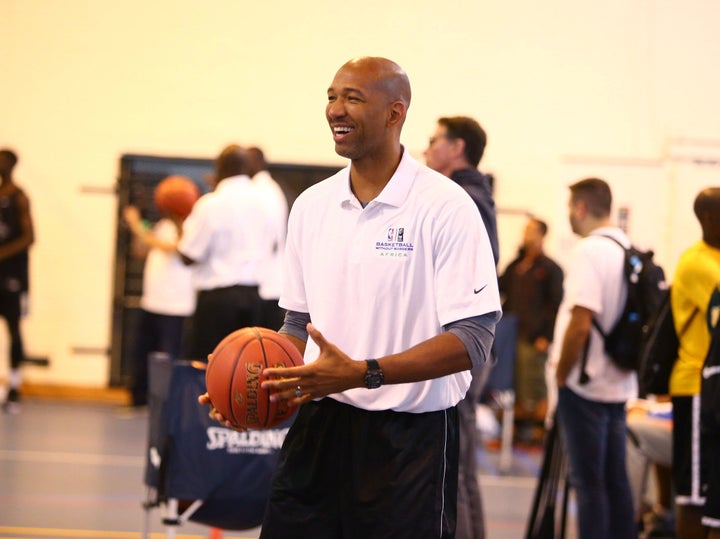 In the NBA, mid-February is supposed to be a kind of reprieve -- All-Star Weekend lets players and coaching staffs catch their breaths, before gearing up for the final push of the regular season and the climbing pressure of the impending postseason.
But for the Oklahoma City Thunder, the 28 days between February 10 and March 8, 2016, were filled with a series of shots to their collective solar plexus, as tragedies kept slamming the team week after week.
First, it was the death of Ingrid Williams, assistant coach Monty Williams' wife, who was beloved throughout the NBA for her heart, humility and humanity. Seen as a source of comfort to players wherever her husband happened to be coaching, Ingrid, mother of five, was killed in a head-on car crash, after the other driver, who reportedly had methamphetamine in her system, lost control of her speeding SUV.
In the days following her death, Ingrid was described by Oklahoma City's Anthony Morrow as an "angel"; her death prompted superstar Kevin Durant to break down into tears during practice when the crash was mentioned by a reporter; and her memorial service brought far-reaching members of the NBA family together in Oklahoma, as Monty delivered a moving eulogy, asking all present for prayers of peace and forgiveness for the other driver.
"Let us not forget that there were two people in this situation, and that family needs prayers as well," Williams said that day. "Life is hard. It is very hard. And that was tough. But we hold no ill will toward the Donaldson family, and we, as a group, brothers united in unity, should be praying for that family, because they grieve as well."
If the Thunder franchise were a completed jigsaw puzzle at the start of the season, ready to recover from last year's disappointing finish and raring to compete for the 2016 title, mid-March saw the pieces of the puzzle knocked out of place and strewn across the table. Williams missed time this spring, as did Waiters. And the club known for its immeasurable energy -- Russell Westbrook's post-basket roars of excitement, the home arena crowd -- was suddenly shrouded in black, forced to try to continually claw its way back to relative normalcy as fate kept knocking it down a peg. 
When the Western Conference Finals began a little over a week ago, few gave the Thunder a fighting chance against the high-power, high-volume offense of the Golden State Warriors. Sure, everyone expected to be entertained by Russell Westbrook and wowed by Kevin Durant -- but the thought of OKC stymieing Stephen Curry? Of muffling Draymond Green? There just wasn't a conceivable blueprint for how they were to even attempt that. Golden State was that good, that machine-like, that universally favored.
Today is Thursday, May 26. The Oklahoma City Thunder have a 3-1 lead on that good, machine-like, recently universally favored Warriors squad. Waiters is playing inspired basketball -- shooting nearly 43 percent from beyond the arc this postseason -- and the club even got to show off for its assistant coach, as Williams, who's taken a leave of absence, surprised the guys by attending the Thunder's first-round rout of the Dallas Mavericks last month.  
Just getting to this point, on the brink of eliminating Golden State, has shown the kind of courage that seems innate in this team's DNA. It's been attacked from all sides all year, and even now it's still coping with the aftermath of a hellish 28 days that were more reminiscent of the denouement of a Shakespearean tragedy than of an NBA season.
So this series, with the odds stacked against them? A kicking, aggressive Green? A supposedly unstoppable Steph Curry? Well, that's on-court stuff. That's easy. That doesn't really matter in the grand scheme of things. The Thunder have been through worse. And while stopping The Best Show In Basketball is certainly a feat, it's merely a testament to the strength they've already proven they possess in more important instances this spring. It's just the most recent reminder of these guys' ability to unite when all hell breaks loose -- a reminder of their mental ferocity and of their knack for maintaining some equilibrium amid such relentless instability. 
They're one game away from history. Five wins away from a title. It won't be easy, even if they do manage to knock out Golden State. But there's no doubt that they've already dragged themselves and each other through the hardest part. Say what you will about the Warriors, but the Thunder deserve this. 
REAL LIFE. REAL NEWS. REAL VOICES.
Help us tell more of the stories that matter from voices that too often remain unheard.
BEFORE YOU GO
PHOTO GALLERY
The Most Emotional 2016 NBA Playoffs Moments