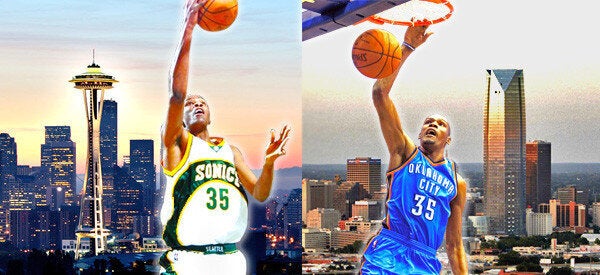 When the NBA's Seattle SuperSonics relocated to Oklahoma City and became the Thunder in 2008, two cities began drastically different transitions.
In Oklahoma City, Thunder fans cheer the team's rise and finals appearance and businesses feel the positive effects of a state embracing a new franchise. In Seattle, Sonics fans nurse deep grudges as businesses near the team's old arena close their doors.
"The Thunder have boosted not just our business, but the entire state's economy," said Jeff Stewart, who has managed O'Connell's Pub in Norman, Okla., since 1979. "During last year's run, business was up, but that was nothing compared to what's going on right now."
O'Connell's is 30 minutes from the Thunder's Chesapeake Energy Arena and across the street from the University of Oklahoma, serving as a battleground for the rivalry between OU and Oklahoma State. "It's always slower at the beginning of the summer," said Stewart. "With students gone, it's been a shot in the arm for us and the college bars around here."
In the Bricktown district near the arena, businesspeople said they see the Thunder's contributions even more vividly. "January is generally a bad month for Bricktown because it's cold and people just got done with Christmas," said Greg Powell, who manages Tapwerks Ale House & Cafe, less than a half-mile from the arena. "With Thunder games, it's turned into one of our better months." Tapwerks has seen 40 percent sales growth since January 2010, according to Powell.
The basketball team is just a piece of Oklahoma City's success as of late. The city added its tallest building, the Devon Tower in March, and is in the middle of a 10-year construction program, funded by a one-cent sales tax initiative, projected to raise $777 million that will fund a new downtown park and a new convention center while improving city sidewalks and the Oklahoma River. According to the Oklahoma City Chamber of Commerce, the population has increased 15 percent since 2000, with property values rising 472 percent.
"The Thunder have been a complimentary piece of the complete city we're trying to create," said third-term Oklahoma City Mayor Mick Cornett (R). "They're helping to engage people with the arts, parks and character of our city and helping us retain our young people while drawing in other young professionals. We've been able to accumulate this human capital, which is great because in generations past Oklahoma City didn't have as much pull with jobs or attractions. Now we're really building all that."
But 2,000 miles away in Seattle, in the Lower Queen Anne area surrounding the KeyArena that was once home to the Sonics, lies a neighborhood and basketball fans still embittered by political impotence and ownership dishonesty. Their pain is aggravated by the Thunder's rapid ascent as a contender since the team pulled out of Washington.
With Mayor Greg Nickels allowing the Sonics former owners to void their city lease early, businesses in the KeyArena area have been forced to make due without their main moneymaker. "Our market and neighborhood is the KeyArena and its 17,000 capacity," said Don Trembly, owner of T.S. McHugh's Irish Pub & Restaurant for 22 years. "Take away 41 home games, plus potential playoff games, and it's a huge deal for us because it decimates those big revenue nights that we need. They're what keep us in the black."
San Francisco hedge fund manager Christopher Hansen said he is trying to lure a new team into town and has recently raised $290 million toward a new arena, with the city paying the rest. That's different from most recent sports arena projects funded mostly by taxpayers. The Sonics' old neighborhood may not see much benefit, however, considering the proposed facility is near the Seattle Mariners Safeco Field, nearly four miles away.
Despite how the team made its move, the Thunder's fans and new city can't be faulted for their passion and pride. "We're all putting in extra hours -- servers, bartenders, managers, kitchen guys," said Powell of the Tapwerks staff. "We're working a little bit harder than we want to but honestly, you don't hear anybody complaining because it's so much fun."
Up in Seattle though, the grudge will still be held. "During this playoffs, Seattle residents have been Mavericks, Lakers and Spurs fans," said Jason Reid, director of the documentary "Sonicsgate: Requiem For A Team", which tells the story of the team's departure. "Now they're Heat fans."
Related
Popular in the Community