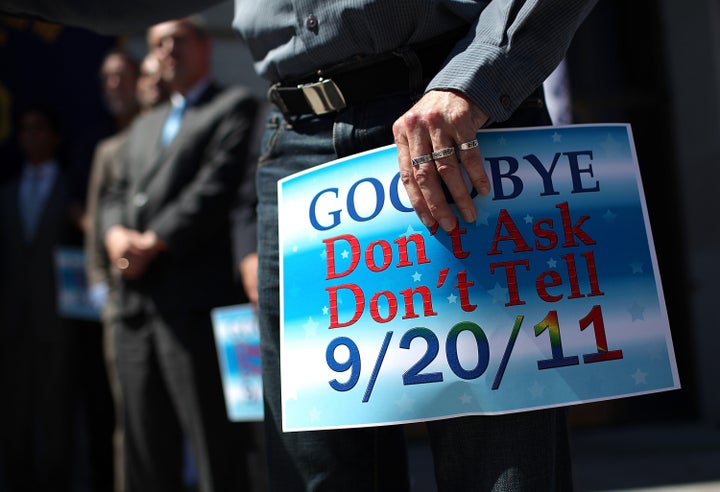 The Tulsa World reported on Tuesday that state Rep. Mike Reynolds (R) of Oklahoma City introduced a bill to bar gays and lesbians from the Oklahoma National Guard. Reynolds told the World that the bill was created "in response to requests from members of the Oklahoma National Guard" and would reinstate DADT among the state's part-time soldiers.
But according to the Human Rights Campaign and The Equality Network, the proposed bill goes even further. "The bill goes beyond the discrimination contained in the now-repealed DADT statute, and allows government officials to directly question someone about their sexual orientation -- essentially removing the 'don't ask' component contained in DADT," the groups said in a joint statement released Tuesday.
Such a move would effectively reinstate the policies that the military abandoned almost 20 years ago. Gays and lesbians were forbidden from serving in the military until 1993, when President Bill Clinton enacted DADT as compromise between gay rights advocates and military leaders. Before then, potential servicemembers were explicitly asked about their sexual orientation as part of the recruiting process and barred from joining if they said they were gay.
Despite the policy change at the federal level, Reynolds claimed that "the state is allowed to set its own standards for service in the National Guard and is not required to duplicate standards for the rest of the U.S. military." The Oklahoma National Guard declined the World's requests for comment.
Meanwhile, gay rights groups are lining up to oppose Reynolds. The Human Rights Campaign and The Equality Network set up an online petition to protest the bill, and Toby Jenkins, the executive director of Tulsa-based Oklahomans for Equality, said that his group will press Oklahoma legislators to vote no.
REAL LIFE. REAL NEWS. REAL VOICES.
Help us tell more of the stories that matter from voices that too often remain unheard.
BEFORE YOU GO