Millions of people in Oklahoma and parts of Kansas face a "significant potential" for damaging earthquakes this year due to human activity, according to a new forecast from the U.S. Geological Survey.
The only other part of the continental United States facing similar danger is quake-prone California, where natural fault lines slice through the state.
"Approximately 3.5 million people live and work in areas of the [central and eastern United States] with significant potential for damaging shaking from induced seismicity in 2017," said Geological Survey report, published Wednesday in Seismological Research Letters. "The majority of this population is in Oklahoma and southern Kansas."
In the most vulnerable area, there's between a 10 and 12 percent chance of damage from induced earthquakes, which are caused by human activity. A large part of northern Oklahoma that extends into Kansas faces between a 5 and 10 percent risk.
The only other region where USGS scientists found a "significant potential" for human-caused earthquakes is a spot along the New Mexico-Colorado border.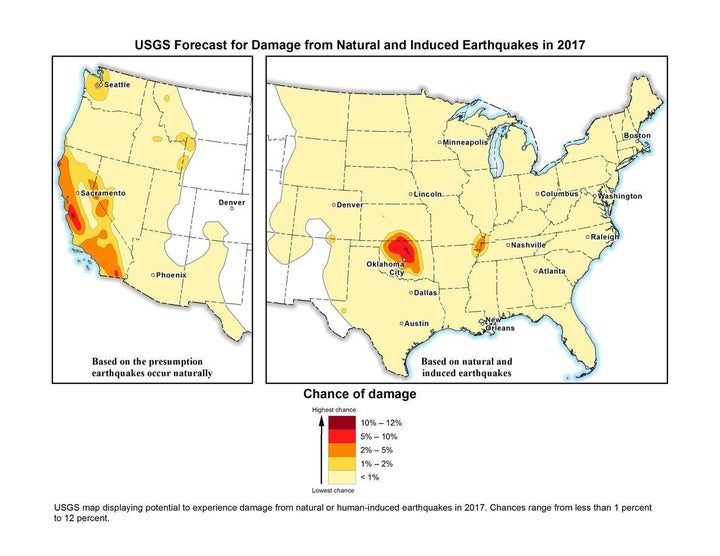 There is some good news: This year's outlook for the country is better than last year's, because there was a lower number of quakes overall, both man-made and natural. Parts of North Texas and Missouri, for instance, are no longer trouble spots on the USGS map.
New regulations on fossil fuel production might be responsible, USGS scientist Mark Petersen suggested to Bloomberg. A decrease in production due to lower fuel prices may have also helped, the agency said.
Geologists have linked oil and natural gas industry practices to the heightened risk of quakes in much of Oklahoma and southern Kansas. The process of extracting fossil fuels involves injecting wastewater deep underground into disposal wells, which destabilizes the ground and makes earthquakes more likely, scientists say.
The number of temblors of magnitude 3.0 or higher surged from 41 in 2010 to 623 last year, according to Oklahoma state records. Crude oil production in the state more than doubled in roughly the same period, rising from 185,000 barrels per day in 2010 to 432,000 in 2015, the most recent year U.S. Energy Information Administration data is available.
"The majority of recent earthquakes in central and north-central Oklahoma are very likely triggered by the injection of produced water in disposal wells," according to the Oklahoma Geological Survey.
Oklahoma's earthquakes peaked in 2015, when there were 903. But the state's biggest quake ever ― a 5.8-magnitude tremor ― took place last year, as did the greatest number yet of "large earthquakes," researchers said.
"The forecast for induced and natural earthquakes in 2017 is hundreds of times higher than before induced seismicity rates rapidly increased around 2008," Petersen said in a statement. "Millions still face a significant chance of experiencing damaging earthquakes, and this could increase or decrease with industry practices, which are difficult to anticipate."
Oklahoma's earthquake epidemic came up during the Senate confirmation hearings for former Oklahoma Attorney General Scott Pruitt, who now heads the Environmental Protection Agency. As the state attorney general during the increase in quakes, Pruitt had cultivated close ties with the oil and gas industry.
Sen. Bernie Sanders (I-Vt.) criticized Pruitt for not doing more at one committee hearing.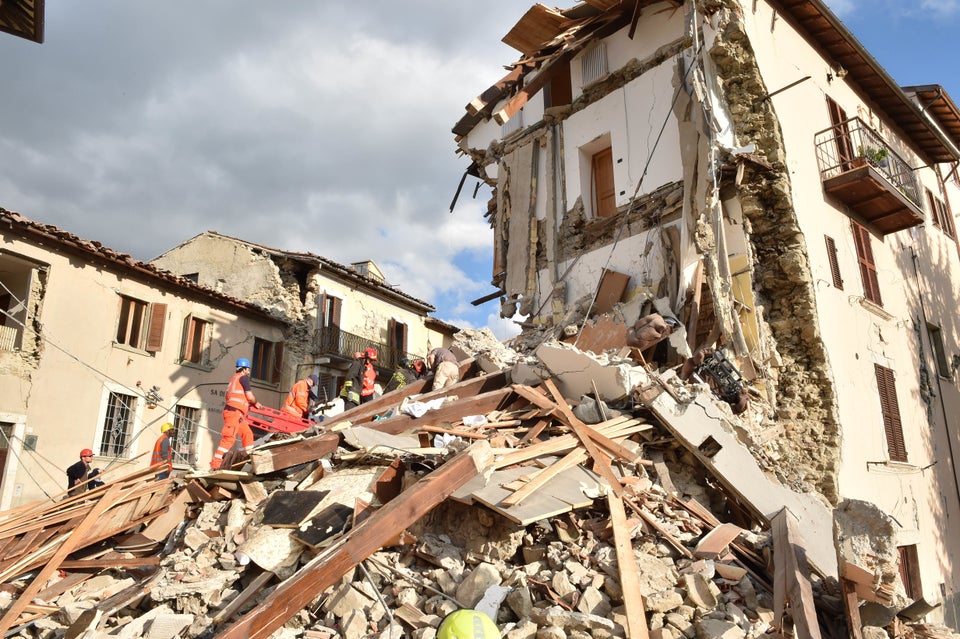 Earthquake Ravages Central Italy