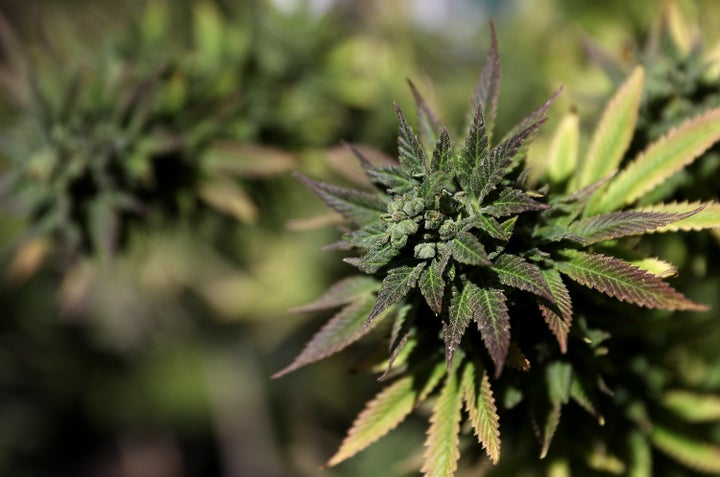 Marijuana is now legal in Oklahoma for medical purposes.
Voters approved State Question 788 in Tuesday's primary, which makes it legal to grow, sell and use marijuana for medicinal purposes. The law provides no outlines on qualifying conditions, giving physicians broad latitude to determine why they recommend medical marijuana to patients. Under the law, adults with a medical marijuana license would be authorized to possess up to 8 ounces of marijuana, six flowering plants and various weight of edibles and marijuana concentrates derived from the plant.
"The passage of State Question 788 highlights the strength and diversity of public support for laws allowing the medical use of marijuana," said Karen O'Keefe, director of state policies for the Marijuana Policy Project, a drug policy reform group. "Most Oklahomans agree that patients should be able to access medical marijuana safely and legally if their doctors recommend it. It is noteworthy that this measure passed in such a red state during a primary election, when voter turnout tends to be older and more conservative than during a general election."
Oklahoma becomes the 30th state to legalize cannabis for medical use. Legal recreational marijuana has been approved in nine states and Washington, D.C., which continues to ban sales, unlike the state programs. Despite the states' efforts to scale back on criminalizing the plant over the past few years, marijuana remains illegal under the federal Controlled Substances Act.
Former President Barack Obama's Justice Department allowed states to forge their own way on marijuana policy with guidance urging federal prosecutors to refrain from targeting state-legal marijuana operations. But in January, Attorney General Jeff Sessions rescinded the Obama-era guidance, a move that has possibly paved the way for a federal crackdown on legal marijuana. But states that have legalized medical marijuana retain some protections from federal interference under a budget rider known as the Rohrabacher-Farr amendment, which must be renewed every time Congress passes a government-funding bill.
In order to more fully protect marijuana states from the policies of federal prohibition, Sens. Cory Gardner (R-Colo.) and Elizabeth Warren (D-Mass.) introduced a bill earlier this month that would allow businesses and individuals working in the burgeoning legal marijuana industry in states around the nation to operate without fear of Department of Justice prosecution. The bill would also protect banks that work with state-legal marijuana businesses. President Donald Trump has said he will "probably" support the bill.
Marijuana is the most commonly used illicit substance in the United States, and the trend of states bucking prohibition in favor of legal regulation of the plant reflects a broad cultural shift toward greater acceptance of marijuana. National support for the legalization of the drug has risen dramatically in recent years, reaching historic highs in multiple polls. And states like Colorado, the first to establish a regulated adult-use marijuana marketplace, have seen successes that have debunked some lawmakers' and law enforcers' predictions that such policies would reap disaster.
Popular in the Community