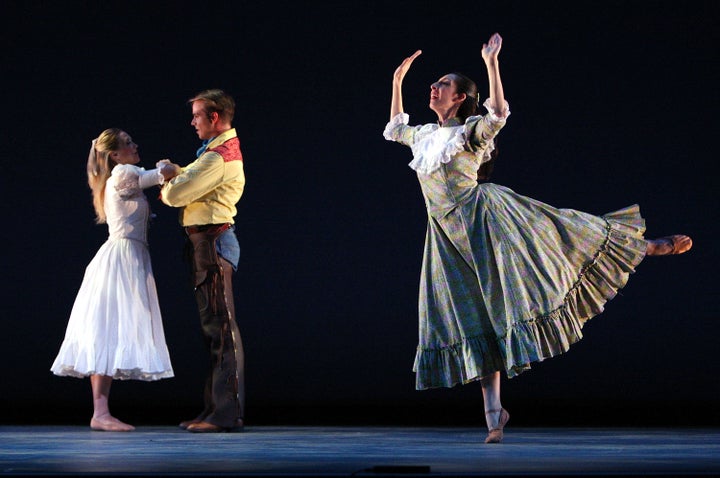 Those headed to the 2018 Oregon Shakespeare Festival can expect to see Broadway classics, diverse representation, and in the case of one particular production, both combined. 
Bill Rauch, the Festival's artistic director, is slated to direct a production of "Oklahoma" starring same-sex couples in the leading roles. The classic 1943 musical, written by Richard Rodgers and Oscar Hammerstein, traditionally follows the romances of cowboy Curly McLain and farm girl Laurey Williams, as well as cowboy Will Parker and his love Ado Annie in the early 20th century. On March 20, OSF tweeted that the characters of Curly and Laurey will be played by women, while Will and Ado will be played by men.
The world has changed quite a bit since the musical was written more than 50 years ago, and Rauch wanted to ensure his production addressed pressing contemporary issues and audiences. "We in leadership positions," Rauch told The New York Times in 2015, "need to do everything we can to reflect the world we live in."
Rauch told the Times he had been dreaming of giving the musical an LGBTQ makeover for decades, and finally began hashing out the details with the Rodgers and Hammerstein estate's president, Ted Chapin, a year and a half ago. 
This revamped "Oklahoma" is far from the only play on the bill slated to address themes of diversity and representation. One such production, "Manahatta" by Mary Kathryn Nagle, a citizen of the Cherokee Nation of Oklahoma, follows a young Lenape woman who moves to her ancestral land after getting a job on Wall Street, coming to terms with her people's brutal displacement and its connection to contemporary capitalism. 
Nagle is one of five women playwrights featured in the festival, out of 11 total. From what we can tell, Rauch is doing his part to ensure that the future of theater represents a wide range of stories and storytellers, not just people who look like Rodgers and Hammerstein.
Calling all HuffPost superfans!
Sign up for membership to become a founding member and help shape HuffPost's next chapter