WASHINGTON -- Rep. Steve Russell (R-Okla.) issued a press release on Wednesday accusing Matt Duss, president of the Foundation for Middle East Peace, of having secret "anti-Sematic [sic] ties" because his father and brother have previously been critical of Israeli policies.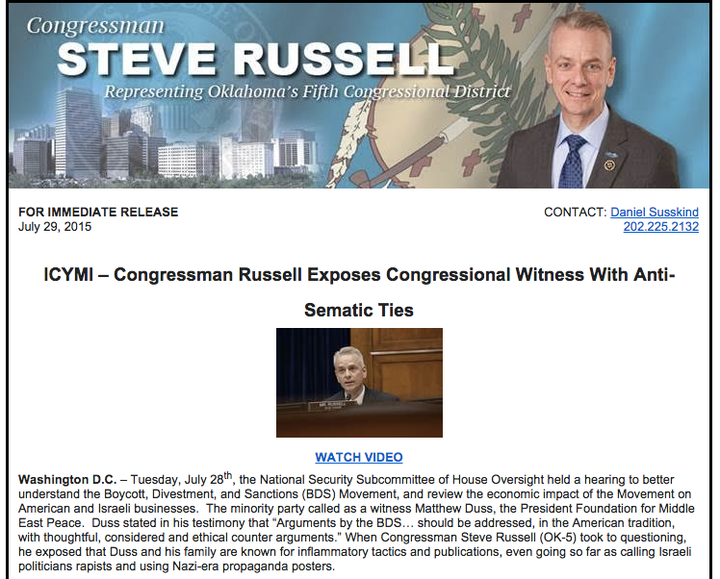 Russell's allegation came one day after a hearing on the impact of the boycott, sanctions and divestment movement, which seeks to pressure Israel into changing its policies toward the Palestinian territories. Duss, who opposes the BDS movement, testified along with Daniel Birnbaum, the CEO of SodaStream; Mark Dubowitz, the executive director of the Foundation for the Defense of Democracies; and Eugene Kontorovich, a law professor at Northwestern University, all of whom oppose the movement as well. Duss was the only expert invited by the minority Democratic party -- and the only one with a record of criticizing Israeli policy.
When it was Russell's turn to question the witnesses, he used his allotted five minutes to explain why past statements made by Duss' father and brother rendered him an inappropriate witness for the hearing.
"Mr. Duss' father has accused Israel of war crimes," Russell said of Serge Duss, who is the public policy director of International Medical Corps. Russell did not cite a specific example of war crimes accusations made by the senior Duss, but most of the international community considers Israeli settlements a violation of the laws of war.
"Mr. Duss' brother is infamous for his tweet, and I quote, 'Why are so many Israeli politicians rapists?'" Russell continued, referring to a 2011 tweet by Brian Duss, media relations manager at WorldVision. The tweet accompanied an article about Sami Levy, the former vice mayor of Hadera, Israel, who was suspected of raping several women who sought his help. (Levy was later convicted of a sexual offense.)
The congressman asked the three other witnesses whether they agreed, and none of them explicitly countered Russell's characterization of Duss and his family. Russell
then left the briefing without asking any questions about how the U.S. should respond to the boycott movement against Israel.
"I am somewhat troubled that we have before us today someone elevated to come and testify before Congress that might have such a closet to be examined," Russell explained before he left. "I really don't want to hear any more of what he might have to say in this hearing."
Russell's focus on Duss' family came as a surprise, even to veterans of Capitol Hill theatrics. "In the 15 years I have been covering the Hill, I have never witnessed something like this," said Lara Friedman, director of government and policy relations at Americans for Peace Now, a progressive pro-Israel group.
"For the congressman to launch a sleazy ad hominem attack like this -- and a McCarthyistic one at that, by bringing up Matt's family members and former colleagues -- is beyond the pale," she added.
A spokesman for Russell defended his boss' focus on Duss' familial ties. "You're obviously associated with your family," Daniel Susskind told HuffPost on Wednesday. "I'm not speaking for the congressman, but Matt Duss did not come out to refute the stances of his father and his brother."
At the hearing, Duss said that he was proud of his father and brother, but declined to engage in a debate about his family's history. "I was invited there to give my expert testimony, and my work speaks for itself," Duss told HuffPost. "Any fair reading of the many articles and papers I've written completely refutes the offensive caricature that the congressman tried to represent."
Russell's only direct criticism of Duss' work had to do with an article he wrote in 2013, criticizing the Israeli Zionist organization Im Tirzu for its depiction of Martin Indyk, at the time a negotiator in the Israeli-Palestinian peace talks, as a puppet controlled by the New Israel Fund, a progressive, pro-Israel group. Duss juxtaposed the illustration of Indyk, who is Jewish, with Nazi-era posters showing Jews as puppet-masters, as a way of highlighting the anti-Semitic implications of drawing Indyk as a puppet.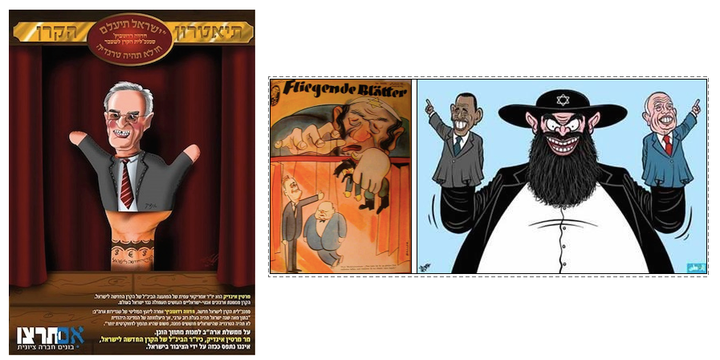 In his written testimony for Tuesday's hearing, Duss told lawmakers, "We can and must support Israel in defending herself against actions that genuinely threaten its security and legitimacy." To do this, he suggested, lawmakers should recognize that the failure to end the Israeli occupation of the Palestinian territories has fueled the growth of the boycott movement.
Duss also criticized recent congressional amendments for equating boycotts of businesses operating in Israeli settlements with a broader boycott of Israel, saying the measures gave the BDS movement an "unearned win." The State Department has indicated that the amendments run counter to its policy of supporting of a two-state solution.
While Russell found Duss to be unacceptably critical of Israel, supporters of the boycott movement against Israel noted that he hardly represented substantial opposition to the other anti-BDS witnesses.
"Ideally, you would have a Palestinian BDS activist," Duss told HuffPost. "But even me, as someone who is not a BDS activist, but someone who is trying to introduce facts and reality about what the BDS movement is and isn't, is unacceptable to some people."
Russell's office later issued a new version of the press release with the correct spelling of "anti-Semitic."
CORRECTION: This story previously misquoted the portion of Russell's questioning in which he quoted Brian Duss' 2011 tweet. The text of the tweet, which Russell read verbatim, was "Why are so many Israeli politicians rapists?"
Popular in the Community