Indie film Heartland began as a passion project. At its core, the script is a careful arrangement of serendipitous events primed to present an enduring love story across generations. The focus is on a young Oklahoma artist who lands back in her mother's stifling household after her girlfriend dies, but finds escape through a reckless affair with her brother's fiancé. The Big Bang Theory's Laura Spencer and The Mindy Project's Beth Grant star.
"While studying with Jeffrey Tambor, I was inspired to create my own material after my first few years in L.A. had lacked opportunity. I wasn't sure at the time what story I had to tell or even where to start when it came to 'how', so I joined forces with the person I deemed the most talented writer in the Tambor workshop, Todd Waring," said Heartland writer/producer Velinda Godfrey. "At first the arrangement was that he would write and I would take it from there, but soon we were equally invested in the story we were uncovering and quickly became writing partners. The right people have come to this tiny project every step of the way (trust me, nobody is doing this for a paycheck), and I've been lucky to watch that happen from the beginning -- starting with Todd."
Another main player eagerly in the mix right from the start: director/producer Maura Anderson.
"I met Velinda four years ago at a wrap party for a film I had just produced. We bonded over our love of camping and she asked me to read a script she had just finished with co-writer Todd Waring with an eye toward producing," Anderson said. "I read it and loved it; the characters were rich and it had a very specific world. I jumped at the opportunity to be involved and we started developing from there. It was when we shot a teaser for it about a year and half ago that I shifted into role of director."
Jennifer Wood (producer), Michael Dallatorre (cinematographer), Chris Freihofer (co-producer), and Lauren Connelly (editor) round out the production team.
Women in film. Gay women. Human beings. Three prongs at the center of the affair in Heartland.
"We are in a transition as a culture when it comes to both women and sexual orientation. There's a demand for stories for and about women, a demand that is becoming increasingly vocal," Godfrey said. "Thank god for these raised voices. I think it will prove to be a memorable time in the history of women and film, so to get to tell a story now about the lesser-represented sex and present these ladies as multi-faceted is very exciting. And then there [are] the shifting views on sexuality and acceptance. I've personally observed shifts from exclusion, to tolerance, to acceptance, to 'So? Who gives a shit who you love?' And this seems to be shifting nationally."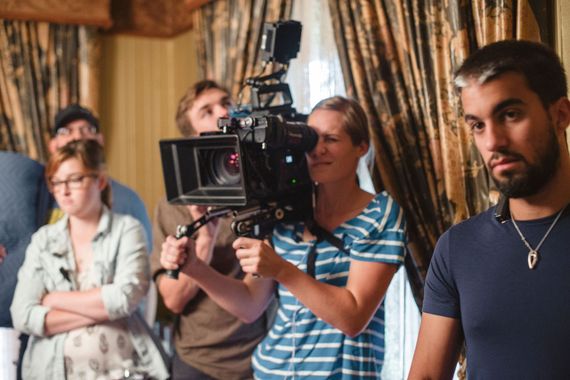 Anderson added, "Movies tend to portray gay people with their sexual orientation being the defining factor of their personality. This is the story of a girl, who happens to be gay, but is going thru grief and family turmoil all as a result of just being a human on planet earth. The same can be said for the serious lack of female protagonists. Hollywood seems to think that people don't want stories about women, but 50 percent of the world is women, so I find that hard to believe. I can understand that people don't want to watch the one dimensional cardboard characters that a lot of women are written to be, but when you have complex humans on screen, regardless of gender or sexual orientation, it's hard not to be drawn in. I think there's a perceived resistance because people don't make enough of these films. But if we can make quality projects and show that it can be done and people will watch them, then it's one small step in the right direction. Plus we're overachievers so we decided to take on female and gay all at once."
Hollywood heavyweights, such as Transparent's Tambor and Save the Last Dance's Julia Stiles, have vocally expressed their support for the film.
"It's humbling to say the least. This is a story we all believe in, so to have validation from these incredible artists that are experts in their craft is always nice reminder to have in those dark moments when you're wondering 'What am I doing?' that we're on the right path," Anderson addressed. "While thrilling, it's also been very scary and usually an uphill battle verifying ourselves as filmmakers with this first film. Having the support of such respected talent has changed the game for us by encouraging donors, talent and crew to take a risk."
As with any subject dealing with the emotional fodder, there are a thousand ways to get to the truth of the matter.
"I'm not sure what message viewers will receive because we've never deliberated, 'And here is the lesson to be learned.' There are for sure themes and character growths/conflicts, but I'm actually very excited to find out what viewers will experience," Godfrey said. "It's loaded and evolving every day we shoot, so I'm even curious what my experience as a viewer will eventually be."
"I think everyone is going to take away their own message. I know when I watch movies I tend to connect most with one character, that's the fun of a great ensemble cast," Anderson added. "Each character has a spine, basically what makes them wake up every day, and there are a lot of characters in this dealing with issues of love and acceptance."
Filming is currently occurring in Oklahoma - the backdrop for the film itself. The location itself has become a bit of a hurdle for the production crew.
"It was more challenging than expected. We lost multiple locations due to the 'subject matter,' along with other inconveniences. It's tricky here because the prejudice is often indirect and hidden beneath layers of cordialities," said Godfrey. "It's been a pain in the ass. Still, we've been blown away by the outpouring of support from locals. Locations, transportation, housing, donations, and even news features/publicity has come from locals, some even verbalizing that they hoped to 'show support for their gay friends.' Though we've never considered ourselves a niche gay film, we've definitely had to face the reality of the prevailing attitudes that result from a lesbian lead character."
"I didn't realize how insulated I was from this thinking," Anderson said. "It saddened me that people we didn't even know were writing off so many of my friends and an incredible story because of a deep-seated prejudice. I have to say, ultimately, that was overwhelmed by the number of people who have donated blood, sweat and tears to bring this movie to life. The generosity and true southern hospitality is so real here and we have met so many lovely people that I hope remain in my life for years to come."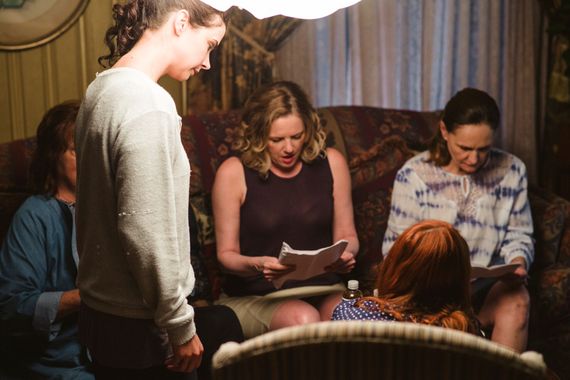 The goal is to bring Heartland to as many viewers as possible. Festival runs and/or theater engagements are anticipated, but for now, it's all about the groundwork.
"This film was made possible by the people, so we'll definitely do something that allows them to see it. We also hope to give back with this project by holding screenings for smaller markets and audiences who might not be able to see it in theaters or by other means," Anderson said.
Viewers can support Heartland by following the production on Twitter @heartland_movie and on Facebook.
Photos courtesy of Sara Combs and Michael Lowe
Popular in the Community