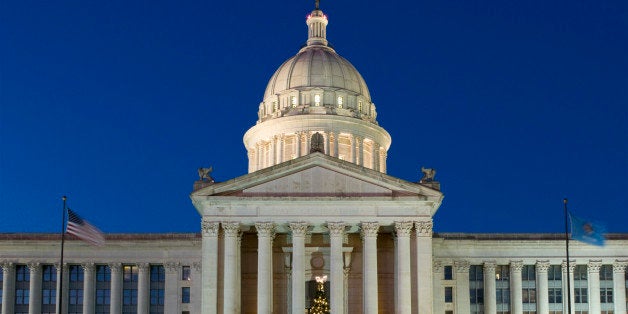 An Oklahoma group wants to let the state's voters decide whether to spend $500 million to place tornado shelters in schools.
On Wednesday, supporters of the Take Shelter Oklahoma initiative filed paperwork with the Oklahoma secretary of state, the initial step toward holding a public referendum next year on floating a $500 million state bond to pay for the construction of shelters. The issue drew public attention after the May 20 tornado that devastated Moore, Okla., destroying two schools and leaving 23 dead.
"In Oklahoma, it's not a matter of whether there will be weather. It is a matter of when and where the tornado will hit," Kathy Turner, the initiative's chairwoman and the former superintendent of schools in Fletcher, Okla., told The Huffington Post.
Under the group's plan, Oklahoma would issue bonds to raise $500 million for public schools to build the shelters. Revenue from the state's franchise tax would be redirected to paying off the bonds -- about $30 million of the annual $40 million the tax generates. Mark Nestlen, a member of the Take Shelter Oklahoma steering committee, said the referendum is worded to allow the remaining $10 million to be used for other tornado-related issues, including construction of shelters at private schools.
Having filed the appropriate paperwork, the group can now start circulating petitions across the state to qualify the referendum for the ballot. If the needed 160,000 signatures are collected, it would then be up to Gov. Mary Fallin (R) to set a date for a statewide election on the issue.
Nestlen said that Fallin has not weighed in on the proposal, but noted that she has been working on a variety of tornado recovery efforts, including providing information to school districts on building shelters.
In June, the governor said the state would not adopt a law requiring school shelters, citing the cost. A Fallin spokesman did not return a call for comment.
Turner said her involvement on the issue is personal. During the deadly tornado outbreak of May 1999, she was a principal in the Bridge Creek public schools. While her school was spared a direct hit, it was turned into a local morgue for the victims, which Turner helped run.
"It was really, really personal when you know the people and you have to bag their bodies," Turner told HuffPost. "No one should do that ever."
Following the 1999 tornadoes, she recalled, there was an effort to build shelters in homes but not in schools. Turner also said that during tornado emergencies, it is not uncommon for Oklahoma parents to pick up their children from a school without a shelter.
Mikayla Cooper, a senior at Bridge Creek High School and another steering committee member, told HuffPost that this "is a huge issue for my peers." She said that while her school had a shelter this year, the memories of 1999 and 2013 affect all Oklahoma students.
"No kids should have to worry about this when they are at school," Cooper said.
REAL LIFE. REAL NEWS. REAL VOICES.
Help us tell more of the stories that matter from voices that too often remain unheard.
BEFORE YOU GO
PHOTO GALLERY
U.S. State Capitol Buildings