Continuing the red state education revolt that began in West Virginia, Oklahoma teachers launched a statewide walkout and converged on the Capitol building in Oklahoma City on Monday morning to demand more funding for schools.
The walkout had been in the works for roughly a month. Lawmakers nearly averted the move when they cobbled together a teacher pay raise package last week. But that bill, which became law, was quickly revealed to have funding holes. Teachers in districts around the state agreed to stay out of school until better legislation passed.
It is not clear how many districts will remain closed beyond Monday, or for how long. Tulsa Public Schools, one of the largest districts in the state, announced Monday afternoon that it would remain closed on Tuesday, with other districts likely to do the same.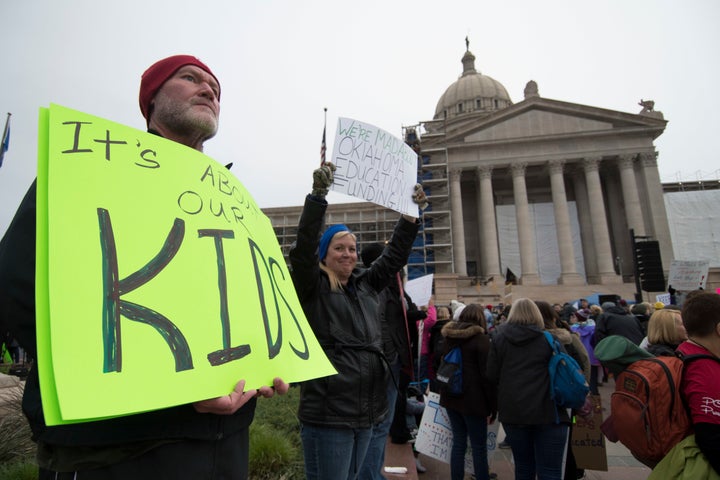 The Oklahoma Education Association teachers union is coordinating the walkout. Its president, Alicia Priest, laid out a number of demands in a Facebook video posted Sunday night.
Priest called last week's funding bill a "down payment." Legislators need to plug a $50 million hole opened up by the repeal of a tax on hotel and motel stays that was initially part of the tax package, she said. She also called on legislators to repeal a state tax deduction on capital gains, and to pass a bill that would bring in more tax revenue through gambling.
Those moves, Priest argued, could restore education funding after years of post-recession cuts.
"Why are we walking?" Priest asked. "There are 700,000 reasons why: our students. And they deserve better. … They see broken chairs in class, outdated textbooks that are duct-taped together, and class sizes that have ballooned."
On Monday, the state House of Representatives adjourned without passing any bills for the day. Lawmakers are expected to return Tuesday morning in a special session to address school funding. The union accused legislators of stalling on the capital gains bill for "political reasons," and urged teachers to return to the Capitol on Tuesday.
Oklahoma is one of several Republican-led states that now find themselves in a budget jam after years of cutting taxes. The lack of revenue has meant many teachers have gone years without meaningful raises or adequate resources for their classrooms.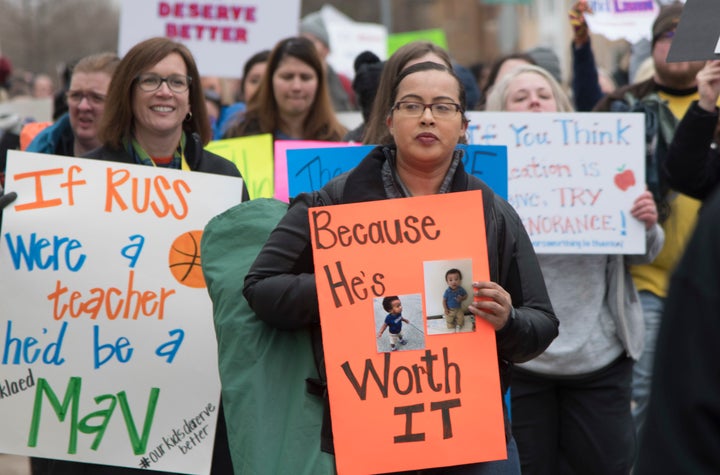 As HuffPost previously reported, Oklahoma had to slash education funding in the wake of the Great Recession like many states. But then it went on to reduce its top income tax rate, as well as the gross production tax on oil and gas firms. Revenue dropped further as energy prices fell.
As one teacher put it to HuffPost, "We feel our state Legislature has chosen the oil and gas industry over our kids."
A similar story of tax cuts and budget squeezes has unfolded in West Virginia, where a teacher strike lasted for nine school days. Educators in Arizona are promising to walk out if lawmakers don't increase their funding, and Kentucky teachers shut down schools on Friday to protest proposed cuts to their pension plans.
Popular in the Community