Thousands of Oklahoma teachers descended on the state Capitol in Oklahoma City for the second straight day Tuesday, demanding that legislators restore school funding after years of deep cuts and stagnating salaries.
Most school districts around the state remained closed for the day, while many went ahead and announced they would remain closed for at least the rest of the week. The momentum at the Capitol on Tuesday suggested teachers were game for a prolonged walkout until lawmakers passed a package they would accept.
The Oklahoma Education Association, the teachers union coordinating the strike, criticized the state House of Representatives for not moving on legislation Monday, when teachers first filled the Capitol to protest. The chamber went into a special session on Tuesday in an effort to resolve the dispute.
"This disrespect from lawmakers only drives the anger and frustration of teachers and education supporters, and it's why Oklahomans from every corner of this state have no trust in this legislature," the union's president, Alicia Priest, said in a statement.
Oklahoma joins other red states where teachers are rebelling after years of austerity. Teachers in West Virginia went on a nearly two-week strike in late February and early March, eventually winning a 5 percent pay raise. Meanwhile, teachers in Kentucky shut down schools on Friday and Monday to protest proposed cuts to their pension plans. Arizona teachers are planning a statewide walkout as well.
The common thread in these stories is weak investment in public schools. Most states were forced to cut funding during the Great Recession, but some went on to cut taxes in the recovery that followed. That has led to severe budget crunches, leaving states without revenue to put into classrooms and teacher salaries.
Oklahoma is dealing with a severe teacher shortage, and many districts have moved to four-day school weeks in order to save money. The state's teachers rank among the lowest-paid in the country.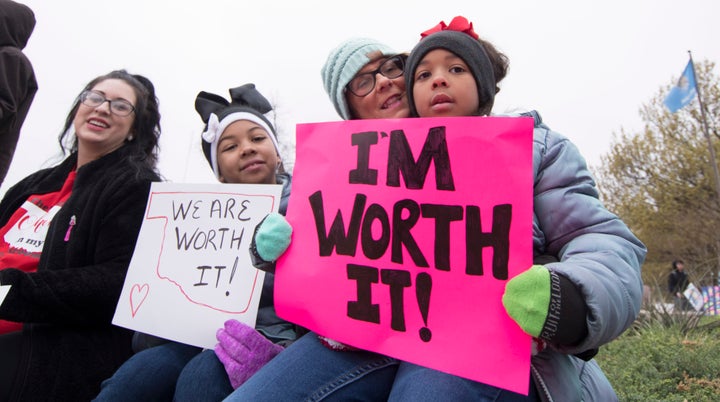 It's extraordinarily difficult for Oklahoma to bring in more revenue through tax increases, because any tax hike requires a three-fourths supermajority in both chambers of the Legislature. Republicans control both houses as well as the governor's office.
Nonetheless, lawmakers managed to pass an education funding package last week that would bring teachers an average $6,100 raise. But teachers said the bill did not do enough to guarantee general school funding, and the state House undermined the package by quickly voting to repeal one of its main features, a tax on hotel and motel stays.
The Oklahoma Education Association has made some concrete demands in order to get teachers back on the job. The Legislature, the group said, must plug the funding holes in its package passed last week, and bring in more revenue by eliminating a capital gains tax break and allowing an expansion of gambling in the state.
"We have made clear and simple asks for additional funding for students," Priest said. "Oklahoma is better than this, and educators will continue to walk out until we get a deal that our students deserve."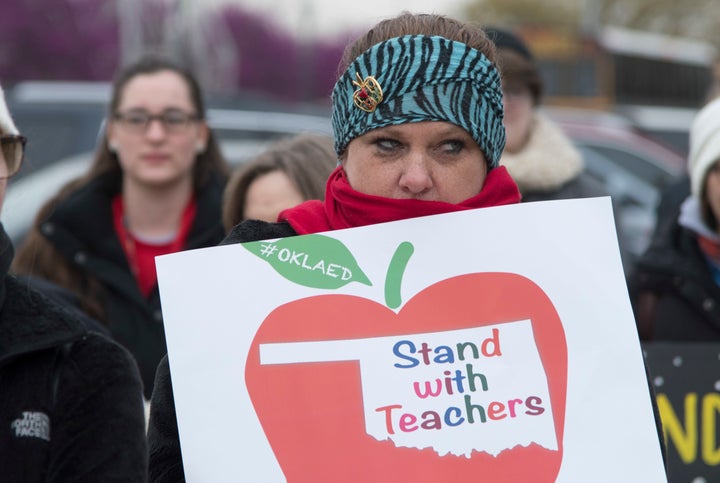 Popular in the Community