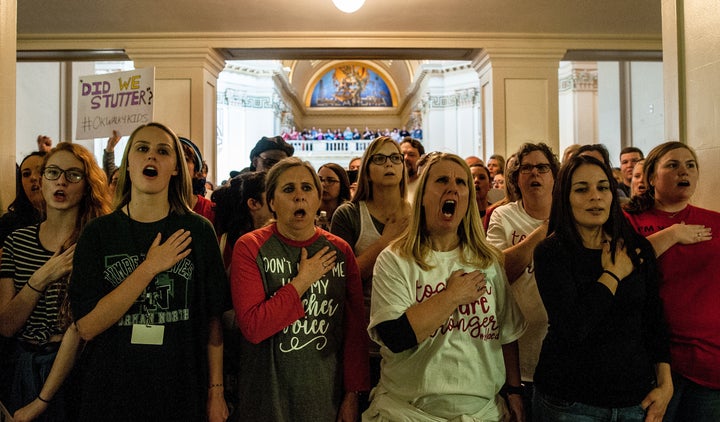 The union that coordinated a nearly two-week walkout by Oklahoma teachers invited members to return to work on Friday, declaring victory with the work stoppage while acknowledging not all its goals had been met.
The Oklahoma Education Association said it had seen "no significant legislative movement" over the past week, despite flooding the Capitol in Oklahoma City with thousands of teachers each day. The union announced it would support teachers whether they continued to stay off the job or headed back to their classrooms, signaling that most schools would soon reopen.
"We recognize that our formal efforts to lobby elected leaders have achieved all that we will be able to accomplish this legislative session," the union's president, Alicia Priest, said in a statement.  
The walkout had shut down most schools across the state, with teachers calling for more education funding after years of deep cuts. Despite making headway with lawmakers early on, the union was unable to convince the GOP-dominated legislature to pass the tax hikes needed to raise the revenue teachers wanted.
Although lawmakers agreed to expand gambling in the state and tax more online sales, Republicans did not take up a vote on repealing a capital gains tax break, as the union had demanded. They also voted to repeal a tax on hotel and motel stays that was part of an education funding bill passed shortly before the walkout, creating a shortfall that the union said must be filled.
The union was probably wary of continuing a formal walkout for much longer if progress at the Capitol was stalled. School districts had already burned through their snow days and would have to make up any additional time schools were closed. It's possible public support for the teachers would start to wane the longer kids were at home.
Teachers won average raises of roughly $6,000, but they did so through legislation passed before they began their walkout. Many of them said the raises were secondary to increasing general school funding, as the state faces a severe teacher shortage and schools lack basic supplies and modern textbooks.
Many teachers hopped on to the union's Facebook page on Thursday to say they were unhappy with the decision to wind down the walkout.
"We came to get additional funding for schools, and that's been the narrative for teachers the whole time," Beth Wallis, a teacher in the Tulsa suburbs, told HuffPost. "In my opinion, we haven't gotten what we came here for. We can't call it a success just yet."
Oklahoma is one of a handful of red states where teachers have recently walked off the job to protest education cuts. West Virginia teachers went on strike in late February and early March, eventually winning raises of 5 percent, while Kentucky teachers have taken part in walkouts after lawmakers moved to cut pensions. Teachers in Arizona also say they will go on strike if the state doesn't grant significant raises and restore school funding to pre-recession levels.
REAL LIFE. REAL NEWS. REAL VOICES.
Help us tell more of the stories that matter from voices that too often remain unheard.