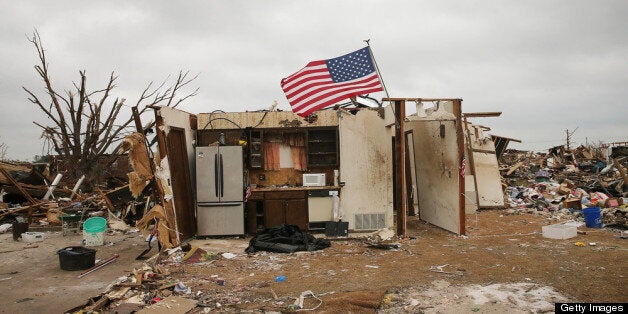 On May 3, 1999, at age 12, I watched the destruction that the EF5 tornado caused in the Oklahoma City metro area. The damage was tremendous and I knew the needs in the coming days, months, and years would be sundry. However, I convinced myself that it would never happen to me or my community. It seemed like a once-in-a-lifetime storm.
Fourteen years later, as a pastor in a United Methodist Church in Moore, I thought back to 1999 as I helped hurry people into the safe room at our church. Drawn to the chaos -- as we often are -- I peeked out the door of the church to see the tornado in the distance before locking our group into the safe room. The image and the sounds of the storm will remain with me for the rest of my life.
The storm passed and we walked back out into streets filled with debris. We were looking at splintered pieces of people's homes and lives -- insulation, shingles, wood, and family photos. We found a photo of a boy opening a Christmas present and a photo of a woman holding her newborn. Whether we wanted it or not, the aftermath of the storm mingled our lives, stirred them together. We are inseparable now in ways that we were not before the storm came.
Shortly after emerging from the safe room, a woman approached another pastor and me on the sidewalk. Her cell phone was not working and she was in a different place than the rest of her family when the tornado passed through. She did not know if her house was gone or if her husband and child were alive. Storms do not care if we are together or apart. She finally received a text message: "The house is gone, but we are okay." She read the text out loud a few times, convincing herself, perhaps, that her loved ones were unscathed. She looked up at me and the other pastor and asked, "Can I have a hug?" She wept between our shoulders. We said nothing; we simply shared the embrace and the tears.
I was reminded of Job. When he lost everything, his friends came to see him. Job had pulled out his hair, so they pulled out theirs. Job had torn his clothes, so they tore theirs. Job was covered in dirt, so they covered themselves in dirt. Then, because Job was sitting there silently his friends sat with him silently for seven days. It was when they opened their mouths to explain the cause of Job's troubles that they ruined the experience. We need to embrace that, sometimes, the right thing to say is nothing, and simply share the embrace and the tears.
Whether we wanted it or not, the storm has joined the new mother to the boy and his Christmas gift, the two pastors on the street to the wife and mother who lost her home but kept her family.
Popular in the Community