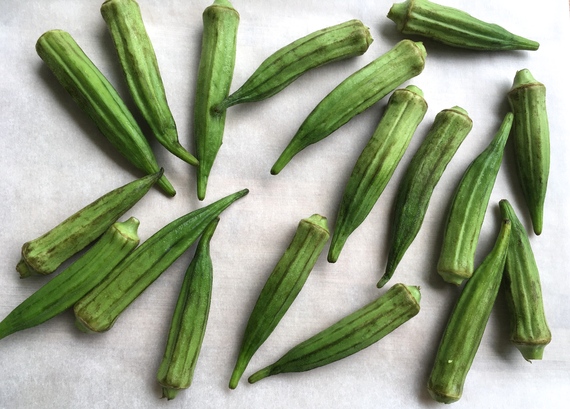 Who doesn't love okra? Well, I'm sure some people don't. Ha! But you can't deny that if you live in the South, it is kind of big deal! All of my family members adore it. So I've thought of two different ways to get more creative with okra. Happy summer, folks!
Curry Coriander Roasted Okra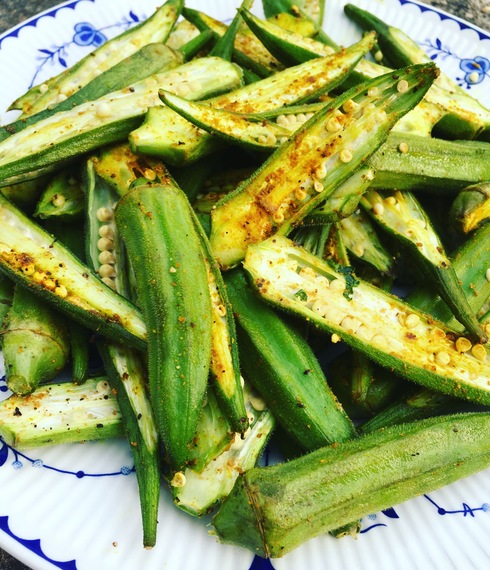 Recipe:
fresh whole Okra (whatever amount you desire)
Olive Oil for drizzling
Ground Curry
Ground Coriander
salt and pepper
Instructions:
1. After you preheat the oven to 400 degrees, wash the Okra and pat dry. Slice in half longways.
2. Spread on a roasting pan or cookie sheet open side up.
3. Drizzle with Olive Oil. Amount depends on personal preference here. If you like roasted veggies dryer, use less. I don't love oily, floppy veggies so I drizzled about a tablespoon.
4. Dust the Curry and Coriander evenly over the veggies...as much or as little as you like.
5. Place in the oven and bake 15-25 minutes. Again this depends on preference. I like mine to maintain a little crunch, so I baked for 15 minutes.
Okra Tempura with Soy Dijon Yogurt Sauce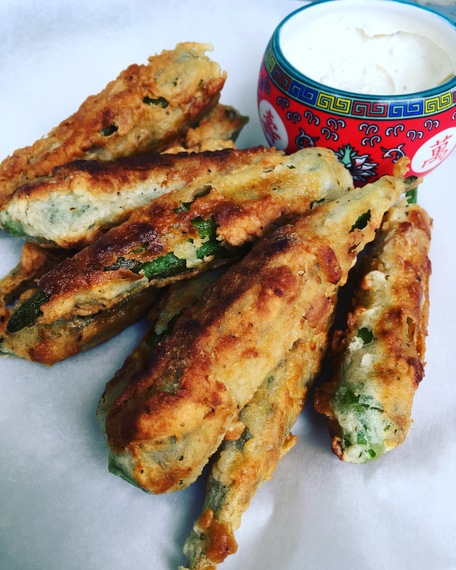 Recipe:
fresh whole Okra (about 15 large ones)
1 cup Flour
1 heaping teaspoon Ground Ginger
1 Egg
1/2 cup Milk
salt and pepper to taste
about 1/4 cup Vegetable Oil (more if needed)
Sauce Recipe:
1/2 cup Plain Greek Yogurt
1 heaping teaspoon Dijon Mustard
1 teaspoon Honey
1 teaspoon Soy Sauce
several shakes of freshly ground Pepper
Instructions:
1. Rinse and thoroughly dry the Okra.
2. Put the Flour, Ginger and salt and pepper in a large plate.
3. In a medium bowl, whisk together the Egg and Milk.
4. Dredge the Okra in the flour mixture and then place in the egg mixture. Make sure each Okra is coated with the egg mixture.
5. One at a time, dredge the Okra again in the flour mixture and press the sides to evenly coat. Place on parchment paper to allow flour coating to harden a bit.
6. Heat the Veggie Oil in a large flat pan over just above medium heat.
7. Once the oil is hot, carefully fry Okras until browned on all sides. Do not continuously move the Okra because that will knock the breading off. I turned mine for the first time after about 5 minutes. Be attentive so that it does not burn!
8. When Okras are done, transfer to a paper towel to soak up excess oil.
9. Stir the sauce ingredients together in a decorative bowl and serve immediately.