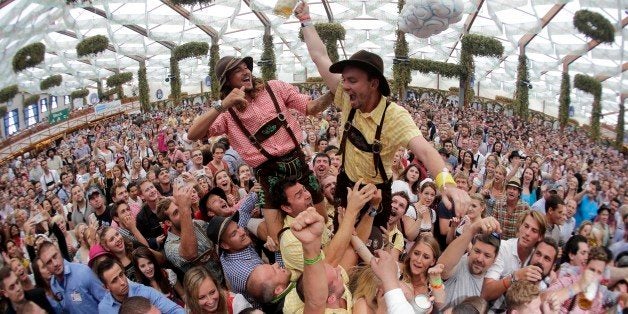 Oktoberfest is one of Germany's greatest cultural exports. Yet every time I mentioned it to German friends in Berlin, I was met with eye rolls and groans. Was this merely northern snobbery toward Bavarian tradition? Could the world's largest beer festival really be as culturally devoid and overcrowded as they suggested?
I visited Munich on opening weekend to find out.
As an American, I had been warned repeatedly by skeptical Germans that Oktoberfest beer is stronger and the servings larger than I was prepared to handle.
"It's not Miller Lite," they nagged.
For example, Löwenbräu brews its beer specially for Oktoberfest with 6.1% alcohol by volume, a stronger version of its usual ware. True to American form, I brashly replied that this pales in comparison to many of our craft beers.
Yet it is not necessarily the alcohol content that puts some revelers on the floor by noon; cheering crowds, the unpalatable cost of food, and pressure from the "Ein Prosit" song make the liters disappear more quickly than they might under normal circumstances. Last year some 6.4 million visitors consumed 6.7 million liters of beer.
I expected the tents to consist of white canopies covering benches in green fields. After all, the local name for Oktoberfest, "Wiesn," means meadow. Instead, the tents turned out to be full-blown halls -- German engineering doesn't mess around -- and the grounds were a concrete jungle of carnival rides. As the evening wore on, these attractions become exponentially more fun, less frightening, and more likely to induce violent illness.
In U.S. beer gardens, a liter of beer is popularly called a stein. This is one of a few German words Americans believe they know. Although it may have roots in history -- "stein" translates to "stone," which was used before glassware -- asking for a stein won't get you far at Oktoberfest. Rather, the default one-liter order is a Maß (pronounced "mass").
For waitresses, it's an endurance test. They work on commission and tips, often serving food and beer in crowded tents for fifteen hours a day. If you get bruises on your hand from repeatedly lifting a 4.5-pound glass of beer, imagine delivering twelve at a time across a hall of drunk people.
About one million people visited the festival last weekend, according to Oktoberfest organizers. Despite its name, the majority of this year's event takes place at the end of September, closing on October 5th.
This weekend the Italians will descend on the festival, complete with their own supplementary police force. If you prefer "Salute" to "Prost," now would be a good time to visit.
Clare Richardson is based in Berlin on an Arthur F. Burns Fellowship.
Related