Iceland is used to living under a shadow. There's not a square inch of the island that hasn't been made and remade a hundred times via the volley and return of volcanoes and glaciers. The result; a felted moonscape, puntcuated by geothermal fireworks, blanketed by a cool, overcast climate. It's the kind of place I could imagine spending my summers...post divorce.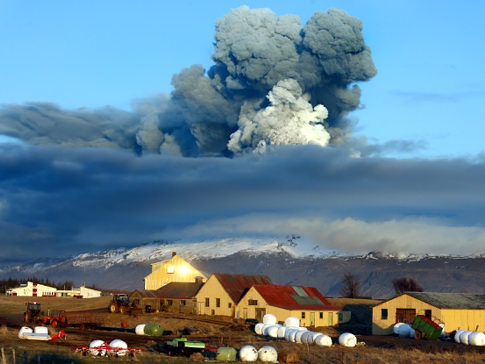 2010 eruptions of Eyjafjallajokull
It's Olafur Eliasson's favorite place and now he's put his stamp on it by collaborating with the architecture firm Henning Larsen on the new concert hall in Reykjavik named Harpa. Architects have everything to gain by Olafur Eliasson's interest in architecture and this new concert hall might be exhibit A.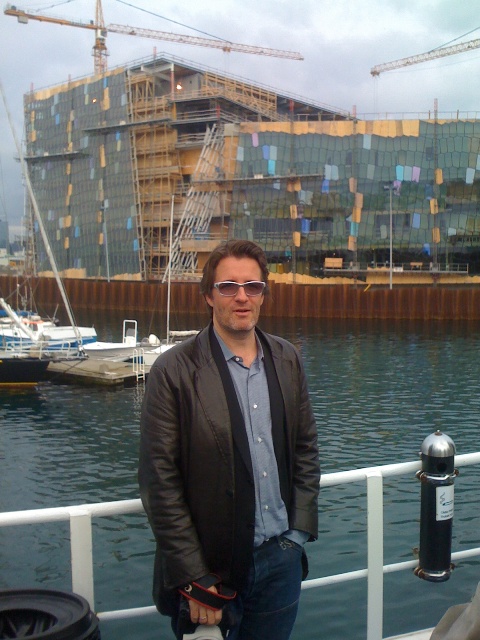 Olafur Eliasson in front of the North Side of Harpa Reykjavik Concert Hall and Conference Centre
There is an inherent tension in any collaboration, but especially so when architect meets artist. The former is performing a function for a client, the latter is typically the client. Osbjoern Jacobsen, Peer Teglgaard Jeppesen and Olafur's in-house architect for this project Ben Allen were three of the most appealing people I met, all of whom spoke about that tension, but went at length to say how productive the relationship was at problem solving and how proud of the work they were at the end of the day. It spoke volumes that after the press conference, two boat rides, a celebratory dinner, a gallery visit, and trying to check into the wrong hotel- they still felt compelled to stay out drinking until 2:30 in the morning together. Having said all that, Olafur is not your typical artist. He has resources and proclivities that lend themselves to this very kind of intense cooperation. His studio is described by Philip Ursprung ,"
"Behmann described him as someone who provided concepts and ideas, who approached the team of architects with precise wishes, asked for suggestions, and then selected the ones to be developed further. I was fascinated by this notion that, under certain conditions, the artist could seem like a client in his own studio, since it goes against the popular image of the artist as a totally independent creator demanding full control at every stage of a project, from first sketches to finished product."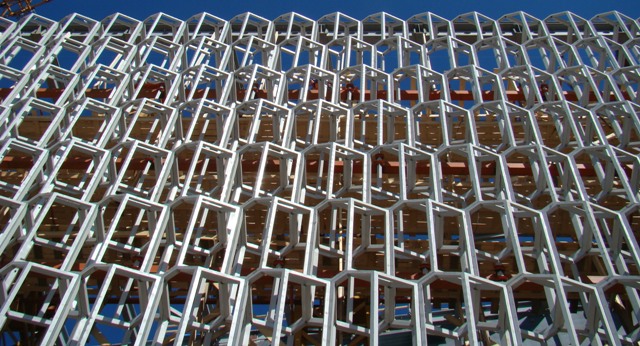 Construction of facade utilizing "quasi bricks"
Photo by Osbjorn Jacobsen

Olafur is also not shy about attribution and this plays well into building trust on joint ventures. He provides studio space for one of his most important influences Einar Thorstein, whose five fold symmetry work is incorporated into the "quasi bricks"; stackable, twelve sided modules in steel and glass that cover the south side of the building. When complete, Vermeer-like distillations of ephemeral color washes will appear and disappear depending on your proximity, the changing angle and modulation of Icelandic light. More than just decoration, these bricks were made and configured so that they are also structural, eliminating the need for unsightly posts to interfere with the interior spaces, and blurring the line between art and building. This places the entire project in the category of what the art historian Rosalind Krauss called an "axiomatic structure", at the nexus between site construction and sculpture, a fact that Olafur went at length to express his satisfaction with.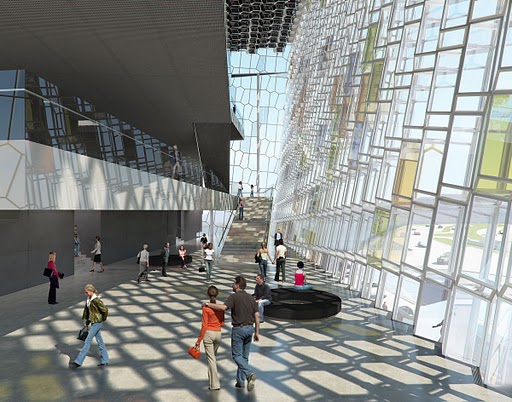 Olafur Eliasson in collaboration with Henning Larsen Architects
Visualisation of Harpa Reykjavik Concert Hall and Conference Centre, 2007
Eignarhaldsfelagio Portus ehf., Reykjavik, Iceland
Expected completion date: Spring 2011
2007 Portus ehf., Olafur Eliasson, and Henning Larsen Architects
Given the past few years of economic implosion, this project, now owned by Iceland and the City of Reykjavik, is a tremendous bet. It speaks to the passion the people of Iceland have for music and art that despite being surrounded by empty, speculative construction sites, and the threats against their economy, they have pushed this multi-million dollar project forward. After visiting, roaming and experiencing all that is Iceland's steampunk wonder, one can only come to the conclusion that it is the Icelandic way: erase and rebuild.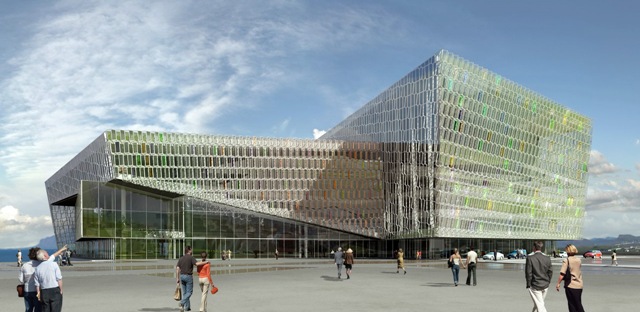 Olafur Eliasson in collaboration with Henning Larsen Architects
Visualisation of Harpa Reykjavik Concert Hall and Conference Centre, 2007
Eignarhaldsfelagio Portus ehf., Reykjavik, Iceland
Expected completion date: Spring 2011
2007 Portus ehf., Olafur Eliasson, and Henning Larsen Architects

Popular in the Community