Stand on the hilltop at Olana, the Persian mansion that was once the home of famous nineteenth century landscape painter Frederic Church, and you'll get spectacular views of the Hudson River winding south through the valley. In fact, Church named his home Olana because it means "place on high."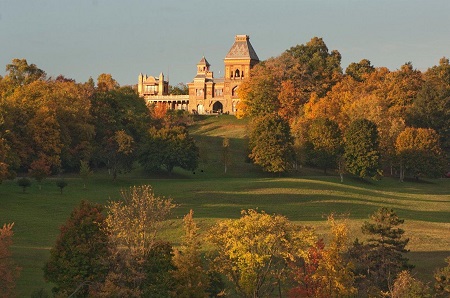 Larry Lederman, View south to the Hudson River from Olana, © Larry Lederman, All rights reserved, Courtesy The Olana Partnership
He first fell in love with the area when he came to study with Thomas Cole, the founder of the Hudson River School of Painting. Frederic Church had a residence and studio in New York City for most of his life. However, from 1860 to 1900, he spent most springs, summers and falls at Olana. He has been referred to as "the Michelangelo of landscape art," and, in addition to the Hudson Valley, also painted allegorical landscapes in Maine, the Adirondacks, South America, the Middle East, and Mexico, where he spent 16 winters in his later life.
During an extended trip abroad with his wife and children, he fell in love with the art and architecture of the Middle East. Upon returning home, he hired architect Calvert Vaux to help him design Olana. Many of the mansion's interior trimmings are lined with elaborate stencils, the walls display original etchings and paintings by famous artists of the mid-nineteenth century, and there are hundreds of objects representing major world religions. Church collected items for the house over a 30 year period.
He once said that he wanted "views from every window of the house to be simply marvelous."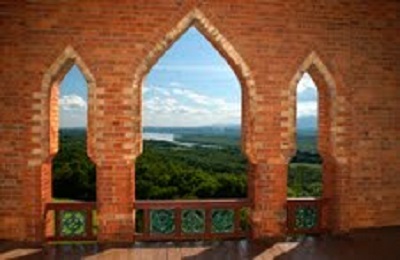 Andy Wainwright, View South from the Bell Tower, Main House, Olana, 2003 © Andy Wainwright, Courtesy The Olana Partnership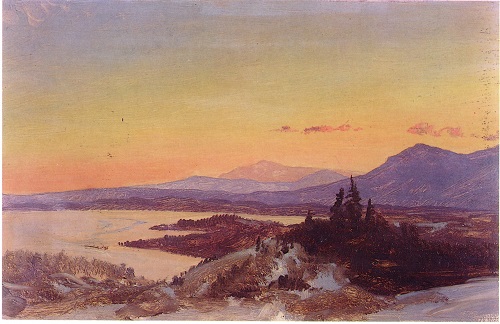 Frederic Edwin Church, Winter Sunset from Olana, c. 1871-72, oil on academy board, 8 ½ x 13 in., OL.1976.13, Collection Olana State Historic Site, NYSOPRHP
The river looms large here, as do the mountains, fields and forests. In a way, a visitor to Olana is getting a live cinematographic peek into Church's masterpieces. His elaborate plans for the land around Olana show how the surroundings are as important as the house itself with its exotic furniture and art galleries. It does not come as a surprise that he worked with famous landscape designer Frederick Olmstead on sketches for Central Park, and that for a time Church was the commissioner of the park.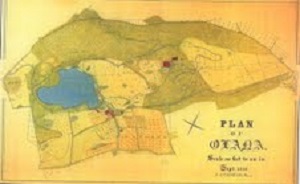 Frederic Joseph Church, Plan of Olana, September 1886, ink and watercolor on paper, 22 1/8 x 36 ¼ in., OL.1984.39, Collection Olana State Historic Site, NYSOPRHP
Church put in native plants and woodlands, a lake, meadows, a number of fruit trees, and he also worked the farm down the hill for a profit.. Gradually he had developed a property with long views. When the family had guests he would take them through the carriage roads on donkey carts so they could see his favorite lookout points.
Now, in 2013, many of those vistas on the 250 acre property have been restored to the original three dimensional quality found in his paintings. The Olana Viewshed -- the wide span of the Hudson Valley with unobstructed scenery from Olana-- is much the same as when Church was at his easel. It is currently protected by various individuals and organizations. His five miles of artfully designed carriage roads wind up and down the hills in crisscross fashion, and, though Church is not here to take us around in a cart, we can stop and contemplate his favorite spots.
At a lookout called "Crown HIll," for example, you can look down over a hill where forests were recently converted to meadow so the vista is close to what Church would have seen. On a recent day a group of painters were continuing the tradition of the original Hudson River School.
Painters enjoy a fall day in the orchard meadow, Crown Hill in the background.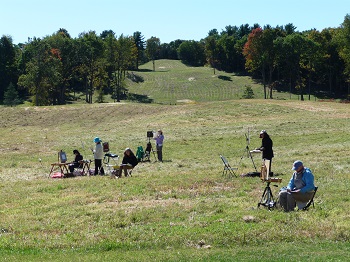 Photo by Melanie Hasbrook (9)

Especially on weekends those lanes are filled with walkers of all ages. It's not uncommon to see a silver haired grandparent with a child in hand or a mom or dad with a baby or toddler in a back or front carrier.
Olana is open daily and has frequent exhibits, concerts, and festivals on the grounds. Keep posted at www.olana.org and http://olana.org/visit.php.
Current Inside Exhibit: "Maine Sublime: Frederic Edwin Church's Landscapes of Mount Desert and Mount Katahdin" Evelyn and Maurice Sharp Gallery
June 9-October 27