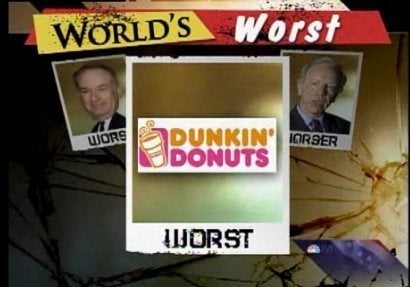 "They were as weak of their decaf," Olbermann said of the donut and coffee company, and proposed a boycott of the company:

How about this? How about the rest of us boycott Dunkin' Donuts for giving into fascists like Michelle Malkin? And for giving weight to perhaps the most absurd idea the lunatic fringers have ever belched forth: that there are terrorist scarves! Terrorist scarves! Dunkin Donuts: time to stop buying the donuts.
Watch, and be sure to notice 1:05 in when, in reference to Time critic James Poniewozik's critique of him, Olbermann says (of Joe Lieberman), "I'd lapse into self-parody here, Senator, and mock you, but obviously you're doing too good a job mocking yourself."
Popular in the Community