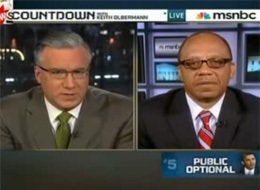 On Thursday night, MSNBC's Keith Olbermann and Washington Post columnist Gene Robinson discussed the political ramifications for President Obama, including a possible primary challenge in 2012 presidential election, if the public option is dropped from the health care overhaul.
Olbermann asked Robinson, "What good does it profit a man to win a bill and lose the base of his party?" Robinson warned that Obama should tread carefully on health care reform and the wars in Iraq and Afghanistan because "you don't want to see the progressive caucus in a foul mood."
Olbermann agreed, adding that "He's compromised on everything so far and as self-defeating as it may be, the progressive caucus and progressives would abandon him if necessary, if this was to be the policy of this administration into 2012. If it's necessary to find somebody else to run against him, I think they'd do it, no matter how destructive that may seem at face value."
Support HuffPost
The Stakes Have Never Been Higher
Popular in the Community