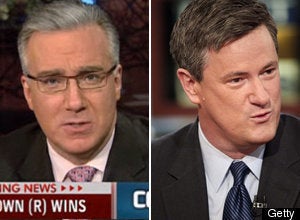 Conan and Jay aren't the only dueling hosts in the NBC family: add Keith Olbermann and Joe Scarborough to that list.
Olbermann doubled-down on his comments about Scott Brown Tuesday night, just one night after his MSNBC colleague described his previous rhetoric as "reckless" and "sad."
Monday, Olbermann described Brown as "an irresponsible, homophobic, racist, reactionary, ex-nude model, tea-bagging supporter of violence against women and against politicians with whom he disagrees."
Obermann calls Brown a "homophobic racist reactionary" who "supports violence against women." How reckless and how sad. [Link]

It is no longer enough to simply disagree with someone. These days some feel the need to call opponents evil. It happens on both extremes. [Link]

Just as when Beck called the President racist, this sort of rhetorical extremism must be discouraged. It cheapens the debate. [Link]
Tuesday night, Olbermann apologized for the comment — because he didn't go far enough.
"I'm sorry," he said. "I left out the word sexist."
Olbermann did not direct his response to Scarborough. Instead, he referred to "all the blowback from the right on this comment, from people who regularly utter worse things about Barack Obama in their sleep."
Olbermann cited Brown's non-response to a supporter who suggested "[shoving] a curling iron up [Martha Coakley's] butt," a reference to a sexual assault case in Massachusetts, in adding "sexist" to his description of the senator-elect.
"And if he or you don't like that characterization, my answer to you is simple: disprove it, because he hasn't," Olbermann said.
REAL LIFE. REAL NEWS. REAL VOICES.
Help us tell more of the stories that matter from voices that too often remain unheard.