If you wish to hear the King's English spoken, quite possibly the last place you can now do so is in London, where, owing to the vast number of tourists and immigrants, it is more likely the person you pass on the street is speaking Russian, Gujarati, Hindi, Turkish, Arabic, Bengali, Chinese or Hebrew.
The same is pretty much the case in New York (which draws more than 50 million tourists annually), but one still hopes to hear the kind of London accents that Prof. Henry Higgins could "place within two streets"--Hoxton, Lisson Grove, Hawkestone, Anwell, Selsey.
London is--far more than Paris, Rome or Berlin--the epitome of the international city, as much a melting pot of cultures now as the United States. Perhaps, though, it is better to call London a stewpot, for you find that multinationalism has created a vast array of ethnic restaurants and eateries, starting with the old curry houses of the last century now including places with names like Pizarro, Wahaca, Bopshiu's, Umu, and Gymkhana, an Indian restaurant that just won top spot on Restaurant Magazine's National Restaurant Awards.
Thus, on a recent trip to London, I ran the gamut between British and ethnic restaurants, beginning by checking into the magnificently restored (after a two-year closure) Savoy Hotel, set right on the banks of the Thames and in a cul de sac off the Strand.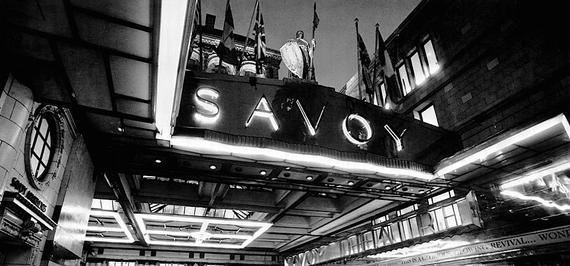 The last time I stayed at The Savoy, now 125 years old, the old dowager was showing more than a patina of age, so I was delighted to return, driving into the broad corridor that flanks the gleaming new façade (above)with the hotel's backlighted name pronouncing that you truly have arrived.
The foyer and concierge desk have all been refitted to the highest gloss of mahogany and marble, leading down to the hotel's two dining rooms, Kaspar's Seafood Grill and Wine Bar and Gordon Ramsay's Savoy Grill. Attached to the hotel is the famous Simpson's-in-the-Strand, of which more in a moment.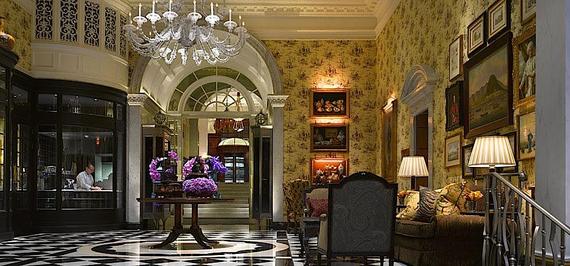 If you want a good look around at the Edwardian and art déco appointments, see the (not very good) re-make of "Gambit" with Colin Firth and Cameron Diaz. The movie camera loves The Savoy.
There are a dozen levels of rooms, 193 of them, with 73 suites, from a Superior Queen to the Royal Suite, all done with state-of-the-art tech along with Murano glass, silk wall coverings, leather desks and Mascioni bed linens. A Business Center is open round the clock. By the way, from now until September 28, guests can enjoy a complimentary Luxury Thames Cruise on a river yacht.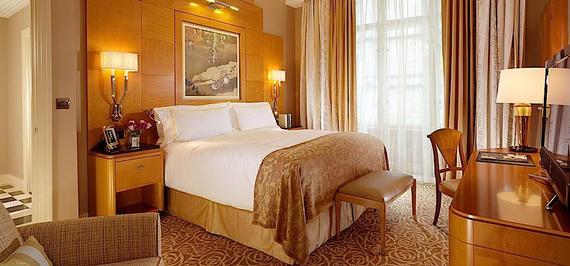 During my stay, I only had time for breakfast downstairs (below), and it was a splendid array of options that include everything from a continental breakfast (£26) and Savoy Breakfast (£32) to grilled kippers (£17.50), a toasted bagel with smoked salmon (£17.50), a Chinese breakfast with congee and dim sum (£36), and a "stack of American banana pancakes" (£17.50).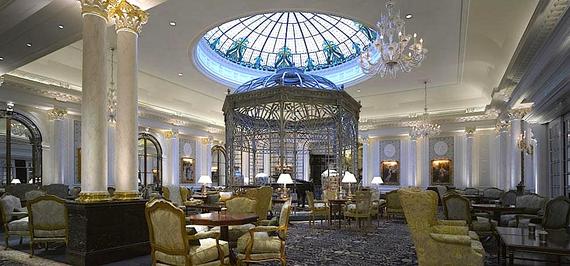 But I did have time to return--after decades--to Simpson's-in-the-Strand (never closed during the Savoy's restoration), which has been here since 1828, originally as a chess club and coffee house, then, in 1848, under caterer John Simpson, as a full-fledged restaurant whose specialty was fine British beef brought out on a silver trolley and carved at the table to guests' liking. Noted clients of the restaurant have included Charles Dickens, George Bernard Shaw, Benjamin Disraeli, the fictitious Sherlock Holmes and, surprisingly, Vincent Van Gogh.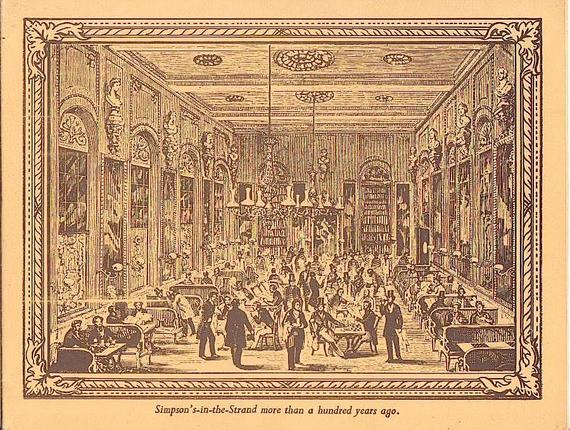 Even under rationing during World War I, Simpson's carried on, impressing P.G. Wodehouse as "unique," writing in 1915, "Here, if he wishes, the Briton may, for the small sum of half a dollar, stupefy himself with food. The God of Fatted Plenty has the place under his protection. Its keynote is solid comfort. It is a pleasant, soothing, hearty place - a restful temple of food. No strident orchestra forces the diner to bolt beef in ragtime. No long central aisle distracts his attention with its stream of new arrivals. There he sits, alone with his food, while white-robed priests, wheeling their smoking trucks, move to and fro, ever ready with fresh supplies."
By the 1970s, Simpson's had even earned a rare Michelin star, one of only nine awarded in London. It was not until 1984 that "ladies" were allowed in the main, downstairs dining room.

Though not the original 19th century décor, Simpson's architecture hearkens back to a British posh and formality that makes it a requisite tourist attraction so that today is flocked with foreigners who love the swallow-tail frocked captains and waiters and the rolling of the trolley to each table, its silver cloche pulled back to reveal the steaming beef and lamb joints. (You may even take a carvery class at Simpson's.) By the way, jackets, I'm sorry to say, are no longer required at the restaurant.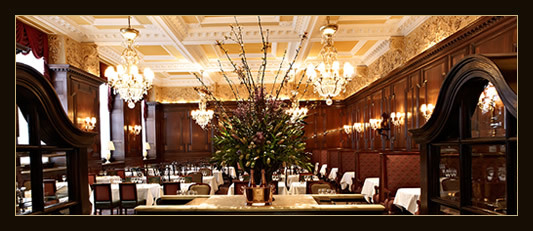 Regulars may go for the steak and kidney pie or the beef Wellington, but most, including myself, stay the course towards the roasts. I enjoyed the signature potted shrimp (£15.50), a ruddy, flavorful lobster bisque (£10.50), and wood pigeon breast with green beans, new potatoes and bacon (£10.50). We also shared a plate of roast lamb rump (£24), with roasted tomato and zucchini in an olive-rosemary sauce.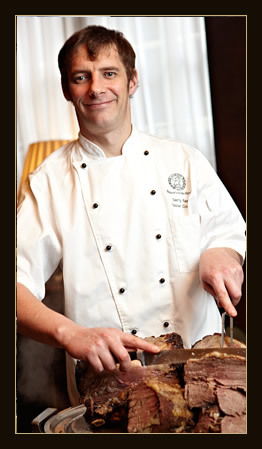 Then came the Scottish beef, aged 28 days (£31), traditionally sliced quite thin, so ask for your preference in slab size; sauced with the pan juices, the beef is served with roast potatoes, Savoy cabbage and Yorkshire pudding. I was thoroughly enjoying myself until the famous Yorkshire pudding arrived, more resembling a large American popover. Surprisingly, the puffy muffin lacked the crisp but pliant exterior and lovely yellow soft interior I expected; instead, the crust was as unyielding as an eggshell and just as dry. I asked for another and it was just as poor.
A dessert sampler for two, including Devon burnt cream, runs (£14.50). Before 7 PM, there is a two-course (£27.75) and three-course (£31) fixed price dinner that includes the beef. None of the prices at Simpson's are very high compared to so many high-end restaurants in London and, surrounded by an ambiance and service that hasn't changed for ages, you get to partake of something now unique just about anywhere.
At the other end of the gastronomic spectrum is the two-year-old Coya in Mayfair, a thoroughly 21st century restaurant, with all the attendant music--much of it live--and high decibel levels and much younger crowd than Simpson's.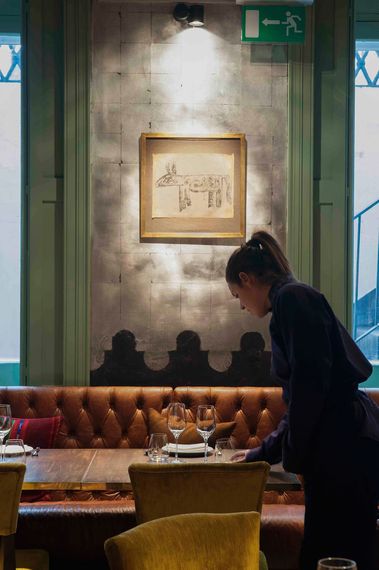 Opened by Arjun Waney, who also runs the successful Zuma, La Petite Maison and The Arts Club, Coya is loosely Peruvian, done up in a décor they call "luxurious dilapidated," meaning a juxtaposition of Incan colors and rough metallic finishes, with antique Peruvian colonial-style furniture.
You push your way through the large door off Piccadilly, and pass through, or stick around for a cocktail, in the small, well-stocked Pisco Bar and lounge. Then you descend to the main dining area with its own ceviche bar (£8-12), offering some of the best items on Head Chef Sanjay Dwivedi's long menu, which also includes an array of anticuchos (£9-13) of grilled skewered meats like ox heart with parsley and ají rocoto, and parrillada dishes (£17-27) like pechuga de pato - duck breast with lúcuma, soya sauce and coriander shoots. Another section features meats and fish cooked in the traditional Josper oven-grill.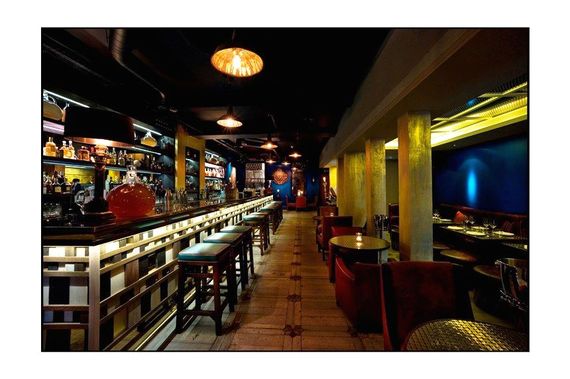 My friends and I trusted the manager to guide our choice of items from every category. Given the menu's length, it promised highs and lows. But I must say that among plenty of highs the lows were minimal. Most dishes retained the right textures and seasonings for the ingredients and the style of cooking involved. So, atún chifa, yellowfin tuna with soy and sesame seeds and a crispy shrimp cracker made for a fine opening ceviche; of the tiraditos, I loved the pez limón, more yellowtail, this time spiceir, with green chili and crunchy radish.
Peru is the motherland of potatoes, and Coya's gold spud with fresh crab and Josper grilled peppers lived up to reputation. Tiger prawns received a tempura treatment, though its aji rocoto sauce was bland.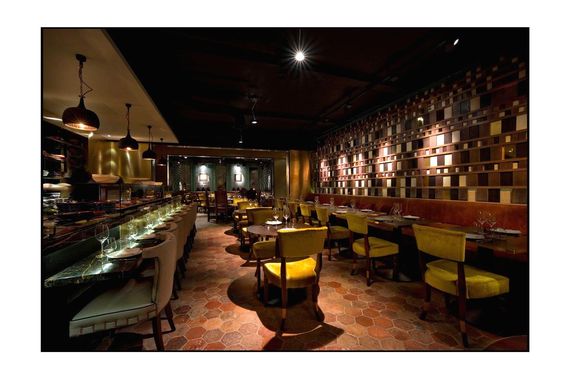 Even at a time when cooks everywhere seem to have mastered octopus prep, the pulpo al olivo at Coya was amazingly tender, with a creamy interior texture. An iron pot dish of Chilean sea bass with rice, lime and chili was simple but good, while the costillas de cerdo of pork back ribs with tamarind juice and cashews went fast at our table, despite being quite sweet.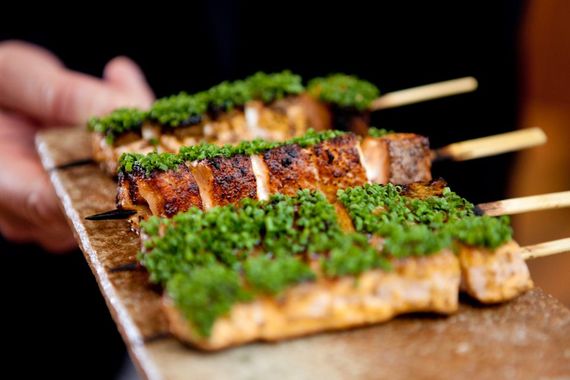 I really didn't expect desserts (£8) to be as wonderful as they were within the Peruvian theme: a chocolate fundido with white chocolate ice cream; salted caramel with chocolate and Pisco; and best of all, an extraordinary sundae of sweet corn ice cream and popcorn that was a perfect to end a meal of such diversity.
Coya's wine list is extensive, as is the spirits screed and the requisite New World cocktails.
Make no mistake: Coya is not a place for a quiet and romantic meal, although the strolling musicians have a quaint charm about them. This is a place you go with your friends in their casually chic clothes and just hope you're not the oldest person in the room. You can't help but have fun, and the bar is open till 1:30.
(Coya also has a private club with its own dining area. They've also just launched Sunday brunch, For £55 guests can enjoy a menu of Coya's signature dishes along with unlimited champagne. Kids under ten eat brunch for free.)