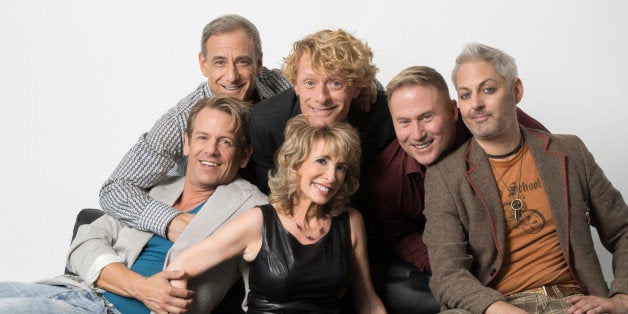 It's a typically sun-drenched early Sunday afternoon in June the first time we chat. The last of the gloom has burned off -- at least from where I sit, in Hollywood, though he'll tell me that from his front porch (about 12 miles due west), he can still see some scattered grey lingering on its way back to sea.
Leon Acord isn't exactly feeling perky today. No, he's not pulling diva rank because he's the writer, star, producer, and occasional director of his very own wildly successful Web series (Old Dogs & New Tricks, available exclusively on Wolfe Video and at OldDogsNewTricksTheSeries.com). Nor is he kvetching because the show -- which follows the lives of four gay men over the age of 40 trying to navigate life and love in L.A. -- is gearing up to premiere its highly anticipated third season on Nov. 12, and while it most certainly takes a village, the buck ultimately stops with him. The truth of the matter is that he's just a little tired.
It's been a long few weeks for Acord, who, in addition to tirelessly preparing Old Dogs (on which he plays the unlucky-in-love talent agent Nathan Adler) for its autumn release, has been starring all month long in Setting the Record Gay at the Avery Schreiber Playhouse in NoHo. At the time I've not yet seen the four-man show, so I politely accept his unwarranted apologies for his "diminished energy," but a week later, after witnessing him and his costars put it all on the line, making magic happen with little more than their collective truth, I will marvel at the fact that he even got out of bed that day.
Acord also brings up his "strained voice," but much like the so-called lethargy, I hardly notice, instead finding him to be as pleasant and accommodating as ever. I mention this, and he quickly demonstrates that Midwestern habit of deflecting a compliment like it's a loogie headed straight for his face.
Leon's quite adept at redirecting praise, especially when talking about Old Dogs. Jeffrey Patrick Olson, the affable Adonis who plays Al "Muscles" Carter on the series, will describe him as "a personal champion and advocate for his cast and crew." Amanda Gari, his larger-than-life BFF, for whom he wrote the scene-stealing part of Lydia Lasker, will marvel at his "sharp comic style." But to hear him tell it, you'll get statements like "I don't know what I did in a past life to deserve all of this," or "I am so not responsible for so much of the look and success of the show," uttered with genuine sincerity. Regardless, everything has to start somewhere.
Not Louisiana; Paris, France; New York or Rome...
"2008 was a horrible year," the tall, rakishly handsome actor recalls. "I got laid off from my day job.... What was I? Forty-five, I guess ... and I just started thinking, 'Oh, my god, if I don't do something by my 50th birthday, I will feel like a complete failure." He certainly wasn't the only American to fall on hard times during that difficult year, but for Acord, who had moved to Los Angeles with his partner (now husband) Laurence Whiting just four years earlier -- after 20 satisfying, productive ones in the Bay Area -- it was the breaking point. "In San Francisco I worked as an actor almost all the time in really interesting projects. I got to L.A., and I worked,
but not nearly as much, and, God love 'em, the parts just weren't nearly as interesting."
Already unhappy and now faced with the daunting task of finding yet another steady gig to pay the bills, Leon knew he needed to do something drastic. Things between Laurence and him were beginning to crack under all of the stress, and before everything could go to complete shit, the hopeful actor booked a trip home. "My niece was getting married, and I just thought, 'Well, I'm not working a day job, so I'll just go to Indiana for six weeks. I'll do a lot of journaling, read self-help books, bond with my parents."
Sure, it sounds like the start of a Sandy Bullock rom-com, but rather than figuring out how to snag himself a square-jawed Indiana townie, Acord found himself feeling surprisingly inspired. Well, something like that: "It was the middle of a heat wave. I get there, and there's no TV in my room. OK, there was one, but it wasn't hooked up to cable. No Internet connection, no cellphone connection. I'd been there about three or four nights and was going kind of stir-crazy and just had this idea. What do they say? 'Write about what you know.'"
He'd been watching a lot of TV comedy with his father, something they had often bonded over when Acord was just a kid. "We loved All in the Family." Now it was Two and a Half Men in particular that his dad enjoyed, and while the Chuck Lorre half-hour comedy isn't exactly known for its diversity and or sophistication, it did affirm one thing for the budding writer: "I had fantasized about doing a Web series, but I guess I always, in the back of my head, thought, 'No, this kind of stuff you couldn't get away with,' and watching Two and a Half Men, I was like, 'Oh, my god, this is raunchy and on network!'"
With Charlie Sheen and Jon Cryer as his unlikely muses, Leon Acord took to his room, beginning a rigorous routine that would last the next six weeks and see him compose the majority of what would eventually become the first two seasons of Old Dog & New Tricks. "I'd sleep in late, visit with my parents, see family members, have dinner, and by about 9 o'clock it was like, 'OK, I can't stand it! I have to go to my room and write,'" he says, instantly energized by the memory. "I would spend about three hours brainstorming and revising and then write from midnight until 4 or 5 in the morning. And even when I was with my parents, I wasn't really there; it was always about, 'Oh, my god! And this can happen! And I have to remember to do that! And don't forget to write that down!"
Calling all HuffPost superfans!
Sign up for membership to become a founding member and help shape HuffPost's next chapter