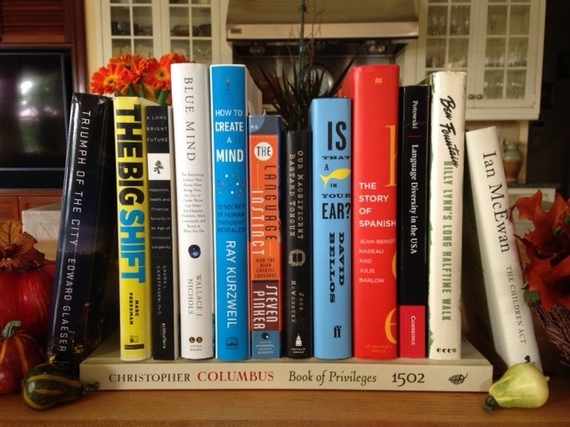 Being no cook, I offer no recipes for oyster stuffing or pumpkin tarts, but I am going to share my recipe for cooking up a Thanksgiving of books, and you're welcome to it.
I like my books most any way: electronic, audio and print, spiced with a few interviews with Jon Stewart. Tastes vary, of course, but the important thing in this recipe is how you get stirred.
Follow your inner hunger
For starters, take some suggestions from family members and friends. I gave in after
my son Cal and my wife, Lori, both nagged me to read Triumph of the City: How
Our Greatest Invention Makes Us Richer, Smarter, Greener, Healthier, and Happier by Harvard professor Edward Glaeser. If you're in real estate or love/hate your city, you'll eat up this read (I listened).
Some people gobble the news, others devour classic literature. I get cravings for the middle ground, somewhere between headlines and history -- new social trends that may point to very different futures. For example, what will longer life spans really mean for us?
Two yummy books that challenge traditional thinking about retirement are The Big Shift: Navigating the New Stage Beyond Midlife by Marc Freedman andA Long Bright Future: Happiness, Health, and Financial Security in an Age of Increased Longevity by Laura Carstensen.
A new kind of brain food
You can't swing a ladle around the kitchen without hitting a magazine article on
brain science. But make it a more satisfying meal with books, starting with these two: Wallace Nichols, with his Blue Mind: The Surprising Science That Shows How Being Near, In, On, or Under Water Can Make You Happier, Healthier, More Connected, and Better at What You Do, and Ray Kurzweil, with his How to Create a Mind: The Secret of Human Thought Revealed.
Blue Mind, in addition to winning my Longest Subtitle Award for 2014, also won my Brilliant Marketing Award, for the author's blue marble gift idea. (I bought a box of his blue marbles to give to my friends to encourage their blue minds.)
Please talk while eating
My main course this year (surprising to me) is language. Since I find myself on a journey searching out a multilingual America, I did a deep dive into some of the juiciest books on language, including:
Steven Pinker's The Language Instinct: How the Mind Creates Language, which takes tough meat and pounds it into tender prose (except maybe for the Noam Chomsky parts).
John McWhorter's Our Magnificent Bastard Tongue: The Untold History of English,
and his delightful audio lecture series available on Audible. McWhorter wins my Carl Sagan Award for making the cosmos of linguists both understandable and fascinating. (Here's a taste: Languages are like lava lamps, except when they have sex.)
David Bellos, Is that a Fish in Your Ear?: Translation and the Meaning of Everything. I pity the folks who pass up this dish thinking translation too obscure a subject. Truth is, this is a delicious book written by a wise and worldly Princeton professor whom you will wish would come to dinner at your house.
Kim Potowski's Language Diversity in the USA is a salmagundi of top scholars who write a chapter each on the 12 most commonly spoken Languages Other Than English (LOTEs). (Who knew No. 3 is Tagalog?) If I can't tempt you into the book, don't miss Kim's tart TEDex video, "No Child Left Monolingual."
And just take one bite of The Story of Spanish -- what the authors, Jean-Benoit Nadeau and Julie Barlow, describe as a biography of the Spanish language. "We treat Spanish like a character, explaining how it grew up and who and what influenced it over the course of its long life." What a savory biography it is.
Yes, you can eat dessert first; just don't call it dessert
Call it what you may, I ate up a fiction finalist for the National Book Award, Billy Lynn's Long Halftime Walk by Ben Fountain. Last thing I wanted was another war book -- or so I thought, until I read the first page and couldn't stop. It's as American as apple pie -- the kind made with Crisco.
Then came a perfectly poached pear by master chef Ian McEwan, The Children Act.
I have my ten-year-old, all-male book group, The Mules, to thank for keeping me in
fiction. (I hold aloft my glass of merlot to you gentlemen this Thanksgiving.)

The cognacs of books
For an after-dinner drink, let's not forget the books so favored we keep them in the living room and name them after a piece of furniture you're not supposed to put your feet on.
These books have staved off the steam engine of digital technology because their physical presence is just too luscious to resist. For this Thanksgiving, I relish (begin shameless plug) Christopher Columbus Book of Privileges 1502: The Claiming of the New World, published by Levenger Press and the Library of Congress. A heady cognac it is, my friends (end shameless plug).
So when the house fills with delicious smells of turkey, mashed potatoes and gravy,
celebrate the taste of books, too, savoring quietly on your own, and sharing riotously
around the table.
In the honeyed voices of narrators, in the glowing embers of tablets, in the rich papery pages turning ever so sweetly in our fingers, books are foods that feed our minds and nourish our souls.
Related
Popular in the Community