One of the surest ways to break through writer's block is to start making lists. They can be lists of words that rhyme or words that contain a similar sound. If you've got a talent for alliteration, consider what Sir William S. Gilbert accomplished in this verse from 1885's The Mikado.
Each idea for a list is a stepping stone to forming concepts and ideas. One might create lists of favorite foods, classic ocean liners from the first half of the 20th century, bel canto operas, or whatever sounds interesting. Sometimes, some of the items in a list can be organized into a sequence that has a certain rhythm. That's how lyricists come up with phrases like:
"Lions and tigers and bears, oh my!"
"Bewitched, bothered, and bewildered am I."
"Cockles and mussels, alive, alive oh!"
"One for the money, two for the show, three to get ready, and four to go!"
Don't believe me? Then let's play a game. Suppose we try pairing up song titles to see if we can create an interesting combination:
If we link "The Flowers That Bloom in the Spring (from The Mikado) with 1978's "You Don't Bring Me Flowers," we might lay the groundwork for a commercial promoting an antihistamine.
If we link "Nobody Steps on Kafritz" from 1967's Henry, Sweet Henry with "Springtime for Hitler" from 1968's The Producers, we could probably write a thesis about the political aspirations of Ted Cruz.
If we link "I Believe In You" from 1961's How to Succeed in Business Without Really Trying with "If I Ruled The World" from 1963's Pickwick, we might have the beginnings of a playlist for a Donald Trump rally.
If we link "Too Darn Hot" from 1948's Kiss Me, Kate with "The Rain Song" from 1963's 110 in the Shade, we might find a way of musicalizing a presentation about climate change.
If we link "All I Need is One Good Break" from 1965's Flora the Red Menace with "Racing With the Clock" from 1954's The Pajama Game, we could probably shape an analysis of the Bernie Sanders campaign.
If we link "You Gotta Get A Gimmick" (from 1959's Gypsy: A Musical Fable) with "We're In The Money" (from Golddiggers of 1933), we get the winning ingredients for a business plan.
What happens if you link "You've Got To Pick A Pocket Or Two" from 1960's Oliver! with "If I Were A Rich Man" from 1964's Fiddler on the Roof? You might just stumble upon a delicious scheme to get rich quick.
If ever there was a film whose foundation rests on the idea that "People, people who need people, are the luckiest people in the world," it would be John Goldschmidt's new release entitled Dough. The title's double entendre refers to both the rising of yeast in baked goods as well as the rising revenue from organically enhanced baked goods. As the film begins, the audience meets two men who have absolutely nothing in common.
Nat Dayan (Jonathan Pryce) is the owner of a kosher bakery in London's East End who is still mourning the loss of his wife. Although he has been in business for many years, Nat's clientele has been steadily eroding as older customers die or move away. To make matters worse, a greedy real estate developer (Philip Davis) is determined to get his hands on the building that houses Nat's bakery. Why? Because he can make more money by leveling all the properties on the block and replacing them with a multi-level parking garage. The developer has also lured away Nat's assistant by offering him a job supervising the production of kosher baked goods in a local supermarket.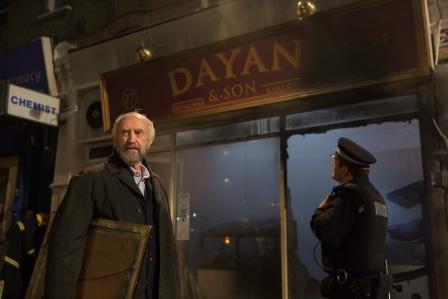 Jonathan Pryce stars as Nat Dayan in Dough
Nat's son, Stephen (Daniel Caltigirone), is a successful lawyer who has no interest in maintaining the family business. As if he didn't have enough problems, Nat's newly-widowed landlady, Joanna (Pauline Collins), is desperate for companionship and thinking about selling the building and moving to Florida.
Ayyash (Jerome Holder) is a dark-skinned teenager whose activities have attracted the attention of the police. A refugee from Darfur, Ayyash is a religious Muslim and a successful drug dealer (mostly marijuana). He and his mother (Natasha Gordon) live in a cruddy apartment whose landlord has no intention of making any repairs. Although his mother keeps telling her son that his father will one day join them in London, Ayyash understands that his father never had a chance of escaping from war-torn Darfur.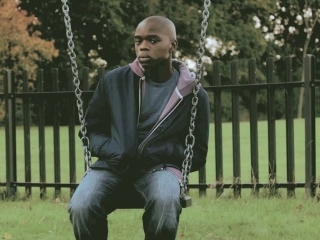 Jerome Holder co-stars as Ayyash in Dough
With the sudden loss of a key employee, Nat finds himself short-handed and desperate. His part-time worker is Ayyash's mother, who needs to help her son get a job that will teach him some discipline. When she begs Nat to consider Ayyash for the position, an unlikely match is made.
Soon, Ayyash is surreptitiously dealing dope out of Nat's bakery. When he accidentally drops some marijuana into the dough-mixing machine, Nat's challah starts flying off the shelves. Not only does it bring something special to shabbos, it even becomes a hit at a suburban women's bridge party. As director Goldschmidt explains:
"Some of the most innovative and successful independent films have been comedies with contemporary social themes. I was looking for such a story when I met the screenwriter Jez Freedman. He pitched Dough, a story about the unlikely friendship of an old Jewish baker and a young Muslim cannabis dealer. What I liked was the 'buddy movie' concept. Two guys as different as can be, divided by race, religion, and age. Both prejudiced about the other, but needing each other to survive. This is a universal story, which will be understood everywhere. Tensions between Muslims and Jews are increasing worldwide and the best way to challenge prejudice is through comedy."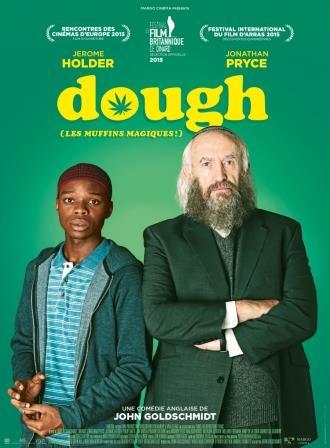 "The story is set in a multicultural part of London and is a film of contrasts. From the ethnic high street shops to the corporate environment of a big supermarket chain. From middle-class suburbia to a grotty housing estate. From the staid adult community to the vibrant youth culture. But it's the humanity of the film that connects with people everywhere. The characters touch and move the audience and the casting of the leading roles was paramount. Legendary theatre actor Jonathan Pryce as the old Jewish baker became a real father figure to first time black actor Jerome Holder (who played the Muslim cannabis dealer). I like to think that everyone, young and old, will leave the cinema with a smile on their face and the word will spread about their enjoyment of Dough."

Goldschmidt's film is filled with clever twists that develop from the unlikely pairing of Nat and Ayyash. Although several members of Nat's congregation question his judgment in hiring a Muslim, Nat's granddaughter, Olivia (Melanie Freeman), has no such prejudices. As the relationship between the two men deepens, Ayyash becomes a surrogate son to Nat who, in turn, becomes a surrogate father to the young refugee. Toward the end, the script involves the two men in a delightfully desperate caper which allows them to fight back against the real estate developer and save Ayyash from the drug king (Ian Hart) who has been threatening him over lost income.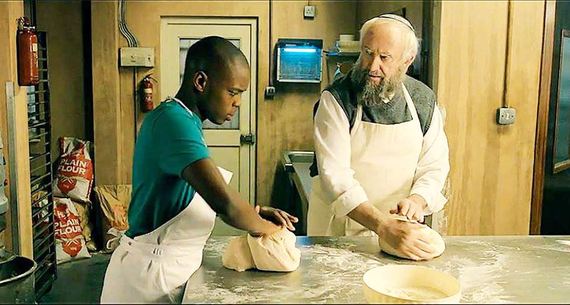 A simple mistake by Ayyash (Jerome Holder) breathes new life
into a business owned by Nat Dayan (Jonathan Pryce) in Dough
It's interesting to see the chemistry between a veteran actor like Pryce and a young man making his feature film debut (Holder apparently learned his Darfurian accent by listening to clips on YouTube). Dough is one of those quiet gems which holds a mirror up to the prejudices of the righteous and finds a meeting ground for people. People who need people. It's a most fulfilling indie film. Here's the trailer.
Although Dough may be a story about people in need, The Heir Apparent is very much about people consumed by greed. The Aurora Theatre Company recently presented audiences with a new version of Jean-Francois Regnard's rowdy farce in a "translaptation" by David Ives (who coined the word to describe literary works that he both translates and adapts). In recent years, Ives has "translapted" such classic comedies as The Liar (written by Pierre Corneille and premiered in 1644), The Misanthrope (written by Molière and premiered on June 4, 1666), and A Flea In Her Ear (written by Georges Feydeau and premiered in 1907).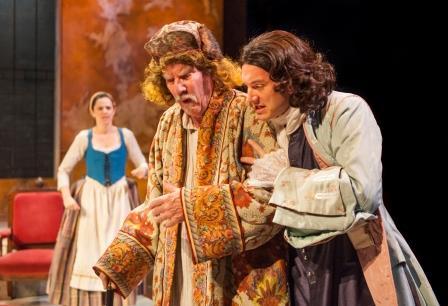 Katie Rubin, Julian Lopez-Morillas, and Kenny Toll in a
scene from The Heir Apparent (Photo by: David Allen)
In describing his version of The Heir Apparent (which premiered at the at the Shakespeare Theatre Company in 2011, Ives stresses that:
"The play at hand (from 1708) titled Le Legataire universel is worldly, utterly honest, satirical without being condemnatory, often bawdy, sometimes scatalogical, now and then macabre, and it craves jokes as a drunkard craves his liquor. Like a drunkard, the play will do anything to find the liquor as Regnard goes off on knockabout detours hunting for laughs (not out of desperation but out of brio). Granted, some of Heir is a shameless rip-off of Molière's Imaginary Invalid. But is there anything in Le Malade imaginaire to match the servant Crispin's inspired impersonations? Because Regnard was writing as French classical theatre was heading into a century of much different character, the verse dialogue is more conversational than Moliere's, the concerns more bourgeois, while the farce is turned up (as they say in Spinal Tap) all the way to eleven."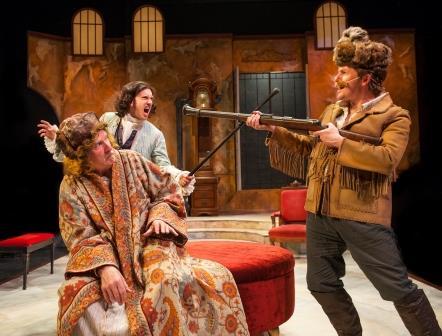 Julian Lopez-Morillas, Kenny Toll, and Patrick Kelly Jones
in a scene from The Heir Apparent (Photo by: David Allen)
One should not come to a production of Ives's play in search of subtlety. His verse is filled with the kind of bad puns that would make shtick artists and vaudevillians groan. While Callie Floor's costumes, Chris Houston's sound design, and Eric Sinkkonen's unit set frame the action quite nicely, this production is all about director Josh Costello's frenetic pacing (the greedier the character, the more energetic the actor's performance).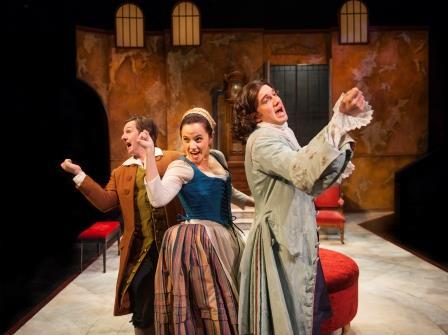 Patrick Kelly Jones, Katie Rubin, and Kenny Toll in a
scene from The Heir Apparent (Photo by: David Allen)
As they struggle to rob the aged and ailing Geronte (Julian López-Morillas) of his estate, his maidservant, Lisette (Katie Rubin); his nephew, Eraste (Kenny Toll); and Eraste's manservant, Crispin (Patrick Kelly Jones) work feverishly to keep the audience entertained. Elizabeth Carter scores strongly as Madame Argonte with Khalia Davis appearing as her daughter, Isabelle (whom Eraste wishes to marry). In truth, Mme. Argonte doesn't care whether her daughter marries the stingy old Geronte or the handsome young Eraste -- as long as she gets her fair share of her daughter's dowry.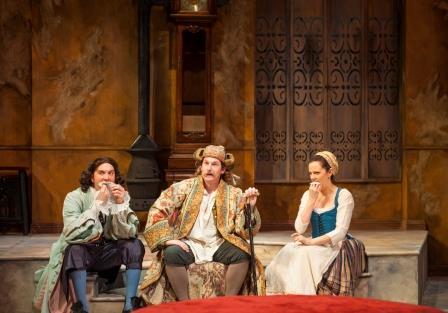 Kenny Toll, Patrick Kelly Jones, and Katie Rubin in a
scene from The Heir Apparent (Photo by: David Allen)
One of the Bay area's most versatile performers, Patrick Kelly Jones has a field day as Crispin, milking comic moments for all they're worth while Kenny Toll's Eraste is a whirlwind of love and desperation. In a triumph of costuming, Lawrence Radecker draws continued laughter as the cheap, two-foot-tall lawyer (Scruple) who is constantly insulted with casual references to his size.
If I have one criticism of Ives's play it would be that his rhyming couplets can become surprisingly labored. But, as the playwright is quick to explain:
"When Michael Kahn sent me Le Légataire universel to look at for possible adaptation for D.C.'s Shakespeare Theatre Company, I had never heard of Regnard. Yet, just as when Michael had sent me Corneille's Le Menteur two years previously (which became The Liar, which became Michael's priceless production, which turned out to be the most fun I ever had working on any play), I needed only a single reading to know that I had to take on the piece. The off-color jokes made me howl even while I marveled at Regnard's facility at rendering them in graceful yet conversational couplets. One can draw a straight line from Légataire to Feydeau's middle-class nightmares, and straight from there, or should I say down from there, to TV sitcoms. And what could be more up-to-date than his characters' almost feral obsession with money?"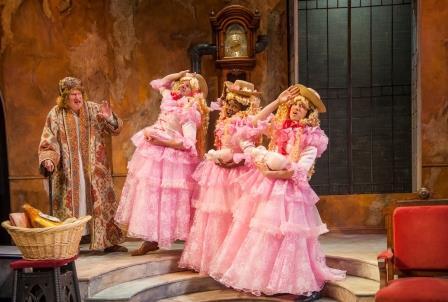 Geronte (Julian Lopez-Morillas) meets three women after his fortune
in a scene from The Heir Apparent (Photo by: David Allen)
At the performance I attended, there was no doubt that the audience was having a jolly good time.
Calling all HuffPost superfans!
Sign up for membership to become a founding member and help shape HuffPost's next chapter