Graphic tees may be fun and occasionally charming, but for retailers, they can lead down a pitfall-strewn path. This week, bargain retailer Old Navy faced social media backlash for stocking T-shirts for toddlers -- reportedly marketed toward little girls -- bearing the mottos "Young Aspiring Artist Astronaut" and "Young Aspiring Artist President." 
On Twitter and Facebook, many customers and commentators expressed disappointment with the tees' message, which seems to imply that young kids shouldn't dream of becoming artists.
One parent, Kelly McKernan, noted that she herself is an artist: "As a mother and a career artist, I'm astounded that a company as large and influential as you are could approve of a design that encourages toddlers to stifle their creativity," she wrote on Facebook. "I'm horrified at the thought of putting a shirt like this on my own 20 month old daughter." 
As Mic's Theresa Avila pointed out, Old Navy seems to have been making a ham-handed attempt at female empowerment, creating shirts for little girls that suggest they could succeed in traditionally male-dominated professions by taking a jab at artists.
A glance through the retailer's graphic tees for toddlers suggests the company might have been thoughtlessly overcompensating. While Old Navy's boys' T-shirts generally sport slogans about adventure and smarts, the girls' selection mostly features gauzy clichés about family and free-spiritedness, and quasi-romantic sayings about love. A few of the boys' shirts: "Smart and Awesome Brother," "My Future Is Looking Bright," and "Today Is For Exploring." A few of the girls' shirts: "I Can't Even," "When I Dream of Happiness I Dream of You," and "Home Is Where the Heart Is." (Again, these are for toddlers.)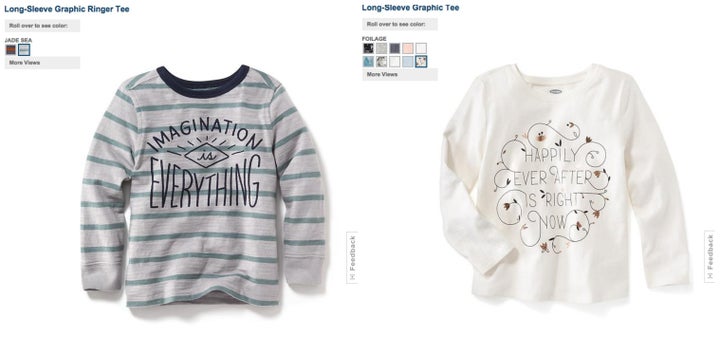 Old Navy has pulled the "Young Aspiring" tees from its site and announced that it is taking steps to remove them from stores after a wave of media coverage and social media outrage. In a statement to BuzzFeed, company spokeswoman Debbie Felix explained: "Our toddler tees come in a variety of designs including tees that feature ballerinas, unicorns, trucks and dinosaurs and include phrases like, 'Free Spirit.' They are meant to appeal to a wide range of aspirations."
Still, it's something of a mystery why Old Navy decided to pick on artists in this particular design. While becoming a working artist may be difficult, it's certainly not impossible -- by the numbers, aiming to become an astronaut or president is far more impractical. According to NASA's website, there are currently fewer than 50 working American astronauts, in addition to around 30 astronauts no longer eligible for flight duty. (For president, this should go without saying -- we can only have one every four years in the entire country.)
Meanwhile, graphic designers, illustrators, art teachers, cartoonists, animators, photographers and tattooists are all working visual artists, and that's just skimming the surface. The people who design Old Navy's shirts and act in their commercials power the company's business -- and they're artists! The numbers bear this out: In a survey spanning 2006-2010, the National Endowment for the Arts counted roughly 2 million working artists across the nation.
What's more, Old Navy targeted a demographic that's more than capable of fighting back. Clever redesigns of the shirt have already popped up on social media, like this forthright rebuke:
Other parodies have already popped up for sale, like this design on the Etsy shop Uncomfortable Yeti: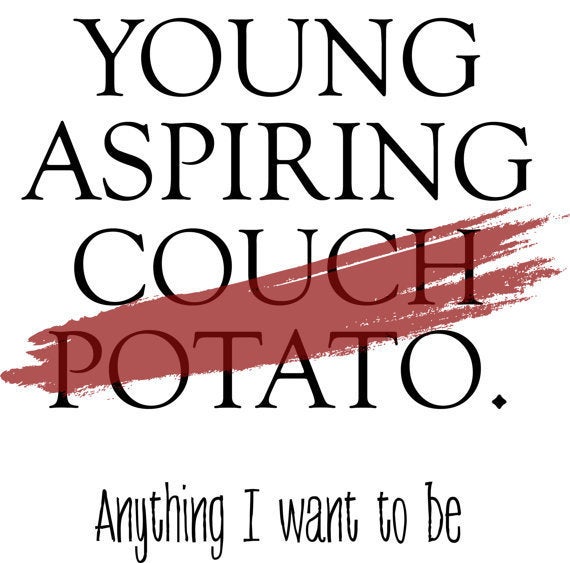 Uncomfortable Yeti's redesign might be the only one worth putting on a toddler: Whether you'd like your little girl to grow up to be an artist, an astronaut or a homemaker, the most important thing is to remember is that it's her life. Graphic tees that put our kids into tiny boxes before they have any idea what they really want are the problem, not the solution.
But remember, if your daughter grows up to be an artist, don't weep. Though artists are an easy punchline in a STEM-obsessed era, Old Navy's own reliance on creative professionals proves the arts are nothing to sneeze at, or cross out.  
PHOTO GALLERY
15 Ways Artists Fought For Larger Causes
Calling all HuffPost superfans!
Sign up for membership to become a founding member and help shape HuffPost's next chapter