The Daily News reports that Old Navy produced a new line of college and NFL team tees called "Superfan Nation," with a variety of products reading, "Let's go!!" for dozens of teams. But almost every shirt, unfortunately, reads "Lets go!!" No apostrophe.
Huge deal? Depends on whom you ask. College professors tend to be perfectionists about such things... Old Navy, not so much. The tees are all still available on the retailer's website -- but we're guessing all the rowdy, yelling fans at your next college football viewing party won't notice the grammatical error.
UPDATE: Reps from Old Navy have contacted us, saying, "We're sorry about the error in some of our SuperFan Nation graphic t-shirts. To ensure Old Navy customers can enjoy this collection fully, we're replacing the faulty tees at our stores and online as soon as possible."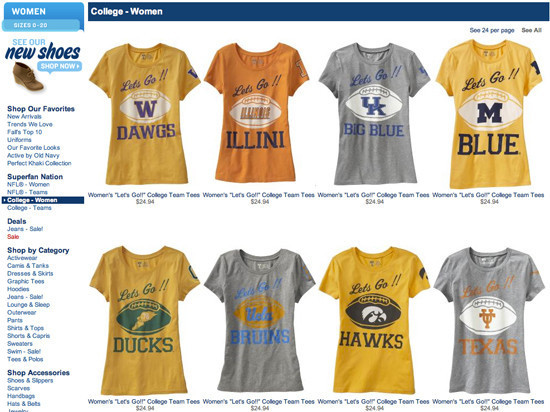 Related