Co-Authored by Ellen Offner, Principal, Offner Consulting, LLC, health care strategy and program development.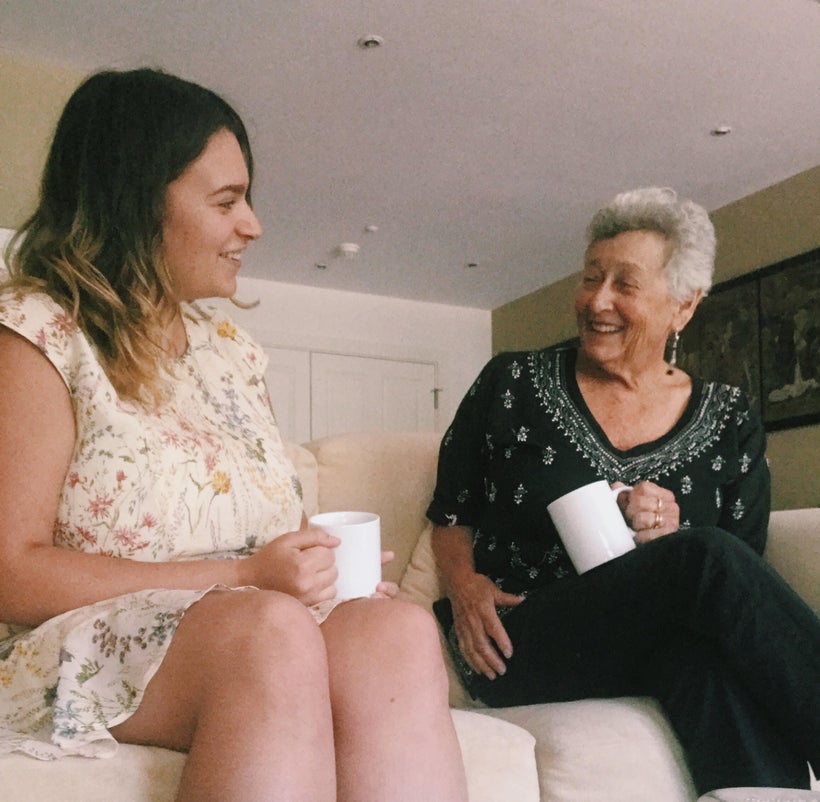 "Do you like my cap? Emblazoned with "BROOKLYN" in large letters, he said proudly, "I got it for free. I found it, but I kept it, because I'm on Social Security." We bantered back and forth about the logo, and then he said, "You know, old people get lonely. I live near public transportation, so I take the train to busy places and strike up a conversation." Clearly, this man knew how to engage . We were sitting at a charming sidewalk cafe, having a lovely "catch-up" lunch. He let us know he was well-educated, had led a productive life, and once had means. His spirits were good, and his enthusiasm and outgoing personality were contagious.
Loneliness is a big problem for those who live alone. Studies show that we live longer when we have social interaction. Other studies show that coffee is good for you, "People who drank two to four cups per day had an 18 percent lower risk of dying from diseases like heart disease, stroke and cancer than those who didn't consume the beverage." So, if companionship and coffee are saving lives, maybe we should all jump on the wagon of sharing a cup with someone who lives with us. Our new friend would probably love access to formalized coffee klatsches, where he would have access to new social circles.
Some graduate students at MIT decided to solve three problems at once: the loneliness of the elderly, the high cost of graduate school education, and access to affordable housing. This project is airbnb meets Craigslist. Both seniors and graduate students, for a small fee, can join nesterly.net, which matches graduate students with empty nesters who want to monetize the empty bedrooms in their homes or would like help with maintaining their houses. The graduate student receives reduced rent in exchange for services. The owners can list the services they need from merely taking out the trash and shoveling the walk, to more extensive household cleaning and cooking. The owners receive vibrancy in their home and help a student, and the student becomes part of the community in which he is studying. It's a win-win for everyone! If interested in participating, please contact Noelle by email. You can also complete this application form.
Of course, sharing space can be difficult. That's why "Communication is so critical…[the app creators] are building out interfaces that encourage conversations about expectations and on what the interaction will look like before anyone commits to anything." The app also keeps track of the contract which both parties must agree to, to facilitate assurances that everyone involved keeps their part of the bargain. Speaking of bargains, this is a bargain for everyone! Save on housing and save on maintenance, and the taxpayer is able to increase the money people with limited incomes have without spending a penny.
This idea of pairing unlikely friends together isn't just in the bubble of housing. Rather, coffee shops and other shared spaces could benefit from offering discounts for groups who agree to a weekly meetup in their establishment. This would be a natural venture for Starbucks: "We believe in the power of the coffeehouse to bring people together. Our stores allow Starbucks partners (employees) and customers to connect and tap into shared passions to provide a helping hand and create meaningful opportunities that can strengthen individuals and communities." There are many other "natural" gathering places which with minimal "repurposing" could host coffee klatsches and other low-cost gatherings to bring lonely people together to congregate.
Naturally Occurring Retirement Communities (NORCs), established throughout the U.S. to provide a wide range of services to elders who wish to remain in their homes, are in a position to add opportunities for socializing. They could potentially partner with coffee shops, cafes, and other venues that would be attractive to elders seeking new opportunities to meet others for conversation, and maybe even chess, checkers, mah jongg, and canasta.
This concept isn't new—27 years ago Edgar Cahn created TimeBanking, to ". . . promote equality and build caring community economies through inclusive exchanges of time and talents." Instead of exchanging money, people exchange their time—one hour of service to another earns you a credit of another hour of service from another individual. Or you can donate your time credit to someone else. I know when my house burnt down, I was advised to give people who offered to help a one-hour task. When I did, 15 people offered, and provided 15 hours of valuable volunteer service: everything from cutting open packages of the new household items I had to buy, to just sitting with me, helping me organize my time and thoughts over a cup of coffee.
Maybe it's time to build small communities within larger cities and towns, communities where people can share their life stories, tales of their grandchildren and great-grandchildren, trials and tribulations over a piping hot cup of joe. This would bring some of the positive aspects of village life to subgroups of like-minded people, eager for company and aided by the health benefits of coffee!
REAL LIFE. REAL NEWS. REAL VOICES.
Help us tell more of the stories that matter from voices that too often remain unheard.
This post was published on the now-closed HuffPost Contributor platform. Contributors control their own work and posted freely to our site. If you need to flag this entry as abusive,
send us an email
.