There's a certain magic in cooking.
For me, Sloppy Joes are one of those magical dishes into which you put in a little of your own sunshine and receive a bountiful garden of delight. I love that kind of magic, and it spreads into all areas of my life so that there are no lengths too far when I'm in search of a perfect food or food experience-especially when shared with the people I love and love being with.
Some years back I was asked to prepare Sloppy Joes for a dear friend's 40th birthday and off I went in search of a bit of magic. I wasn't going to show up with anything less than miraculous. I did a lot of research, which means: polling all my foodie friends, pouring through cookbooks and recipes online...I tested quite a few tasty versions, but couldn't quite find the perfect one. While standing in line at the grocery store sharing my food dilemma with all of mankind, another woman in line remarked that she in fact had tasted the best Sloppy Joes ever. She shared the name of the cookbook: Not Your Mother's Slow Cook Cookbook.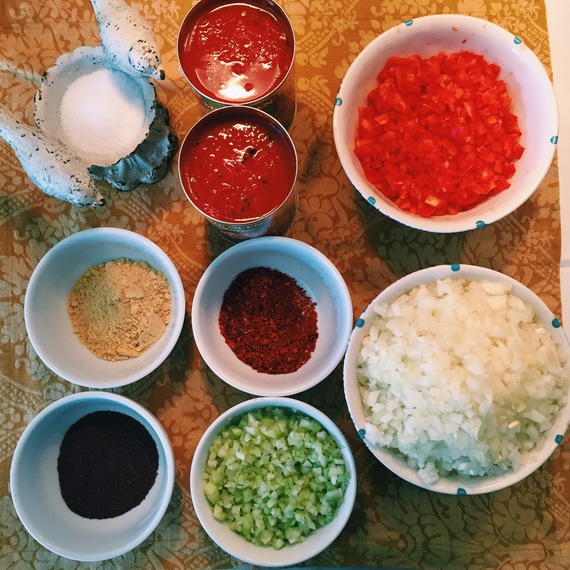 It was in my hands within the hour. And I certainly wasn't going to let my lack of a slow cooker get in the way of making that recipe asap, so I grabbed one of those as well. I didn't end up liking the slow cooker because I felt it disconnected me from the process of cooking and what fun is that? In addition, my train of thought goes here: where the heck does a person even have room to keep things like this? So that brand new very large shiny slow cooker has since been donated. If you don't have one, I have great news: the perfect cooking method for this dish is actually a Bain Marie, which is a fancy word for water bath. I love the Bain Marie because it allows me the pleasure of being a part of the process of the alchemy of the dish. I use my roasting pan as a bath, filled 1/3 with water, with my Dutch oven placed inside. When placed in the oven it cooks evenly and your dish turns out perfectly succulent (Google Bain Marie for more info).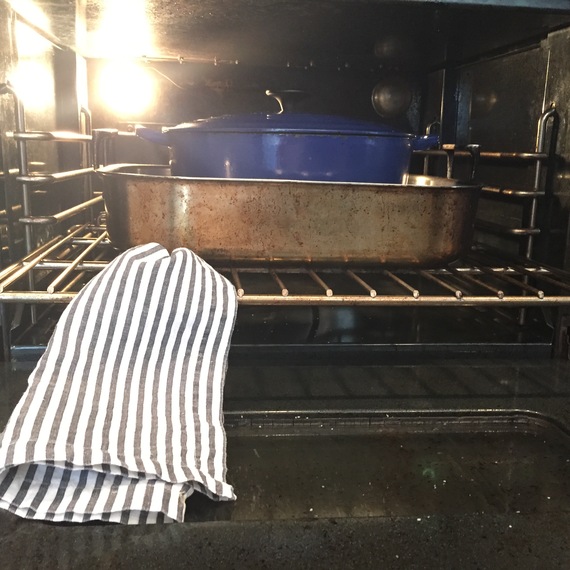 When I think of sloppy joe, I think, "Old school, tomato-hamburger dish that someone's mother made in 1974." Well, this version is evocative of that but is elevated to being totally delicious and sumptuous. It's hearty and soulful and something that is absolutely a crowd pleaser. Indeed this version is awesome, tangy, and not your elementary school's Sloppy fucking Joes. This recipe has evolved tremendously over the years since I first got my hands on it. If you haven't used the spices sumac or aleppo pepper that I am in deep and passionate love with (Instagram followers, hello!), it's time to add them to your repertoire. They are absolutely spectacular and will update your flavor profile.
Tip: double this recipe every time you make it. It's really not that much more trouble to do it times 2, and you'll be thrilled the day you open your freezer and there it is. These updated yet still old school Sloppy Joes are ideal served with the loveliest white hamburger roll you can find, sliced dill pickles, yellow mustard, and chips.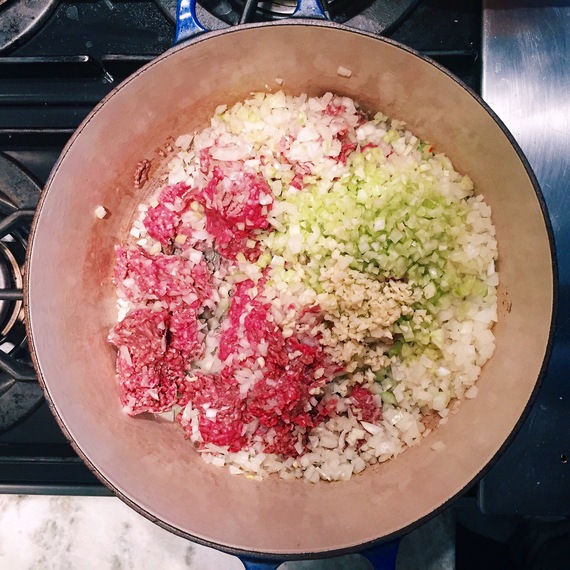 1 medium onion finely chopped
1/2 red bell pepper, seeded & finely chopped
Large rib of celery, finely chopped
2 T cider vinegar (I use one T of a darker, heavier vinegar)
2 T firmly packed dark brown sugar
1 teaspoon dry mustard (if yours is from 1989 it's time to invest in a new one)
1 teaspoon sumac (if you don't own sumac, now is the time)
14 oz can fire roasted tomatoes (puréed or crushed)
1/3 of 7 ounces can chipotle peppers in adobo sauce, pureed
2 teaspoons salt (but likely more)
1/2 teaspoon chili powder
1/2 teaspoon freshly ground pepper
1 teaspoons Worcestershire sauce
1 tablespoon Aleppo pepper (if you've never had this, you're about to love me...a lot)
In a large Dutch oven over medium-high heat, cook the beef with the onion, celery, bell pepper and garlic, stirring to break up the meat, about 8 to 10 minutes. Keep stirring, uncovered. When the meat is cooked through, leave on medium and add the remaining ingredients a couple at a time, stirring to combine well as you go. I like to watch the ingredients go in and see the dish change as things combine. Keep combining and stirring till you've added them all. At this point you can transfer your mixture to the slow cooker or leave where it is and put the Dutch oven into the Bain Marie (see instructions above) and into the oven.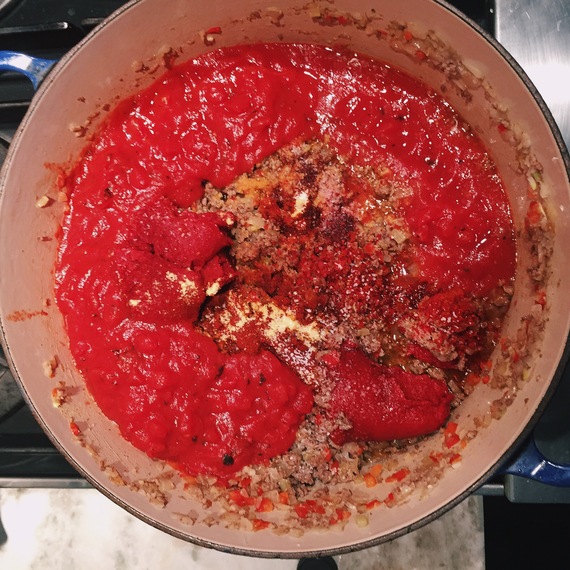 Cover and cook at 200 degrees for about six hours-but if you think it's done sooner, by all means enjoy. I generally open, take it out and stir about every 90 minutes, and it's fun to watch it transform. Make sure to replenish water in the Bain Marie if it evaporates. I like to try a bit along the way and decide when it tastes perfect. (We generally can't wait much longer than 5 or 6 hours because anyone who comes within a mile of my kitchen or happens to call me on the phone that day is eager to eat it.) You may end up cooking between 4-6 hours, depending on your idea of the perfect Sloppy Joe. Add more sugar or vinegar as desired. Serve on a beautiful white hamburger roll.
For gluten free, just remove the Worcestershire and serve on gluten-free roll.
For paleo, remove the brown sugar and Worcestershire. All other ingredients can be found without sugar, but I'm not lying to say that although it is quite a tasty paleo version they do lose the magic without that molten brown sugar.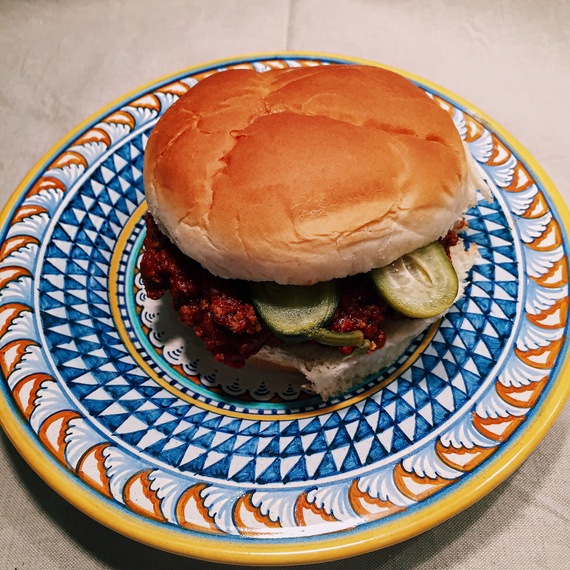 Teri Turner is ReadSource's contributing food expert. Follow her on Instagram here: @nocrumbsleft for more delicious recipes and photographs sure to make your mouth water. Have a question or just want to say hello? Email Teri Teri@nocrumbsleft.net.