Now that this year's Oscars have come and gone, this is as good a time as any to examine the degradation of Hollywood celebrity. What began nearly a century ago with the founders of United Artists (Douglas Fairbanks, Mary Pickford, Charlie Chaplin, and D.W. Griffith) being hailed as Hollywood royalty has become a sad parade of celebutantes and media whores.
When I first saw the title of Douglas Anthony Cooper's essay (Anne Hathaway: The Most Horrible Person Who's Ever Lived), I almost didn't want to read it for fear I might "throw up in my mouth." But I'm glad I did, and strongly recommend that you read it, too. Cooper's piece says an awful lot about how the media circus currently fed by gossip rags, pushy paparazzi, bitchy bloggers, and preening publicists has not only cheapened the discourse but conspired to destroy people's lives.
Once upon a time, Hollywood stars were worshipped like gods and goddesses. No photographers were trying to snap pants-less crotch shots as someone stepped from a car. Nor were they terrorizing people in traffic and threatening the lives of innocent bystanders with their self-aggrandizing stunts. Recently, Joseph Gordon-Levitt turned the tables on two celebrity photographers and recorded what happened in the following video:
February was a superb month for indulging one's nostalgia for Hollywood royalty (the kind that inspired fans long before the media escapades of Liz & Dick, TomKat, and Brangelina). Witnessing two of Hollywood's greatest stars from the silent film era offered an intoxicating reminder of what it was like when talent, power, and millions of fans united to support true Hollywood royalty.
The main attraction at the San Francisco Silent Film Festival's Winter Event was a screening of that 1924 Douglas Fairbanks classic, The Thief of Baghdad (accompanied by the Mont Alto Motion Picture Orchestra). While this silent swashbuckler and scenic spectacle benefits immensely from the merry athleticism of Fairbanks and his undeniable charisma as Ahmed, there are plenty of campy moments in the script (most notably when the Princess's suitors are introduced to the court as "the Prince of the Mongols, King of Ho Sho, Governor of Wah Hoo and the Island of Wak").
With snatches of music from Alexander Borodin's opera, Prince Igor (1890), and Nikolai Rimsky-Korsakov's symphonic suite, Scheherezade (1888), the film's eye-popping Art Nouveau production (designed by William Cameron Menzies) offers audiences nearly three hours of dazzling entertainment. Whether one is entranced by Ahmed's muscular torso, devilish grin, and incredible feats of bravery or tickled by the performances of Sojin Kamiyama (as a villainous Mongol prince who bears a striking resemblance to filmmaker John Waters), Anna May Wong as a Mongol slave, Mathilde Comont as the corpulent Prince of Persia, and Tote Du Crow as a soothsayer, this epic of the silent screen is a genuine crowd pleaser.
And why shouldn't it be? Inspired by a tale from One Thousand and One Arabian Nights, The Thief of Baghdad was one of the largest and most expensive silent films made prior to 1925. In May of 1924, Science and Invention magazine published a story entitled "The Mechanical Marvels of The Thief of Baghdad." The film features a winged white horse, a magic carpet, a fake dinosaur, a beautiful princess, and a beggar with the biggest set of balls in Baghdad.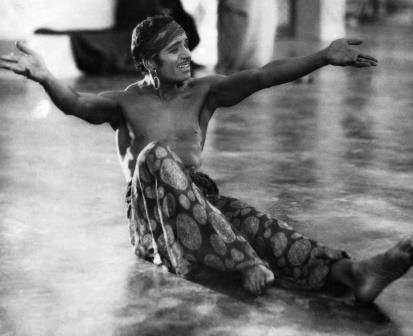 Douglas Fairbanks stars in 1924's The Thief of Baghdad
It's interesting to note how the male physique and Hollywood's depictions of masculinity have changed over the past century. Fairbanks was notoriously devoted to physical fitness. Because of his hyperathleticism, he was able to move with the grace of Vaslav Nijinsky (whose performances in Michel Fokine's ballet, Scheherezade, were a major attraction of Sergei Diaghilev's famed Ballet Russes). In fact, the gym on the studio lot bore a sign that read "Basilica Linea Abdominalis" (Waistline Temple). And yet, by today's standards of buffed, steroided and tattooed action heroes, Fairbanks would have seemed wiry at best.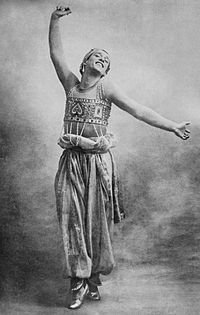 Vaslav Nijinsky as Ahmed in Scheherezade
The Thief of Baghdad includes some of Hollywood's earliest experiments with the use of piano wire for special effects (such as Ahmed's magical rope which can instantly uncoil and rise into thin air). But seeing is believing. Thankfully, the entire film is available on YouTube. Enjoy!
By the time Douglas Fairbanks and Mary Pickford extricated themselves from their first marriages, they were known far and wide as a Hollywood power couple. After divorcing her first husband, Owen Moore, on March 2, 1920, Pickford married Fairbanks 26 days later. Their European honeymoon became a celebrity spectacle in every city they visited.
By that time, they were partners in United Artists and Pickford (born Gladys Smith) was well on her way to becoming the highest paid woman in America. Following their marriage, they settled into Pickfair and began to create the kind of celebrity lifestyle for which Hollywood has since become famous.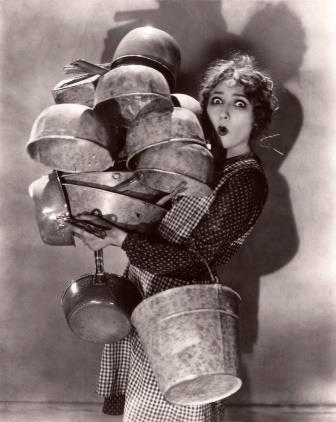 Mary Pickford in a scene from My Best Girl
Born in Toronto in 1892, Pickford (whose mother was a fierce negotiator) usually approached business matters from a position of power. She became the first actress to head up her own production company. By 1916 (when she was just 24 years old), her contract guaranteed Mary the right to approve advertising, choose the writers and directors for her films, and pocket half the receipts from screenings of her movies.
Unfortunately, by the time her last silent film, My Best Girl, opened on October 21, 1927, The Jazz Singer (which had opened two weeks prior) was the talk of the movie industry. Although, during the 1920s, Pickford became one of the most famous women in the world, she retired from acting in 1933. In 1976, she received a special Academy Award for Lifetime Achievement.
On June 24, 1937, Pickford married Charles "Buddy" Rogers, a popular band leader who had co-starred in 1927's Wings and My Best Girl. The San Francisco Silent Film Festival followed The Thief of Baghdad with a screening of Pickford's last silent film, a romantic comedy based on mistaken identities.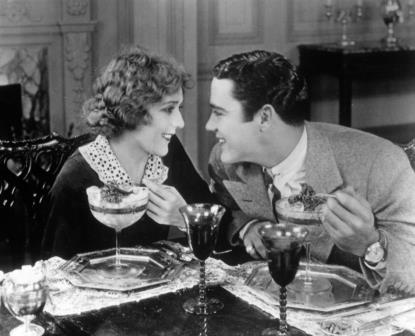 Mary Pickford and Charles "Buddy" Rogers in My Best Girl
Directed by Samuel Taylor, My Best Girl featured Pickford as Maggie, the loyal stock girl working in the Merrill Department Store who must put up with the antics of the boss's playboy son, "Joe Grant," who has just gone to work for his father's business. It doesn't take long for Maggie to peg Joe as "the dumbest stock boy in the world." But she can't help falling for his charming smile and beautiful eyes.
Soon, Joe has been promoted, become Maggie's boss, and they've fallen in love. But Joe is already engaged and Maggie has yet to discover his true identity. Although My Best Girl has some great comic moments, its true strength lies in the charm of its two leads (who were falling in love with each other when they made this film). You can watch all of My Best Girl in the following delightful video clip.
Calling all HuffPost superfans!
Sign up for membership to become a founding member and help shape HuffPost's next chapter