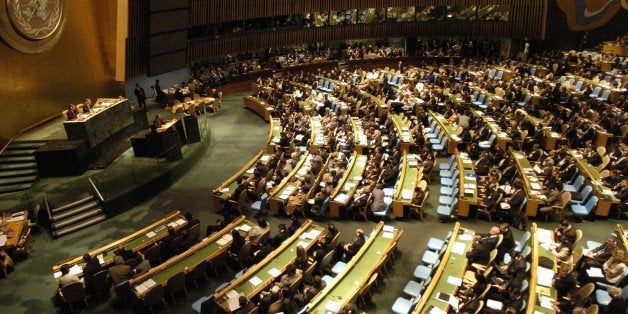 On Monday of this week, as the United Nations General Assembly concluded its 67th session, outgoing General Assembly President Vuk Jeremić of Serbia spoke about the challenges our world is facing at the moment: "We are in the midst of a period of great consequence, characterized by growing economic instability, rising social inequality, and spiraling environmental degradation," he said. And referring to the current humanitarian crisis in Syria, he added, "we've got to have high-level political dialogue. We need to bring the parties together, and make them talk to each other face to face."
The importance of opening up the conversation and bringing together diverse viewpoints -- on everything from politics and media to entertainment and technology -- is central to HuffPost's mission. As the UN General Assembly begins a new session and leaders from all over the world come together to tackle our biggest problems, we're starting conversations at HuffPost on a handful of big initiatives that focus on ways to improve people's lives in the developing world.
Here's a bit about the organizations we're partnering with, and what we're doing together to tap into our collective wisdom and creativity to find solutions:
After teaming up with The Global Fund in 2012 for The Big Push campaign, we're featuring a range of voices in support of The Global Fund's mission to eradicate AIDS, tuberculosis and malaria. We kick off with a post -- co-authored by Liberia's President Ellen Johnson-Sirleaf and Sweden's Minister for International Development Cooperation Gunilla Carlsson -- that embodies the spirit of collaboration that will be key to making that mission a success. As they write,
Liberia and Sweden might seem to be worlds apart. But in today's interconnected world, the challenge of defeating poverty, gender inequality and infectious diseases is truly part of a single universal aspiration. And this is where our two nations -- one in Europe, one in Africa -- meet as members of the same family with the common goal of improving people's health.
From now until September 24, you can also join our Thunderclap -- a coordinated social media campaign -- to support The Global Fund's work.
At the turn of this century, the United Nations convened a meeting with the specific goal of tackling some of the world's biggest problems. The UN Millennium Declaration established eight Millennium Development Goals (MDGs), ranging from eradicating extreme poverty and empowering women to ensuring environmental sustainability and reducing child mortality. The idea was to make significant progress in these areas by 2015. Next week, Secretary-General Ban Ki-moon will lead a high-level forum in the General Assembly highlighting areas of progress and also areas where more is needed. On HuffPost, in partnership with InterAction -- a coalition of 180 NGOs -- we are featuring the voices of those who are deeply invested in helping reach these goals. Like InterAction's Suzanne Kindervatter, who writes of her life-changing experience visiting villages in rural Thailand, where she helped young people with literacy and vocational training. Kindervatter writes about a group of young people who were learning to cultivate and sell mushrooms, and about the moment she realized it wasn't just economic gain that most people were seeking, but a sense of purpose and dignity. As one young woman told her, "I now like to get up in the morning."
Trickle Up's President William M. Abrams writes that the only way to make real progress when it comes to eradicating poverty is by focusing on the world's "ultrapoor," who are beyond the reach of many anti-poverty efforts, such as microloans and government poverty programs. As he puts it: "Eighty percent of the ultrapoor are women and many of them are mothers. It's likely that she'll be indigenous or come from an ethnic minority. In many cases, she may have a disability."
And Helen Keller International President Kathy Spahn tells the story of one woman, Rashida Begum, who lives in southern Bangladesh. Once unable to feed her family of four, she learned to garden as part of a Helen Keller International training program, and she now not only produces enough food to feed her family but helps run a produce market that benefits the wider community.
In 2010, UN Secretary General Ban Ki-moon launched Every Woman Every Child, a global movement to accelerate progress toward the women-and-children-specific MDGs: promoting gender equality, reducing child mortality, improving maternal health and generally improving the lives of women and children around the world. HuffPost has partnered with Johnson & Johnson for a month-long series on our Global Motherhood section, featuring a range of voices striving for solutions. We kick off with U.S. Fund for UNICEF President Caryl Stern on how focusing on simple solutions can save millions of children, Johnson & Johnson's Joy Marini on the "golden minute" that can save a baby's life and a slideshow spotlighting 10 facts that will change the way you think about maternal and child health.
In partnership with the Skoll World Forum, Johnson & Johnson, the United Nations Foundation, and the Bill and Melinda Gates Foundation, we've asked some of the world's leading experts to weigh in on what's not being discussed at the UN this week. There's Toilet Hackers co-founder John Kluge, who writes about the global sanitation crisis that has left more than four billion people using sanitation systems "that simply dump the untreated waste back into the environment," with serious health consequences. And Save The Children President Carolyn S. Miles, who emphasizes the need for more frontline health care workers -- doctors, nurses, midwives -- not only to provide treatment but to teach people in impoverished communities how to live healthier lives through practices like breastfeeding, hand washing and sleeping under mosquito nets. And BasicNeeds founder Chris Underhill writes about the "vicious cycle" of mental illness among those living in poverty, pointing out that nearly three-quarters of those suffering from mental illness live in low- and middle-income countries around the world. You can read those and several other pieces here.
Thank you for joining the conversation, and please use the comments section to tell us any stories of success and hope, as well as about issues you believe aren't getting enough attention.
Related