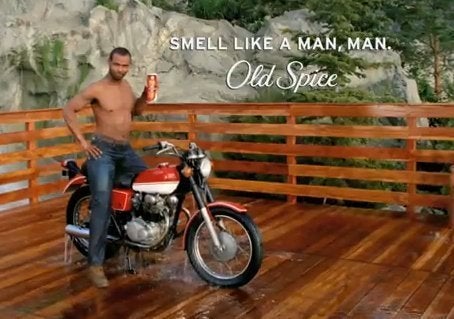 By Dan Sewell, Associated Press
CINCINNATI — The Old Spice man on a horse is back, and this time he's on a motorcycle – still shirtless and showing plenty of bravado and humor.
The Procter & Gamble Co. brand of deodorant, body wash and other products for men has a second commercial featuring ex-football player Isaiah Mustafa. The first fast-paced ad, in which he draws viewers' attention to his chest and self-confidence, has drawn more than 11 million YouTube views.
In the new 30-second spot, he goes log rolling, dives from a waterfall and – of course – walks on water after a reprise of his cheery opening, "Hello, Ladies!"
The ad goes online Wednesday morning, comes to movie theaters this weekend and hits national TV next week, P&G said.
WATCH:
The campaign by the Portland, Ore.-based ad agency Wieden + Kennedy has scored big with Mustafa as the hunky man who goes from shower to white horse. The first spot won a Cannes advertising festival award and sudden visibility for Mustafa, 36, a former Arizona State University player who had a brief pro career.
Mustafa says he tried to channel the cool self-confidence and charm of actors such as Robert Wagner, James Brolin and Adam West, TV's Batman, while staying true to Old Spice's traditional "manly man" appeal.
"I really just wanted a very smooth, confident look," said Mustafa, who had made scattered TV and movie appearances before the first Old Spice ad launched early last year.
He'd like to play the same kind of action-oriented, romance-minded figure in a TV series some day. But for now, he's happy with the "smell like a man" role, which has people on the street asking if they can get a whiff or repeating the first ad's tag line: "I'm on a horse."
"I'll do it as long as they want to do it," said Mustafa. "It's such a fun character."
P&G's seven-decade-old Old Spice brand has been revitalized in recent years by new products with names such as "Red Zone" and "High Endurance" and trendy marketing targeting a younger audience than its traditional gray-haired man's after shave consumer. Actors Neil Patrick Harris and Will Ferrell and rapper-actor LL Cool J are among other recent celebrity spokesmen in lighthearted Old Spice ads.
James Moorhead, P&G brand manager for Old Spice, said the approach has been to embrace its heritage – keeping such touches as the trademark whistle at the end of ads – while updating with modern swagger and humor. He declined to divulge ad spending or revenue figures for the brand, but said P&G is happy with its market share growth.
"What I can tell you is that we are investing in Old Spice," Moorhead said. "We've continued to have strong brand growth."
Gary Stibel, marketing executive who heads the New England Consulting Group, said Old Spice was in danger of joining other older P&G brands, such as Noxzema skin cream, Sure deodorant and Comet cleanser, that have been sold off in recent years as the world's largest consumer products maker focuses on brands with fast-growth potential.
"They have had creative talent on this brand who re-energized it at a critical point in time," Stibel said. "They made it relevant and they made it cool."
Adam Kornhauser, 25, of Jacksonville, Fla., has been using Old Spice deodorant and body wash for several years and isn't particularly impressed by the current ads. He has his own criteria.
"Pretty much the No. 1 determining thing for me is whether the girl likes it," he said. "Everybody likes it; I get compliments all the time."
Popular in the Community