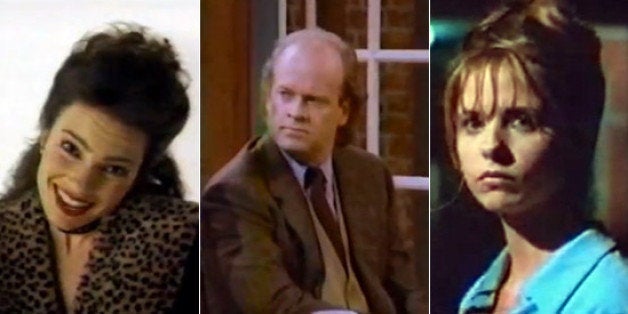 Every TV show starts somewhere, and it's usually a promo for the show that gives viewers their first impression ... which makes these classic TV promos even more amazing, because seriously?!
If you need more proof that TV has evolved dramatically over the past few decades, and even the past few years, look no further than our roundup of some of the most ridiculous TV promos ever, most of them for shows that we actually love. Glamour dug up a bunch of really hilarious(ly dated) promos from some of TV's greatest hits -- the "Golden Girls" promo with Mario Lopez being deported is reason enough to click to their list -- which inspired us to hit the vault ourselves.
Scroll for a trip down TV memory lane to see how many of these you remember:
"The Nanny" - Fran Drescher still looks and sounds the same, so that's pretty amazing.
"Veronica Mars" - This show was always a tough sell -- a teenage private eye! -- and this early promo sure tackles that difficulty valiantly.
"7th Heaven" - "Shes' becoming a woman." 'Nuff said.
"30 Rock" - Remember when people were confused thinking "30 Rock" and "Studio 60 On the Sunset Strip" were the same show? Those were the days.
"The Facts of Life" - Gotta love Mrs. G -- and also some sitcom about a dog doing things?
Every "Buffy the Vampire Slayer" Season 1 promo - Early "Buffy" was ... interesting. Bless WB for giving it a shot.
1990 Fox promo - Fox! The '90s!
1990 CBS promo - CBS! The Temptations! The '90s!
"Roseanne" - Get it? She's not like any of those classic sitcom moms.
"Frasier" - A mix of the "Cheers" finale stuff, "Mad About You" and "Frasier." You can't get more '90s NBC than this.
"Lost" - Before everything.
"ER" - Maybe the most accurate promo of them all.
"The Sopranos" - Who knew 1998 could feel so vintage?
"Manimal" - This one might win the Internet forever. Manimal was about a detective who could turn into animals, so naturally this promo features him as a cat in a lady's blouse.
"Happy Days"/"Laverne & Shirley"/"Three's Company" - What. A. Lineup.
"Beverly Hills, 90210" & "Melrose Place" - Remember all of "90210's" amazing guest stars? (Burt Reynolds!) And how invested we were in Billy and Alison in the beginning of "Melrose Place"?
ABC Daytime - Daytime was so much more than just soaps! We want Afternoon Playbreak in our lives ... Also "Hong Kong Phooey" was a real thing? "A canine crusader who changes from janitor to crime-fighter at the close of a drawer." The '70s were awesome.
"Pee Wee's Playhouse" - Super zany wacky fun! It's gonna be wild!
"California Dreams" - Wow, laying it on a little thick, don't you think?
REAL LIFE. REAL NEWS. REAL VOICES.
Help us tell more of the stories that matter from voices that too often remain unheard.
BEFORE YOU GO
PHOTO GALLERY
Critics Picks 2013-2014