I immediately made eye contact with her when I stepped into the store: The young, beautiful bride-to-be standing on the pedestal, consulting with her entourage as if this were the most important decision she would ever make. Her hair was black and shiny with perfect curls cascading down her back. Her eyes were huge and almond-shaped with fake eyelashes batting like ebony fans. I had my dried out, menopausal hair in a half-assed bun, and my mascara was mostly under my eyes due to constant heavy sweating under all temperatures above 60 degrees.

I'd been surprised when I'd taken a left turn into The Bridal Collection's parking lot. I'd been on my way to Trader Joe's to buy groceries -- fig bars, pre-made salads, and cheap wine were on my mind, not lovely white dresses made for women under 35. I was 53.
Can't I just wear a nice white pantsuit that covers a multitude of sins? I asked myself. Yet something about those white dresses called to me. I told myself it was for my fiancé, but if I had been honest, he could have cared less about the dress. He only cared about what was under the dress, so I should have stopped staring at the cupcake store next to the Bridal Shop (dumb location) and worked on that instead.

I was, of course, on another diet, even though my dieting history included such failures as Flatulence-Fast, Jenny Cash, and Lean Crapine. Every one of those failed for me because I never thought I had good enough reason to lose weight. I may have been forty pounds overweight, but my cholesterol and blood pressure were perfect. The only health threat my weight gain had caused was the emotional stress of looking at my muffin top in the mirror. Now with a wedding coming up, I had hopes for the new diet I was starting. Nothing white was going into my mouth: no flour, no rice, no pasta, no potatoes, no sugar, no alcohol, no fun.

So naturally, entering the store I was hit with a blinding sea of white. Before I could leave and grab a stress-relieving cupcake, a smiling 70-year-old man with slicked-back silver hair approached.
"Hello, Madame. How can I help you?" he asked.
"I'm looking for a wedding dress with sleeves," I said.
"For yourself?" he asked with a subtle surprised look as he cocked his head to one side. "Wonderful! Right this way."
He led me to the back of the showroom where boxes of paper towels and toilet paper were stacked. Nice, my dress was in the supply closet. He pulled out a white lace dress with sleeves. Immediately my chin rose. Yes, they do make dresses for brides like me! I thought. But when I looked at the size-- 16--I thought it would be way too big.
It wasn't. It was tight. That's okay, I thought. I am going to lose 50 pounds before my wedding. I mean, the wedding wasn't for another two months. That gave me plenty of time.

The salesman brought me to another pedestal, opposite the bride who belonged there. She and her entourage all stared at me as the man explained how the dress could be altered to hide my back fat. As it was, my back looked like an ass. That would not be a good look.
"Don't worry. They will fix this in alterations," he said. He brought two fingers up to his lips and kissed them. "The ladies I'm sending you to are true artists. They will make you look beautiful on your wedding day."
As I stood at the sales counter, credit card in hand, I asked him if my decision was too hasty. Perhaps there were other dresses I should have tried on? By now the young woman must have tried at least a dozen, all of which looked equally gorgeous on her.
"No," he whispered, "You know yourself, and you know what you like." He discreetly pointed to the young woman. "That one, she doesn't know what she wants because she has no self-esteem. You have self-esteem."
What did he know about my self-esteem? We'd just met. Maybe self-acceptance was more what he meant. I was accepting that this was the only dress that would look halfway decent on me. Nevertheless, I handed him my credit card, and he charged $999 to it while promising the alterations would cost no more than $150.
He then draped the biggest and brightest pink garment bag I had ever seen over my arm and handed me a business card. Universal Alterations, it read, with a picture of a size two model wearing a size two dress. Puke.

Weeks passed. I scheduled and rescheduled the alteration appointment at least four times. Each time, I needed the additional days to lose 50 pounds. Finally, I couldn't put it off any longer. I walked into the alteration shop with my big pink bag. I'd gained five pounds over the last four weeks.

Two women greeted me with heavy Armenian accents.
"I need alterations for this dress."
"Yes, this is my second marriage."
I didn't see the need to admit it was actually my third. The relevant part was that I was a repeat bride, and yes, I know it's stupid to be wearing this f***ing white dress, but for some reason I'm here when I'd rather be eating cupcakes. I tried on the dress. In the mirror, I could see the women standing behind me with their hands over their open mouths.
"It's awful. We need to fix," said the older of the two as they stuffed my back ass into my dress."We fix. We fix," they repeated as they alternated covering their mouths. "You take off, and we fix. Come back in few days."
I returned three days later. This time, they stood behind me at the mirror smiling.
"Better, much better," they said.
But now we had another problem. Once the ladies let out the dress to accommodate my back, my tits no longer had enough support. They were now somewhere in the vicinity of my navel. This was disheartening. The one aspect of the dress I'd loved was that it held my 36Gs in an acceptable place. My ladies began to press my boobs, pin the bodice, push my boobs and pin more bodice. In the end, I had rocket boobs like Wonder Woman.
"We fix. We fix,"they said. "You take off, and we fix. You come back."
The next time I walked into the alteration shop, I brought my 12-year-old son with me. He was the most honest person I knew.
"It looks great, Mom!" said my son in the most unnaturally high voice he's ever used.
The fitted bodice with a built-in-bra did nothing for my freakishly large breasts.
Maybe I should wear a bra as well?" I asked the ladies. They both nodded.

At Nordstrom's lingerie department a few hours later, a sweet looking lady in her 60s confirmed that I was indeed a 36G. After trying on dozens of bras and girdles, I left with a red rash, one big bra, and one super girdle. With the new undergarments, the dress started to look decent. Still, a few more alterations were needed: cutting off the long train and reinforcing all buttons and snaps--critical. I also asked for a bit of lace at the cleavage, so I didn't look like an out-of-shape retired stripper.
"We fix, we fix," they said.
A week later I arrived for the final fitting. I brought my wedding shoes and wore makeup to see the complete effect. My son came along as well. The dress finally looked decent, and the lace concealed most of the gelatinous cleavage. I was happy until they handed me an invoice. Six hundred and seven dollars. The younger woman said that six hundred was fine. I knew $150 had been unrealistic, but I had no idea it would come to that much more.
I paid the bill without argument, mainly because I was humiliated that I'd bought a dress that never fit me in the first place. I should have returned it when I first saw the ladies' look of horror, but instead, I now thanked them, and they wished me all the happiness in the world. They cupped my hand with both of their hands. I guess I got the double handshake because I paid more than double the estimate.
In the car, I asked my son what he now thought of the dress.
"Do you want the truth, Mom?" I said yes, even though I just wanted to hear that it looked fantastic, and all that money was worth it. "Well, it's not the best I've ever seen, but it's nice."

He was right. When you are 40 pounds overweight and 20 years past first-wedding age, "It's not the best I've ever seen" may be the best you can expect. My arms were covered; the A-line skirt hid my hips, and there wasn't a s***load of cleavage. I was satisfied. Then again, if I'd been 30 years old and thought my wedding dress wasn't the best I had ever seen, I would have had a nervous breakdown.

On the big day, I felt content with the semblance of a wedding dress. I was surrounded by good friends and family who were happy to be part of the day. We had champagne, laughed, and celebrated a new union. The salesman had been right when he said I knew myself at my age. I knew I was an older, larger bride than I'd been both other times, and that was OK.
I don't think I have more self-esteem now than I did at 30. But having a traditional wedding at 53 took courage. That's what I should have been celebrating. To me, the dress represented the courage to remarry, the courage to allow another man to father my precious son, and the courage to wear a white wedding dress even if I didn't look like a model in a magazine.
I guess you could say, I fixed.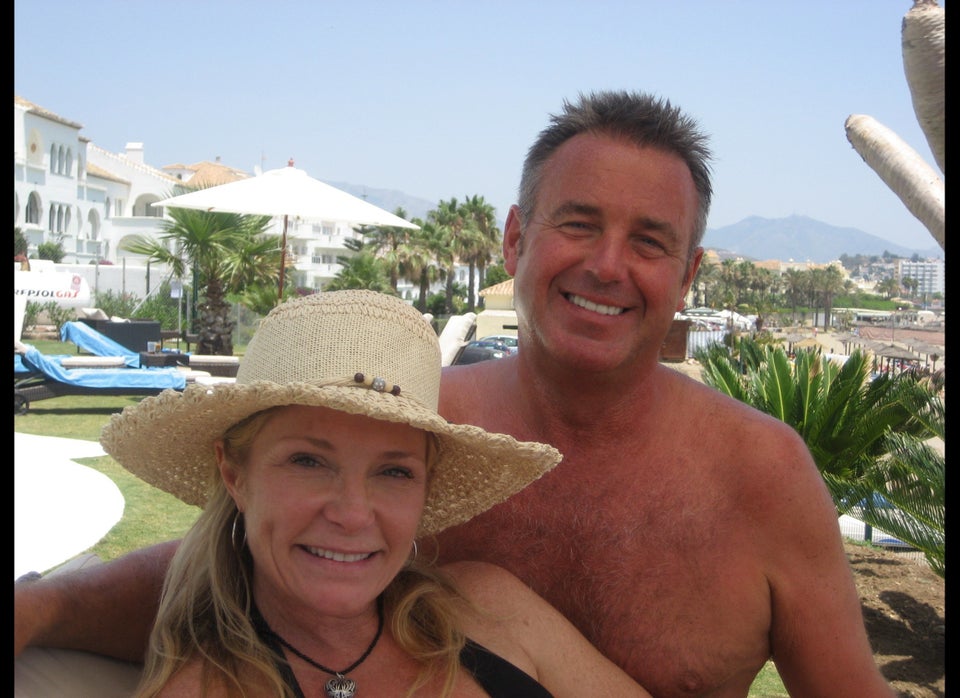 I Love Your Accent
Popular in the Community