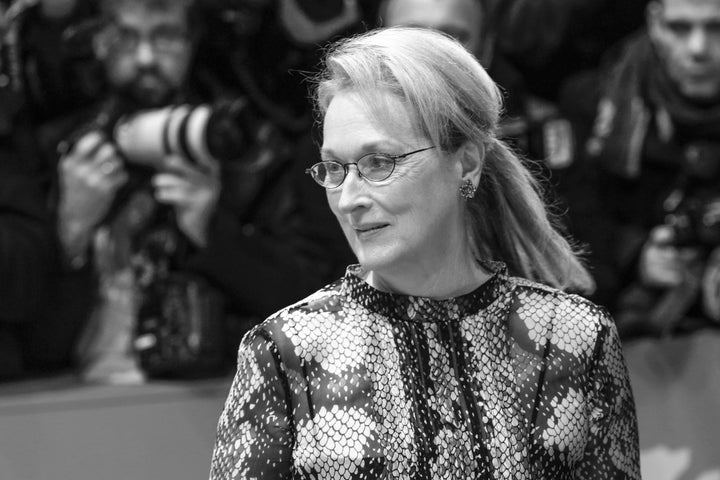 A lot of women will tell you that once we get past 40, we start to feel kind of invisible. In movies and TV shows, we're often portrayed as non-sexual mom-types, or maybe ball-busting bitches in the "Devil Wears Prada"/Hillary Clinton mold. Or, more often, we're simply not seen at all.
This isn't just a feeling.
In a lot of movies and TV shows, older women are in fact invisible, confirms a new report from the University of Southern California's Annenberg School for Communication and Journalism. Older men, on the other hand, aren't at all hard to find on screen. And that's probably not a coincidence, since -- as the report also makes clear -- it's older men who are running the show in Hollywood.
The analysis, released Monday, looked at 414 scripted movies, TV shows and digital series that aired from September 2014 to August 2015 across 10 major media companies -- CBS, Sony, 21st Century Fox and so on. In that period, men made up nearly 80 percent of the characters over 40 portrayed in films.
Things were slightly better for older women on the streaming networks (Amazon, Netflix, Hulu), where about a third of the older characters were women. The newer on-demand networks have shown more of a willingness to break with casting conventions, with shows like Netflix's "Grace and Frankie," starring Lily Tomlin and Jane Fonda, and Amazon's "Transparent," whose main cast includes Amy Landecker and Judith Light. About 38 percent of speaking parts on streaming shows went to women, which is relatively high compared to 28 percent in films. As more content moves to these networks, this is one place where we could start to see real change.

But for the moment, the people who make the decisions in the entertainment industry are overwhelmingly male. The Annenberg report analyzed the gender breakdown of the executives at the media companies that produce these movies and shows. At a time when everyone is talking about #OscarsSoWhite, the data serves as a reminder that Hollywood's diversity problems stretch beyond race to intersect with gender and age.
The situation is pretty bleak. Women make up only about 20 percent of the high-level execs in the industry. Though women account for nearly 40 percent of executives overall, as you get closer to the top -- the executive vice president and president levels -- they vanish.
"As power increases, the participation or representation of women in executive ranks decreases," the report's authors write.

Men are also overrepresented among creators, directors and screenwriters, the report confirms. Seventy-seven percent of show creators are men, as are 89 percent of movie screenwriters and 75 percent of streaming screenwriters.
Women directed only 3.4 percent of the films released in the year the Annenberg researchers examined.
That is, to be blunt, insane.
A major part of the problem is that protagonist roles and "love interest"-type roles alike tend to be written for women in their 20s. Meanwhile, if women over 40 are cast at all, they're more likely to land roles as "hags and witches," as Meryl Streep recently put it. The year after she turned 40, Streep said, she was offered three roles -- all to play witches. "Once women passed childbearing age they could only be seen as grotesque on some level," she said last year.
Men over 40 don't get the same treatment. Most over-40 male characters are portrayed as pretty virile and tend to wind up paired with much younger women, as this helpful Vulture analysis from a few years ago makes clear. In a separate piece last summer, Vulture charted the age discrepancies between Hollywood "it" girl Jennifer Lawrence and the men she's been paired with in various films. Spoiler alert: A lot of them have been way older than her.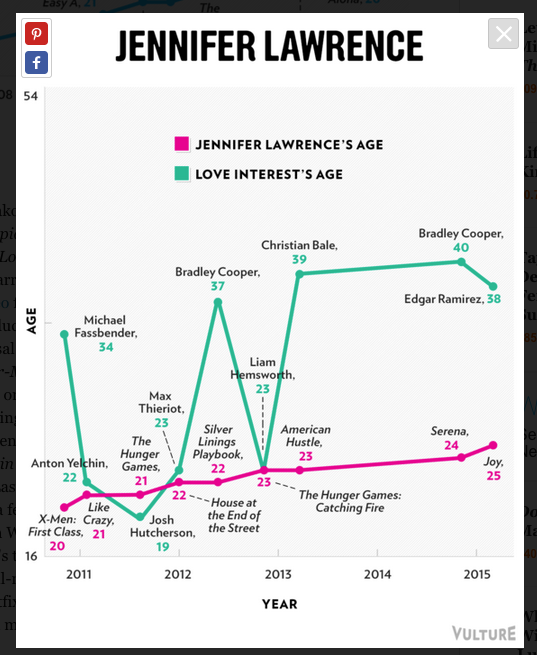 There's been plenty of press coverage lately regarding the tech industry's lack of women -- particularly at the top. But it can be hard to see the real-world effects of that lack of diversity. The entertainment industry, on the other hand, offers a very stark example of what happens when you leave women out of the equation in an entire sector.
The scarcity of female leaders, creators and directors is evident in the films and TV shows everyone is watching. It reinforces the cultural isolation of an entire demographic -- not to mention a load of stereotypes.
To be fair, older people in general don't have a huge presence in most popular movies. There usually aren't a ton of old dudes in whatever comic book blockbuster is on the docket in a given season.
Only 35 percent of the characters in Hollywood films and shows last year were over 40 years of age, according to Annenberg. But most of those older people were men -- leaving older women only a small sliver of opportunity. And that's a shame, because when older women do land interesting roles, they're really fabulous. I'm thinking of Francis McDormand in HBO's "Olive Kitteridge," or Charlotte Rampling in the film "45 Years," or Meryl Streep in pretty much anything.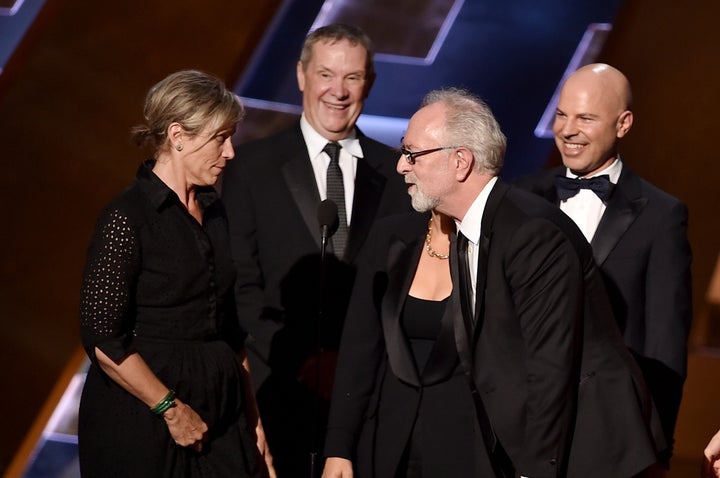 I can't believe I have to write this, but older women are interesting and beautiful and smart, and everyone misses out when we sideline such a huge group. The industry is probably also missing out on profits. It's hard to back up that claim with data, since so few films actually star older people or are marketed to them, but intuitively it makes sense.
Most Americans are actually, well, old. Thirty-nine percent of the population was over 45 in 2010, a figure that's almost certainly climbed higher since then, with the youngest of the baby boomers turning 50 in 2014. It doesn't seem a stretch to imagine that older women might like to see themselves portrayed on screen. Oh, and older men and women have more money than the youngs, too.
Though there has been progress on the small screen when it comes to diversity, the overwhelming trend in the film industry right now is for comic book adaptations -- like Marvel's recent "Deadpool," which involves a newly disfigured man (played by 39-year-old Ryan Reynolds) fretting over whether his super-hot fiancee (played by 36-year-old Morena Baccarin) will love him even though he's no longer handsome.
Guess how that works out?
The Annenberg report offers up a few possible solutions to Hollywood's gender problem. Some are already being tried out in other industries, like having "inclusion goals." A few tech companies, like Intel and Pinterest, have pursued this, announcing their intentions to hire a certain percentage of women or minorities by a target year. The Annenberg report also suggests building more inclusive casting lists, being mindful of stereotypes and biases during the screenwriting and casting processes and keeping track of what works and what doesn't.
And of course, the more women you have working behind the scenes in the entertainment industry, the easier some of that will become.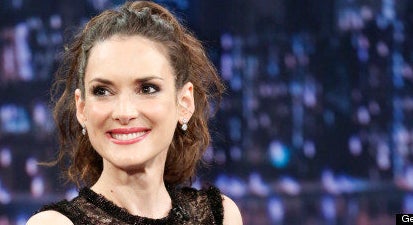 Actresses Told They Weren't Pretty Enough
Popular in the Community