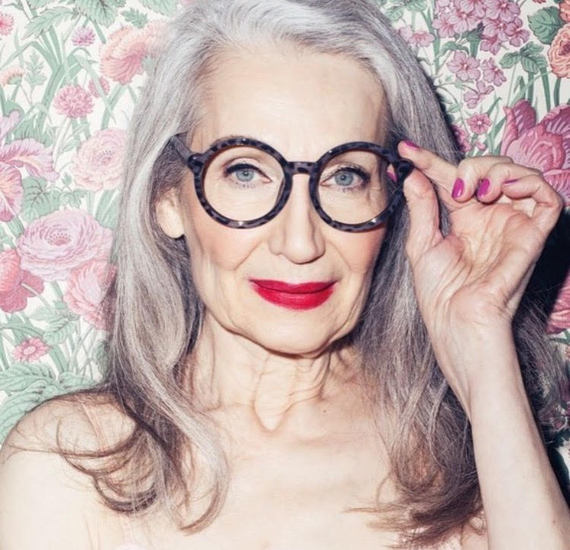 Image via @ThatsNotMyAge on Instagram
I adore social media because I am, at heart, a social creature. Meeting and interacting with new people, especially women, is a favorite activity of mine. I thrive on it!
The longer I live, the more I enjoy the idea of staying visible, relevant, up-to-date. Perhaps because, during this phase of my life, I can take the focus off raising other little lives and re-focus on myself, my interests, my passions, my needs. (Not that my Grands or my own kiddos are ever far from my thoughts. They are not.)
Instagram is one of the most popular social media networks and, of course, I am on it; find me here: @_honeygood. It's a lovely place to explore worlds and people beyond my own backyard. And the style found on Instagram is just so inspiring. Here's a quick list of the women living stylishly after 50 that are inspiring me now! They are far from invisible!
@styleatacertainage: Beth Dejalali
"Trends come and go but true style is ageless." This quote says it all! I am so inspired by Beth, 58. Beth titles each of her photos such as a recent post entitled, "French Lessons," and often gives an example of where she would wear the outfit and for what occasion.
@thatsnotmyage: Alyson Walsh
Alyson Walsh is a fashion journalist and author. Her posts feature not only what she is wearing, but also other women whose style and substance she admires, places she is visiting and things she enjoys. And as for the sentiment, "That's Not My Age," well who amongst us can relate? I can!
@advancedstyle: Ari Seth Cohen
Ari is the photographer and creator of the Advanced Style books, blog and community. He credits his Grandma with stoking his passion for the stylings of women of a certain age. "I saw all these incredibly dressed older women on the streets," he is quoted as telling the New York Times. I agree, Ari ... I agree!
@idiosyncraticfashionistas: Jean and Valerie
Jean and Valerie have a quirky, endearing sense of style and the duo uses Instagram to showcase that you can wear whatever you want, no matter your age. Their spontaneous and carefree attitudes shine through in all of their posts. And I, for one, love their colorful charisma and effervescent sense of style. Don't you?
Judith's style is a mix of both vintage and modern pieces. I'm inspired by her modern day take on vintage pieces, and younger women can also take inspiration because many of the outfits she wears are on track with today's trends.
@seniorstylebible: Dorrie Jacobson
Dorrie's style is as fun as her short witty captions. She shows that, at the age of 81, she is far from invisible! What else would one expect from a retired Playboy Bunny turned style blogger living in the City Of Lights?
PHOTO GALLERY
Sexy Over 50 Men
Calling all HuffPost superfans!
Sign up for membership to become a founding member and help shape HuffPost's next chapter