When scientists discovered beautiful hand stencils painted on the walls of an Indonesian cave back in the 1950s, they thought the artwork was about 10,000 years old.
"It allows us to move away from the view that Europe was special," Maxime Aubert, an archaeologist at Griffith University in Queensland, Australia and the leader of the team that did the analysis, told Nature News. "There was some idea that early Europeans were more aware of themselves and their surroundings. Now we can say that's not true."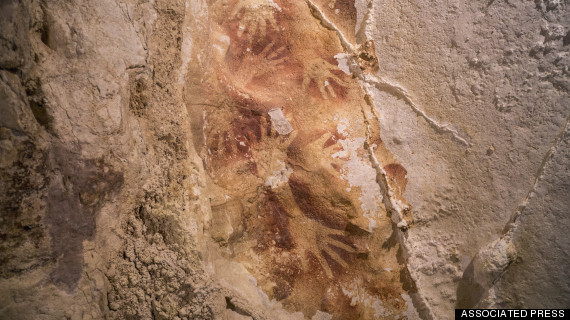 This undated handout photo provided by Nature magazine shows stencils of hands in a cave in Indonesia.
To determine the age of the stencils, the researchers used a method called uranium-thorium dating. Out of a dozen drawings found in the cave, one handprint dated back 39,900 years. A detailed drawing of an animal called a "pig-deer," was found to be 35,400 years old, making it possibly the earliest figurative depiction ever found, according to the New York Times.
Scientists say the new finding suggests at least a couple of possibilities about how art arose. One is that early humans started creating art around the same time in different areas. Another is that they inherited the ability from a common ancestor in Africa.
In any case, the newly dated cave stencils wowed scientists.
Popular in the Community