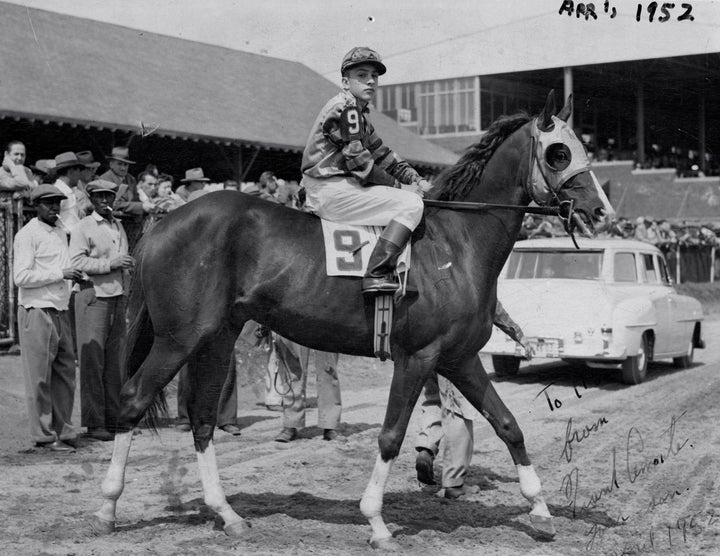 At 76, jockey Frank Amonte isn't ready to put away his saddle. But his hometown racetrack is telling him to do just that. And Amonte is taking legal action.
"They're discriminating against me due my age," Amonte said bluntly as he walked along the Suffolk Downs stables on a quiet Sunday morning.
Amonte, who's been racing for 62 years, is the oldest active jockey in America. Born in Brooklyn, N.Y., in 1935, Amonte took up riding horses as a teenager at New York's Aqueduct Racetrack.
Amonte moved his family to Boston in the late 1970s and began racing at Suffolk Downs in East Boston. He raced year after year while raising his family -- two kids by his first wife and three kids with his wife Ligia of the past 43 years.
He's won trophies and accolades at Suffolk Downs since the 1970s, but now Suffolk Downs has ordered him to stop, saying they think he's too frail.
"In 62 years of riding I fell off one horse," Amonte said, recalling an incident last year. "It was in the muddy racetrack and the horse had turf shoes on, which is no good for mud. She was slipping and sliding, and when she got to the wire after a mile race she was a little tired, she just took one little move and my left foot came out of the stirrup and I decided immediately to follow my foot and get off rather than try to stay on. And that's what they're using at the track now to keep me from riding."
Amonte got up from that fall and jumped back onto the horse without any injury to himself or the horse.
"The stewards who watched it are in charge of the racing results, they watch everything, and they called me up immediately as soon as I walked off the track and they said 'We've never seen anybody hit the ground like you did and get up that quick. We're glad to see you're all right,'" Amonte said.
Amonte was issued a license this year by the racing commissioner. And his doctor even gave him a note saying he was in great health and fit for riding. Amonte keeps himself in shape by running and riding a bike daily. He's also a vegetarian.
But executives at the racetrack and sent Amonte a letter in June notifying him he was no longer allowed to ride horses there.
"They decided I shouldn't ride because of their insurance," Amonte insisted. "It has nothing to do with my ability. They know I have the ability to do it. I only rode eight times last year. I had two seconds and two thirds. I was in the money 50 percent of the times that I rode. They said they looked at races I rode last year and they decided I wasn't riding good enough to be able to ride this year, but that's just because they have a new insurance policy and they're afraid that I would cost them money if there was an accident."
Now Amonte has decided to take the matter from the racetrack to the courtroom. He's suing Suffolk Downs for age discrimination.
"They're not concerned about the younger jockeys who are riding and having accidents every day," Amonte said. "Jockeys fall off leaving the starting gate, they don't bother them."
The spotlight of a discrimination suit may be the last thing Suffolk Downs wanted, since the Racetrack is applying for permits to have a casino there.
Chip Tuttle, chief operating officer of Suffolk Downs, released the following statement: "Mr. Amonte continues to be welcome as an owner and as a trainer at Suffolk Downs. There are inherent dangers in any racing environment and one of our major responsibilities is to minimize those for all race participants. After careful consideration and a thorough review of his recent riding record, we determined that in the interest of safety for both the horses and jockeys, including Mr. Amonte, we would not permit him to ride here."
Earlier this month, Amonte's horse "How Far Is Heaven?" won a race at Suffolk Downs. Because Amonte was not allowed to ride, a stand-in jockey had to ride the horse. "How Far is Heaven?" won.
"And if I'd have been able to ride him, I'd have set a new world record," Amonte said. "They stopped me from a world record as the oldest person to win a thoroughbred race."
Amonte says he has been approached by a few companies about possibly doing product endorsements once he wins another race and sets that new world record. Had he won that race this month, he might be booking those gigs right now.
The emotional hit hurt more than the financial loss, though.
"This bothers him mentally," his wife Ligia said as she helped clean the stables. "It's not fair. He wants to be up there but somebody stops him. They're taking away his dream."
Amonte's love of racing seems to become a family thing. His kids attend his races to cheer him on. His wife helps him care for the horses seven days a week. His son, Frank Amonte Jr., has worked as a trainer in the industry. And his grandson, Raymond Gutierrez, 21, is following in Amonte's footsteps.
"I was in Florida for 10 years but I just moved back up here to Boston to train to be a jockey like Frank," Gutierrez said.
And Amonte isn't giving up on his record-breaking dream. His horse's recent win has has actually given new spark to that dream. "It makes me feel that it can be done, and I'm the guy that can do it," Amonte said.
He's training another horse, "Fire Pole," which he says is actually faster than "How Far is Heaven?" and he hopes to race "Fire Pole" to victory if his suit is setted and Suffolk Downs allows him back on the racetrack.
"I put enough time into racing that I should get something as a reward," Amonte said, imagining his legacy: "What was Frank Amonte in racing? Who is Frank Amonte? Frank Amonte's the guy who broke a world record, being the oldest guy to ever win a thoroughbred race."
REAL LIFE. REAL NEWS. REAL VOICES.
Help us tell more of the stories that matter from voices that too often remain unheard.
BEFORE YOU GO
PHOTO GALLERY
Frank Amonte