On Monday, the world's oldest living identical twins celebrated their 103 birthday!
Charlotte Eisgrou and Ann Primack of South Florida and Daytona Beach, Fla. are still in the best of health, despite their age. Neither uses a hearing aide or reading glasses, reported the Daily Mail.
Although the pair was unable to spend their birthday together since they are both recovering from recent falls, they still consider each other best friends.
Story continues after photo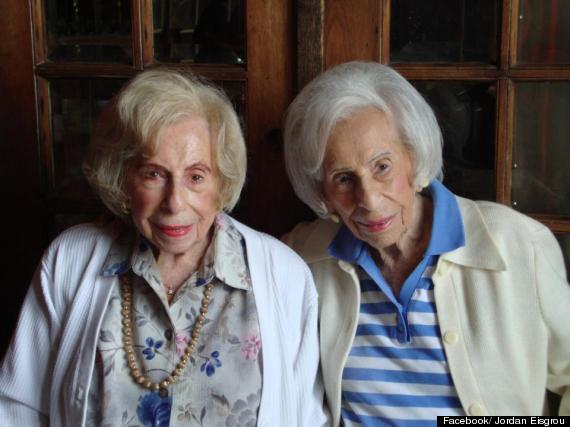 The twins were born two months premature in Chicago in 1909. They weighed a combined 7 lbs. Since they were born before incubators were invented, they were wrapped in blankets and put in the door of a stove to keep warm, reported the Daily Mail.
Eisgrou moved to Florida in 1949, and Primack followed her in 1971. There, they enjoyed the majority of their lives, outlived their husbands, and had one son each.
They're both astonished by their record-breaking age.
"I can't believe it, that I've reached that age. The good thing is our minds are sharp. That's the only good thing," Primack told ABC.
Amazingly, the twins continue to live almost completely independently.
Eisgrou started driving at age 78, and didn't stop until four years ago, when her now 71-year-old son told her "I shouldn't get a new car with all the hijackings," reported the Daytona Beach News-Journal.
They both use a cane to walk, but are healthy and independent. Primack even survived ovarian cancer years ago.
Their longevity may in part be due to their sense of humor. They recalled to the Daytona Journal that they often used to switch husbands when they visited each other.
"I used to visit Daytona and we'd switch husbands and walk in the temple," Primack said, "And they'd say to me, 'Charlotte, you look so good.'"
"Nobody ever knew the difference. And by the time they found out, they were hysterical," Eisgrou told ABC. "We had so much fun."
"They are very funny," Jerry Primack, Ann's son, added. "They bicker constantly."
Although the sisters have always been close, they cannot agree on what has led them to live such a long life.
"Everybody asks me that. I don't know what it was," Primack told ABC. "I didn't watch my food when I was young. I smoked. We all smoked."
Eisgrou and Primack are the second oldest twins in the world, born 39 days after non-identical twins Edith Ritchie and Evelyn Middleton from Aberdeenshire, Scotland.
Clarification: A previous reference to the sisters being "inseparable" has been removed to avoid confusion.
REAL LIFE. REAL NEWS. REAL VOICES.
Help us tell more of the stories that matter from voices that too often remain unheard.
BEFORE YOU GO
PHOTO GALLERY
Wedding Photos 88 Years After Getting Hitched